Saluting The Corvette C6 In The 2013 427 Convertible (Review)
17
The original plan for this adventure was to drive a 2013 Corvette 427 Convertible tester to a rendezvous point. I would then meet with a friend with a Nissan GT-R Black Edition, where we would take our combined 1,050 horsepower from Detroit up to Traverse City, Michigan.  From there we would follow the Grand Traverse Bay and Lake Michigan coast lines via the glorious and scenic M-22. Afterwards, mandatory souvenir shopping for our mothers would ensue.
Unfortunately, that epic weekend didn't go as planned. My companion with the GT-R Black Edition had to withdraw. Which meant I was left to improvise with a short loan on a 427 Convertible combined with a grey-weathered weekend.
But luck was on my side.
Despite no exotic vehicles accompanying my comparatively brazen looking 505-horsepower soft top, I did have the old route map from the Traverse City Buick Regal GS launch drive from a year ago, which was a guide to some of the best driving roads in Grand Traverse County, if not all of Michigan. I also had trusted photographer Steven Pham riding shotgun and several thousand dollars in camera gear stuffed in the 11 cubic feet of trunk space. It's a good thing "Phammit" is as good company as he is a photographer, otherwise this trip may have been overbearing.
After picking him up at around 8:45 on a Sunday morning, we made our way to Interstate 75 and began our 3.5-hour journey from Auburn Hills to Traverse City, Michigan, if the weather didn't delay us.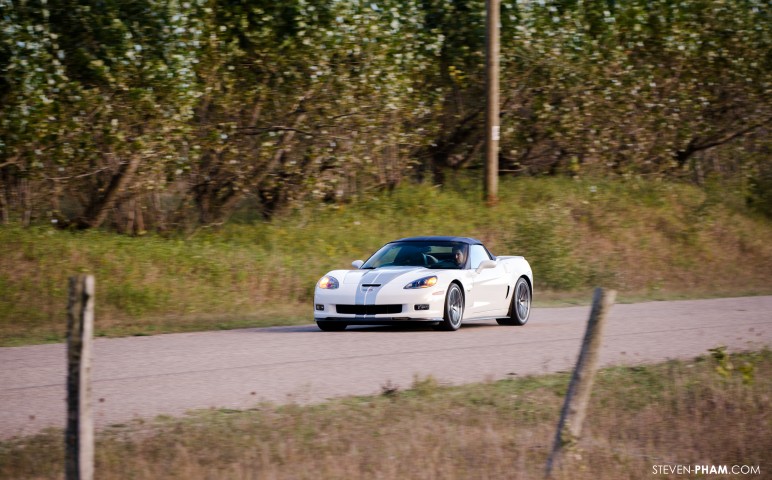 To The Land Of Cherries
While in the middle of Michigan, we were passed by the Motor City Gumball Rally heading in the opposite direction. While it's nothing compared to the Gumball 3000, it was still a caravan full of Vipers, BMW M3 coupes, and even a Lamborghini or two. The 427 Convertible would have been in esteemed company, but we weren't able to officially run with them given the circumstances. Maybe next year. Ironically, there was nothing interesting on our side of the freeway, except for this brave Chevrolet Impala whose driver seemed to give zero damns about his vehicle's capabilities, or the speed limit. Then, just as we were about to merge onto the M-72 at Greyling, the skies opened.
Before we set off, getting stuck in the rain — in a rear-wheel-drive convertible supercar with Michelin PS2 summer tires — was expected. But with traction control and the Corvette 427's fantastic driver feedback characteristics (thanks to a conventional hydraulic power steering setup and not a numb electric composition), it was easy to control the vehicle around the labyrinth of slippery, twisting hills that began appearing on our journey the farther we headed north.
Whimsically, I turned off  the traction control as I approached an entrance ramp. As I made my apex onto the  ramp, I was treated with stylish oversteer. But 505 horsepower is nothing to be trifled with, even when it's bone dry outside. I had to be careful, and it only took a slight press of the throttle to aim the 427 sideways. Corvettes are notorious for flinging themselves and their occupants into trees, so every movement behind the wheel had to be treated with respect and caution. With the simple push of a button, it was time to turn the traction control back on.
Speaking of which, the traction control setting on the 427 Convertible is delightfully more simple than the fidgety Performance Traction Management system on the likes of the Camaro ZL1, which has no fewer than five traction settings. This Corvette has only two: thrilling (on) and dangerous (off). And though magnetic ride control is present in this Z06 drop-top, don't expect a vehicle that is as tightly wound and as low to the ground as a 427 Convertible to gracefully absorb the imperfections of the road.  But this vehicle I'm manning isn't a benign Buick. It's a curt Corvette, and a bumpy, noisy ride is part of the package. As my father would say, such things build muscles and character.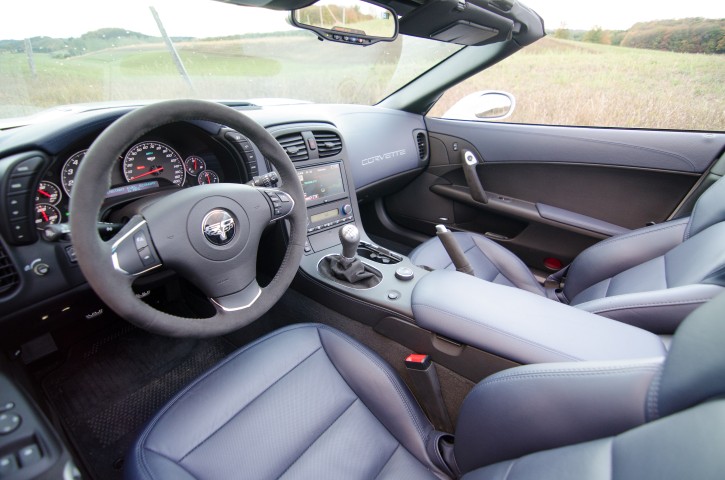 A Heart Of Fire, And Aluminum
An element that may have many exotic car customers turning up their conceited noses up on Corvettes may be its perceived lack of sophistication. To a degree, they have a right to complain about the Corvette's relatively tame-looking fiberglass body, its dinky overstuffed seats, the parts-bin steering wheel, and its decade-old GPS hardware. I'll give it to them, but we've all heard the repetitive gripes over the C6, so there's no point in wasting precious letters on continuing the rhetoric. At the same time, there are elements of the Corvette 427's semi-barbaric nature that truly work in its favor, and give the car a sense of honest individuality that I find lovable.
The LS7 engine — shared today only with the Corvette Z06 and built entirely by hand in Wixom, Michigan — is the Corvette 427 Convertible's heart and soul. It revs to a lofty 7,100 rpm, the most of any LS-family engine, as is its impressive 11.0:1 compression ratio. And with displacement being a massive 7.0-liters churning out 505 horses and 470 pound-feet of twisting force, you'd think the 427 Convertible's motor would be a thirsty animal. It's actually surprisingly efficient, with an EPA-rated 15 mpg city and 24 mpg highway on required premium fuel, while being able to accelerate from 0-60 in 3.8 seconds. I actually held 30 mpg while cruising at 55 miles per hour. What's more, the LS7's crankshaft and main baring caps are forged steel for a higher pain tolerance, which gives extra confidence to weekend track drivers. And if that wasn't enough, there's an available five-year, 100,000-mile powertrain warranty, should something go awry. If I felt like waiting, I'd ask you to notify me when Porsche matches that, which would be never.
Most importantly, it's the deliberately primal nature that emanates from a hand-built 7.0-liter naturally breathing pushrod V8 that is so alluring. It has no substitute, and maxing out the tachometer is a tirelessly rewarding experience the even the likes of the more powerful force-fed LSA or LS9 engines that are found in the beloved Camaro ZL1 and Corvette ZR1, respectively, cannot replicate. I was reassured time and time again, with every upshift, giving way to unfiltered thunder channeling beneath the all-carbon-fiber hood, under my seat and through the quad-tipped dual-mode exhaust and thus drowning out whatever babble Al Gore is trying to shout at you. Though with the wet cold front blowing in from Lake Michigan, I had to wait for the clouds to blow away before I could enjoy that sound again.
After a late lunch and sitting through the Lions game, the weather cleared up enough to give the roads a chance to dry. This was my opportunity to make the nearest bending back-road my bitch.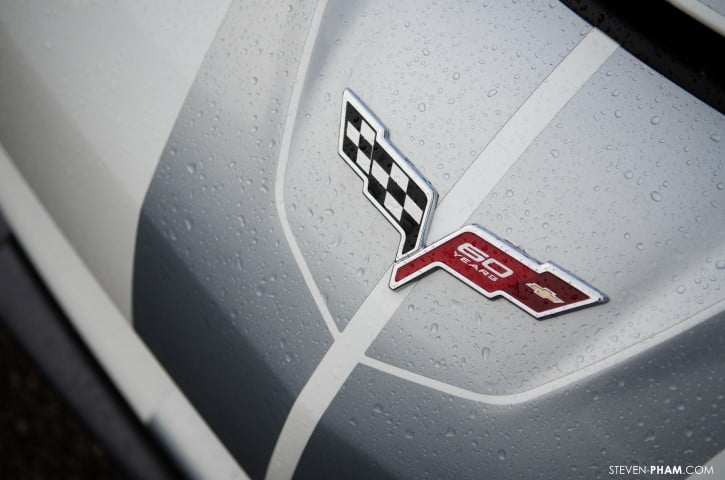 "He Totally Heard You Coming"
After opening the touch-activated door, and edging my way into the 427's blue seats, I compressed the aluminum clutch pedal and pushed the ignition button. The vehicle fired to life with a cold start. I shifted the Tremec T56 manual transmission into first, and roared out of downtown Traverse City. By now it was 4:00 PM, and I've been behind the wheel for nearly six combined hours and 350 miles on the day, which seemed to only be getting started.
Venturing down the tributary roads that fed into the M-72 was elating, giving Michigan's quiet wine country an abrupt awakening via the 427's thunderbolt exhaust. This was also benefiting in that cyclists around the bends could hear me coming, as I counted at least half a dozen on the side of the road allowing me to pass. See folks, they'll move out of the way, you just have to be loud enough. Toggled in sport mode and briskly carving through the countless hills, curves and descents, with the top down underneath a patch of clear sky, the 3,355-pound Corvette 427 Convertible showed off its chops as a personal roller coaster, taking up over 1.0G of lateral cornering forces, as evidenced by the Heads Up Display (HUD), while keeping itself firmly connected to the pavement. Are convertibles supposed to do this? Sure, maybe a few, but good luck finding such a vehicle south of $100,000. And while a base 427 Convertible will run buyers around $75,925, the one in my grasp came in at $91,320.
The jump in price is courtesy of the $9,500 range-topping 1SC package, which gives the interior its special blue leather trim and power seat adjusters with a memory function. The remainder is the result of the $2,995 carbon fiber package, which sheds some weight off the car by adorning it with carbon fiber splitter, rocker panels, and spoiler (the CF hood is standard). Then there's the $1,075 60th Anniversary package and $850 stripe that you see in the photos. And though the appointments don't look or feel like 90-grand, the handling characteristics sure as hell do.
Since this 505-horsepower Corvette is indeed a convertible, there is a cowl shake sensation. It was something I expected going into it, but I didn't assume there would be no strut-tower brace beneath the 427's hood for increased rigidity of the frame, which by the way is steel, not the aluminum frame from the Z06 and ZR1. Regardless, the 427 Convertible is still an all-you-can-eat buffet of no-frills-thrills.
Drop the top, and the experience is amplified, as you're more openly greeted by the elements. The sensation of the sun warming my hand on the shift knob as I pushed the throttle to 4,500 RPM while entering another turn in the road was a moment of bliss. Close the canvas, and things are still loud, even kind of creaky. If for some reason you get tired of listening to the engine noise and want to listen to Pink Floyd instead, you would have to crank the nine-speaker Bose sound system up to drown out the high NVH levels. But I was comfortably numb from the surrounding harshness, and most of the time I left the sound system off.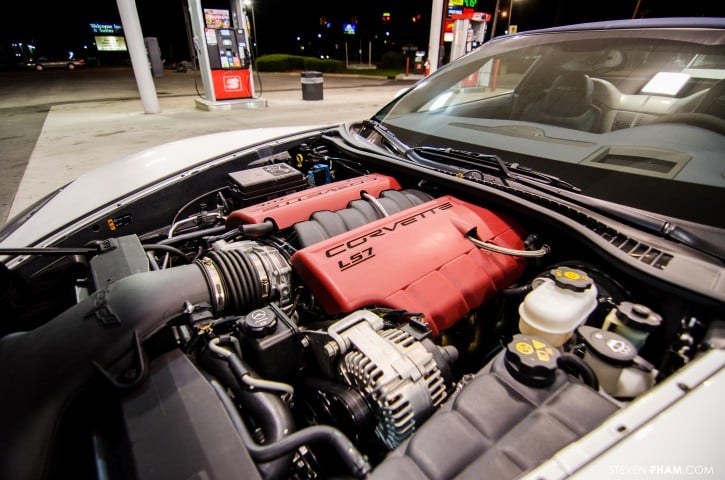 Saying Goodbye To The No-BS Sports Car
After 11 hours and 1,000 miles of total driving all around the Mitten State, our journey sadly concluded. My arms, hands, legs and feet were fatigued and sore the next day, as if I spent my Sunday at the MMA gym rather than piloting a car around Michigan. I once read that driving the Z06 feels like being in a brawl, and that analogy really isn't too far off from what the 427 Convertible can feel like at times, though I mean that in the best way possible.
It's upsetting to think that the world may never see something like the mighty LS7 in a production car again once the sun sets on the C6 — which is very, very soon. But on the same token this also means a new Corvette C7 is coming in 2013, with revolutionary looks inside and out. There won't be any antediluvian steering wheel shared with the Chevrolet Cobalt, or a GPS system seemingly from a 2002 Cadillac STS. Then again, if factors like these are your primary reasons for owning a performance car, you need to get your priorities straightened out. This is a driver's car. Not a gaudy ornament of vanity.
I will remember the Corvette C6 by the following: a performance car family with a wonderfully no-nonsense-nature that can beat 90 percent of all other supercars at any price when in the right hands. With that in mind, driving a 427 Convertible provides a sort of bare-bones, Spartan experience that is hard to find in anything short of a Morgan 3 Wheeler these days. It's that pure, unfiltered experience one gets when camping in the mountains. It's downing a buffalo with a bow and arrow. It's why Tyler Durden started Fight Club. It's wild, simple, unvarnished and yet beautiful. It's all about driving in one of its purest forms.
Disclaimer: GM provided the 2013 Corvette 427 Convertible and a tank of gas for this story. Steven Pham provided the photography. He likes to freelance, so if you like what you see, be sure to visit his website and contact him.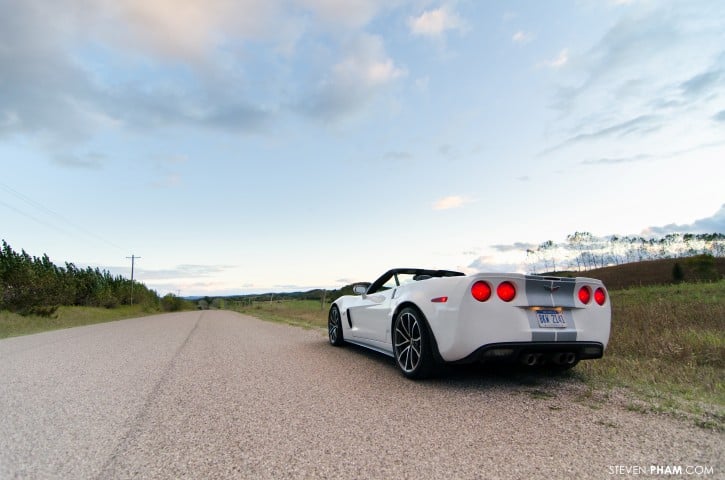 Sweepstakes Of The Month: Win a Corvette Z06 and 2024 Silverado. Details here.
We are currently looking for experienced automotive journalists and editors to join our team. Make $60k-$80k per year doing what you love. We are also looking for an experienced web developer.
See details here
.