Quick Spin: 2012 Buick LaCrosse eAssist
We are currently looking for experienced automotive journalists and editors to join our team. Make $60k-$80k per year doing what you love. We are also looking for an experienced web developer.
See details here
.
9
A 2012 Buick LaCrosse eAssist might not be as much of a head-turner as a Cadillac CTS-V Coupe or a Chevrolet Camaro ZL1, but it certainly gave the GM Authority gasoline budget a breather. And by the same token, the LaCrosse excels — although differently than the supercars — in its own right.
We've had a go at the LaCrosse eAssist before. But our time with it was far too brief. Thankfully we were able to reassess the car after living with it for a short while. This one in particular was a member of the Premium I equipment level, and came with $2,235 in options for a total price of $36,045.
The options consist of a $600 entertainment package, a $1,440 "driver confidence package" and $195 carbon-black metallic paint. The entertainment package featured a 384-Watt 11-speaker Harman/Kardon audio system — which to us sounds better than the Bose units normally found in GM vehicles — plus a 120-volt power outlet located just behind the center storage unit. There's also a standard Intellilink infotainment system running on an 8-inch color touchscreen. The driver package features HID headlamps with adaptive forward lighting, a heads-up-display (HUD) and a blind-zone alert system. The standard equipment list for a Premium I LaCrosse is fairly lengthy, but we'll mention the 8-way power driver seat, a comfortable tilt-telescope leather-wrapped steering wheel with audio controls, and a passive entry system — which allows those with the key fob on their person to unlock the door pull simply pulling on the handle with no need to push a button. Our own Alex Luft isn't a fan of the mechanism because he feels it gives a delayed sensation when opening. It kind of does, but it's just a timing factor, one that is very easy to figure out.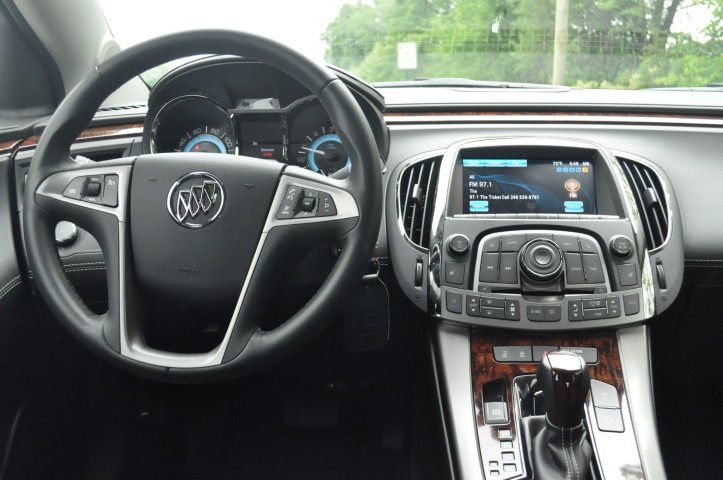 GM's eAssist Belted Alternator Starter (BAS) setup in the LaCrosse, and other vehicles, is a mild hybrid system, with a lithium-ion battery stored in the trunk powering things like the radio, climate control, and other accessories. It also helps the engine out in times of acceleration, such as when getting up to speed after a stop light. The 15 horsepower lithium-ion battery system works with the familiar, and outgoing 2.4L Ecotec four-pot, delivering 182 horsepower @ 6,700 rpm and 172 lb-ft of torque @ 4,900 rpm. Not much gusto for a vehicle with a 3,835 curb weight. Then again, with a trade-off being an EPA-rated 25 MPG city and 36 MPG highway, it's easy to smile about a car so big achieving these numbers. For the record, we achieved 32 combined miles per gallon. That's the same as what we saw in the little Chevrolet Sonic, with nearly the same driving conditions.
Needless to say, there's some fantastic value to be found in the Buick LaCrosse equipped with eAssist, and we'll leave you with these points to peruse.
The styling of the LaCrosse is our favorite among all current Buick models, as its overall profile strikes us as sleek, modern, and yet mild-mannered. Don't expect to scare anybody off with the inviting looks of the LaCrosse. And with its elongated 111.7-inch wheelbase, the car doesn't carry the sometimes awkward-looking stance of its platform mate, the Regal. However, one may find imperfections, such as crude molding fitments, upon close examination. On the inside, the dashboard and center console flow downwards into the rest of the cabin, giving way to a graceful, sculpted interior setup. Additionally, the instrument panel and driver information center are colorful and attractive, and the blue ambient lighting at night is also quite sexy. But we wonder what the cabin's night lighting would look like as a unique amber — perhaps let Chevy have the blue.
The comfort level of the LaCrosse feels spot on, at least for something in the $36,045 MSRP range our tester commanded. Its NVH levels are delightfully low, as expected, and front seating is fairly restful, as expected. The rear seating, which accommodates three if you have to, gives occupants a sufficient amount of legroom, at 40.5 inches, depending on who's sitting in front. Material quality also works in Buick's favor, though we wish the buttons adorning the center console felt a little more high-budget. Also, the battery system in the trunk does swallow some space, with 10.8 cubic feet of storage instead of the 13.3 cubic feet the V6 model enjoys. The loss of cargo room is perhaps the only real drawback of the LaCrosse eAssist.
Intellilink is good, but not great. While easy to use, we found that it would allow Pandora Radio to play through our smartphones via the USB port outlet only sometimes, where otherwise it would just oddly prohibit the action and restrict us to using Bluetooth to stream internet radio. It's a small bug that doesn't ruin the overall experience, but it is something that should be patched. The same thing applies to Chevy MyLink. Perhaps it only happens with iPhones. Also, our tester refused to tune to the Liquid Metal Sirius-XM radio station when voice commanded — though it would effortlessly channel in the others just fine. Must be a Buick personality trait.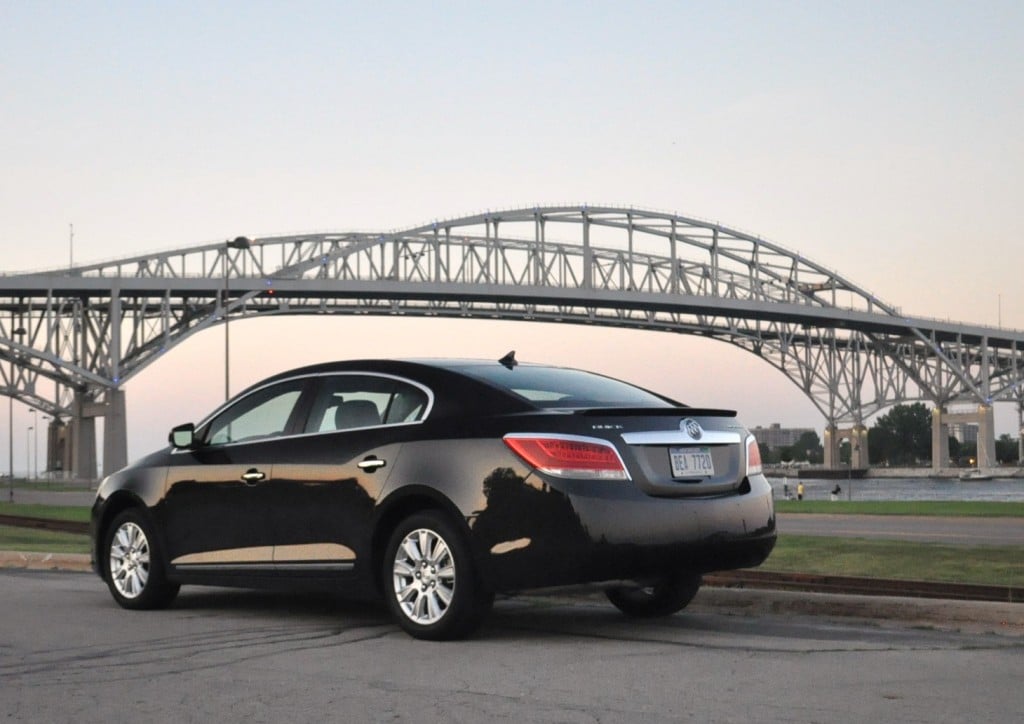 The handling of the car yields little surprise. Its long wheelbase allows the LaCrosse eAssist to feel plotted around corners, but the MacPherson front suspension system and multi-link setup in the back are set to a softer tune, as it's not meant to be thrashed, after all. The steering, which is electric, provides little feedback to the driver, but at the same time makes maneuvers more effortless. However, there is little confidence in the Michelin Green X low-rolling resistance tires — purpose-built rubber that's meant to provide minimal friction to the ground for optimal fuel economy. The tires will immediately squeal in protest under hurried movements, but luckily the car's brakes do quite well, needing just under 115 feet to stop when fully applied. The brakes also work to recover kinetic energy that would otherwise be lost, sending it back to the battery in the trunk to use later. When the car is completely stopped, at for example, a traffic light, the engine will go into "auto stop" mode, which is indicated by the speedometer — also an effort to conserve energy (read: gasoline). Taking the foot off the brake pedal seamlessly turns the engine back on and accelerates up to speed like normal. The new transmission unit also shifts much more quickly and smoothly than the previous model that was in the now-unavailable un-eAssisted 2.4L model.
After our time with the car, it became clear that out of all the GM eAssist models, the Buick LaCrosse makes the most sense. It returns absolutely suburb fuel economy for a car of its size and price point, and comes with all the premium amenities you've come to expect from Buick.
*Disclaimer: General Motors provided the LaCrosse eAssist tester with a full tank of gas, which the car sipped on for almost the entire week, necessitating just a single fill up. This left money in my pocket to buy my mother a nice birthday dinner. Also, I took these photos. 
We are currently looking for experienced automotive journalists and editors to join our team. Make $60k-$80k per year doing what you love. We are also looking for an experienced web developer.
See details here
.