GM Gen. 5 Small Block Deep Dive Part I: The LT1 Advanced Combustion System, Direct Injection, And AFM
21
For Part II, covering the valvetrain, exhaust, and cylinder heads: click here.
For Part III, covering the block, crankshaft and lubrication systems: click here.
To properly fathom the lengthy, thorough and just plain thickly detailed slide show presentation done by the Corvette engineering team yesterday on the all-new LT1 small block V8 would mean you have a degree in mechanical engineering, or are at least some kind of seasoned technician. Sure, the horsepower, fuel economy and compression ratios are simple enough to comprehend, but to wrap one's head around the sorcery that is the gen V's "advanced combustion system" is to be adroit with vehicle powertrains.
For the sake of simplifying things, if you can't hold an attention span longer than two paragraphs, here's what happens: the new process is able to dramatically extract more power from every drop of fuel than ever before. As a result, both horsepower and fuel economy in the 2014 Corvette C7's new small-block engine are higher than they've ever been, with preliminary numbers currently at 450 horsepower/torque, a 6,600-rpm redline, with expectations of exceeding 26 highway miles per gallon. A fantastic power:efficiency ratio, while weighing in at only 465 pounds fully dressed, giving the LT1 an equally impressive power:weight ratio.
To compare, a BMW 550i's 4.4L DOHC twin-turbo V8 is larger, heavier (503 pounds), has a lower compression ratio (10.0:1) and most to GM's advantage, weaker (400 hp in the 550i) and less efficient (23 hwy mpg).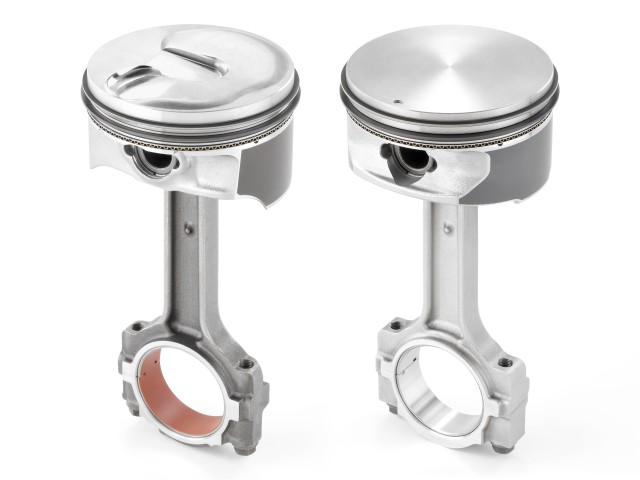 It's a system that's been beautifully optimized, thanks largely in part to a revolutionary piston design, as shown above. The plain-looking piston on the right is from the outgoing LS3. As the photo reveals, the "bowl" in the middle of the crown on the LT1 piston exists for optimized fuel collection from the direct injection system, and helps keep the cylinder temperature down. Keeping the cylinder cool wards off engine knock, which in turn allows for a higher compression ratio. In the LT1's case, 11.5:1 — a number which many would have been thought of as inconceivable from an OHV engine just a week ago. Oh, and it needs only 87 octane fuel. Premium gasoline is recommended, not required.
Meanwhile, the bulging crescent on top of the cylinder head also aids in achieving the awesome compression ratio, while the relief near the edge optimizes cam phasing. Completing the package are piston cooling oil jets, forged connecting rods, and LS3-style ring packs, style casts and drilled oil drains. Of course, the piston is only part of the story.
Active Fuel Management (AFM), which shuts down the LT1's firing cylinders from eight to four by disabling the valves to the cylinders, also brings the efficiency of the 6.2L pushrod motor to never-before-seen heights. When AFM commences, the engine turns the 6.2L V8 into a 3.1L V4, shutting down cylinders 1, 4, 6 and 7, and firing only cylinders 8, 2, 5 and 3 in that order. Otherwise, the complete firing order is 1, 8, 7, 2, 6, 5, 4, 3.
Here's something counter-intuitive, and probably will answer the questions as to why the LT1 is a 6.2-liter engine, and not something like 5.5-liters. It's because smaller displacements would reduce the amount of time the engine can operate in 4-cylinder mode, which would mean the engine would be more thirsty for gasoline. Therefore, a bigger displacement is needed for the sake of increased fuel economy.
Some of you may also be wondering as to why GM insists on carrying on the two-valve-per-cylinder approach. Yes, the LT1 still only features two valves per cylinder, which on paper seems archaic. But that's part of the small-block alchemy: simplification that achieves superior or equal performance compared to more complicated engines (read: DOHC V8 mills). By spreading out the single intake and exhaust valves for every cylinder, it reduces shrouding and enables greater airflow into the engine, while pushing the exhaust gasses outward more efficiently. Also, the intake and exhaust valves sit opposite of where they were in the LS3, sitting in a reverse order. Altogether, it optimizes interaction for the most power and efficiency, based on computational fluid dynamics testing (CFD).
CFD consists of computer simulations that uses applied algorithms to accurately create certain scenarios to find the desired outcome. There were over six million hours of CPU time dedicated to the combustion system alone. Notably, over 75 iterations of combustion systems for the fifth-generation small-block were developed and evaluated through computational analysis, before a final design was selected.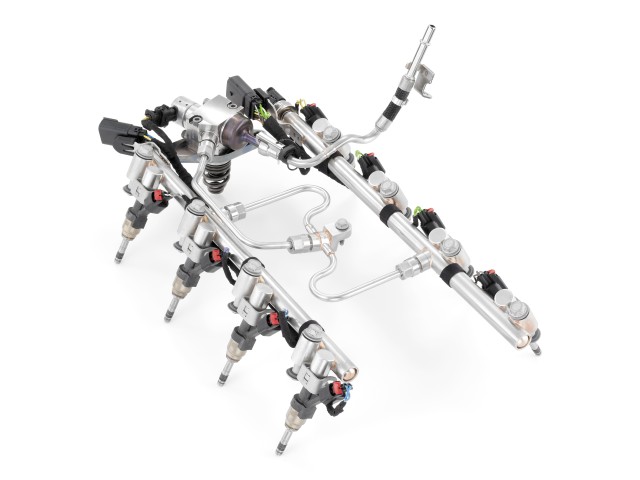 This new system was also necessary for the application of direct injection. As Corvette executive chief engineer Tadge Juechter proclaimed: "it's not like some sort of bolt-on". Another challenge here was that they couldn't just carry over or modify the blueprints of direct injection systems on GM's smaller engines. This is because the overhead valve arrangement and two-valves-per-cylinder arrangement was completely different than the DOHC design of GM's other direct-injected engines. The motion of the air/fuel mixture (also known as the "flow field") is more complex with an overhead-valve (OHV) design and, adding direct injection requires more mixture swirling for optimal combustion. Adding direct injection also called for the spark plugs to move closer to the center of the combustion chamber this time around in order to optimize the direct injection system.
The direct injection system is well-hidden, underneath the intake manifold, while the fuel injectors themselves are underneath the intake ports. As we have seen in the 3.6L V6 engine, direct injection can greatly increase performance and efficiency by spraying fuel directly into the combustion chamber. But it adds a sort of unwanted ticking sound that deters from the purr of the engine. However, Corvette engineers unanimously ensured everyone that such a noise has been subdued in the LT1.
Why do all of this? Possibly to prove the point that a V8 doesn't need to have dual overhead camshafts to be relevant today. But… if GM were to someday once again apply a DOHC setup on a V8, with this new combustion system… everyone else might as well give up.
Sweepstakes Of The Month: Win a Corvette Z06 and 2024 Silverado. Details here.
We are currently looking for experienced automotive journalists and editors to join our team. Make $60k-$80k per year doing what you love. We are also looking for an experienced web developer.
See details here
.