First Drive: 2013 Buick Verano Turbo
We are currently looking for experienced automotive journalists and editors to join our team. Make $60k-$80k per year doing what you love. We are also looking for an experienced web developer.
See details here
.
13
It might have just been the cold morning air, but achieving some front-wheel-peel in a 2013 Buick Verano Turbo (with traction control on) was surprisingly easy. Unexpected, even, as the 250 horsepower, 260 pound-foot 2.0L LHU Ecotec engine powering Buick's compact darling spooled up its Borg-Warner turbocharger by the command of my foot, and zipped the car out of crowded downtown Birmingham, Mich. onto the multi-lane straights of Woodward Avenue.
To accompany the welcomed addition of power, the Verano Turbo comes a six-speed automatic (GM's Hydra-Matic 6T50) and a no-cost six-speed manual (F-40) transmission for the closet enthusiast. Inside is pretty much the same story: quiet and comfortable, with a touchscreen complete with Intellilink rounding out the center stack. No point in spelling out much else regarding the cabin, as more details can be found in our initial first drive of the naturally aspirated model, and our followup review.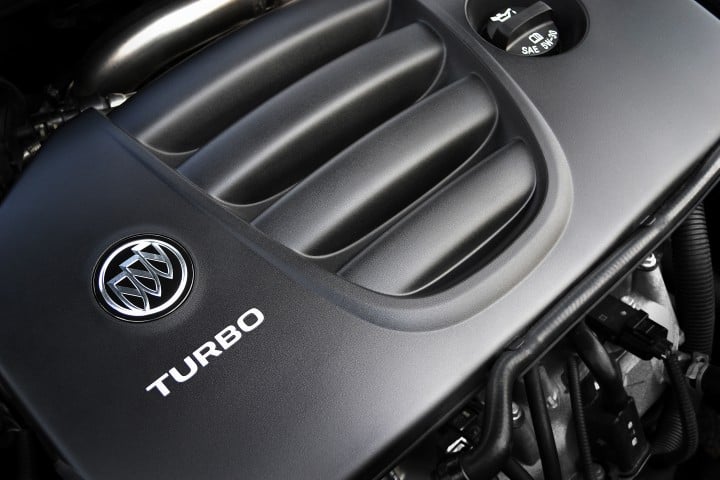 Onto why you're reading this in the first place (if you're still reading, that is). Whereas the 2013 Buick Enclave we also drove this morning looked different inside and out, the Verano, being not even a year old, still maintains its look, ass-brows and all. The only subtle differentiation from the base Verano include twin oval exhaust pipes rather than a singular one, plus a modest rear decklid spoiler. Of course, the mandatory "Turbo" badge completes the package. Surprisingly, the brakes and tires were left untouched from the base Verano. However the suspension is tuned to be 20 percent stiffer, while the steering has been re-calibrated to a crisper setting. But no Hi-Per Strut, and no Brembos. It's quite alright, though. They weren't missed all that much in this fun four-door, and it leaves room for the Verano to further its performance aspirations — should Buick's product planners allow such a thing.
For those wondering how the Verano Turbo with the automatic compares to a manual version: you will have to wait a bit longer, as there were only automatic versions at this event. Regardless, the Verano Turbo with the slush box shifts sharply, and allows drivers to manually shift their gears with a manual mode. As for the sportier exhaust, the engine's note is definitely more noticeable, but the drone of the motor isn't exactly music to my ears. Others may find it enjoyable, however.
With 90 percent of max torque available at 1,700 RPM, the Verano Turbo is ready to jolt out ahead of traffic as soon as the light turns green, needing only 6.2 seconds (according to Buick) to achieve 60 miles per hour from a standstill. That's Volkswagen GTI territory, not that anybody would necessarily cross-shop the German hot-hatch and the unassuming compact luxury sedan. Coming back from that speed to a halt requires 125 feet of stopping distance, which is 5 feet shorter than that of the Acura ILX (which thinks it invented this vehicle category). But while the engine is punchy at low-ends of the tachometer, it loses its mojo at around 5,500 RPM or so, making the remaining rev range to 7,000 RPM a painful drag. I found it ideal to use the manual mode to shift just as the Verano Turbo gets to 5,500 RPM for the most rewarding driving experience. Additionally, premium fuel is highly recommended, though not required.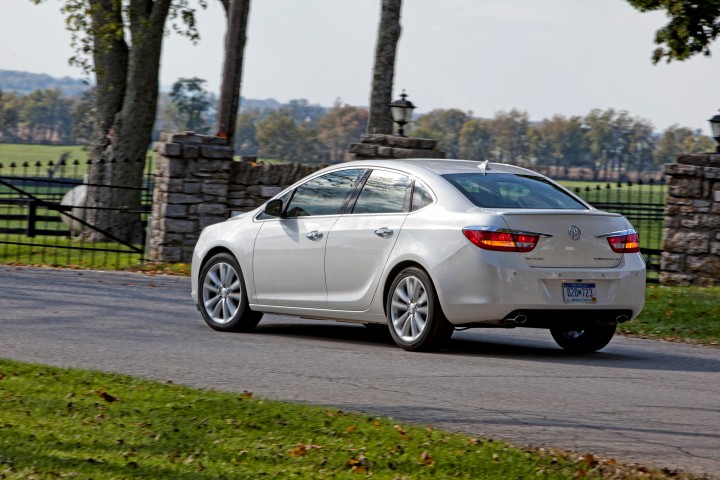 The suspension tuning is also very noticeable, hugging the road much tighter than the base Verano, and encouraging a dose of thrilling maneuvers. But this is no Regal GS, though for a starting MSRP of under $30,000, the Verano Turbo brings a lot of content and value. Yet it's contemporary enough not to be mistaken for another arrogant sport sedan. Indeed, the Verano Turbo excels at finding an admirable balance between cozy and engaging with its near-sound-proof cabin and athletic driving personality. And with its 20 city/31 highway MPG and 24 MPG combined EPA rating, it's also a balance of efficiency and power.
Since I'm bringing up fuel economy, here's an interesting fact: being the only Buick sedan without eAssist, the Verano has the lowest fuel economy numbers out of all the brand's sedan offerings despite being the smallest. It's not that the compact sedan is a gas hog (though we wish it still did better), but it definitely speaks to the kind of fuel economy value buyers receive when they choose eAssist in either the Regal or LaCrosse. Buick won't discuss what's next for the Verano, but our crystal ball predicts an MPG enhancement in the next year or so. Also, considering the Verano Turbo's engine is based on an outgoing Ecotec block and not the new one that has made its debut in the Cadillac ATS and Malibu Turbo, we might see different power figures in the future for this model as well. But that doesn't need to be anytime soon. The Verano Turbo seems fine the way it is.
In short, the 2.0L LHU turbo engine is just what the doctor ordered for the Verano. The motor makes the vehicle that much more complete, without taking away any of the niceties that attract buyers to the comfortable, yet much slower, base Verano. But to get a better feel for how much of an improvement the Verano Turbo is dynamically over the base model, we're going to need more than a brief morning drive with it. Look for a more in-depth write-up in the future. We'll also have our own photos.
We are currently looking for experienced automotive journalists and editors to join our team. Make $60k-$80k per year doing what you love. We are also looking for an experienced web developer.
See details here
.