The Journey To Hell And Back In A Chevrolet Camaro ZL1: Review
6
When I first laid eyes upon the 2012 Chevrolet Camaro ZL1 at the 2011 Chicago Auto Show, I wasn't overly moved by its looks (it's a Camaro with a hood extractor and new fog lamps, so what?). But, before it even rolled onto the stage, I could hear it start up in a room behind the curtain. I would even wager that I could be in the second floor bathroom and its burbelling roar would still make its way through the door, and reverberate off the tile walls into my hungover eardrums. Without question, it really is the most vocal exhaust note to ever come out of a stock Chevrolet.
But that's part of the charm, isn't it? The sensation of controlling a 4,210-pound rear-wheel-drive performance coupe with 580 horsepower to the crank with everyone being able to hear you does become quickly intoxicating, after all. From idle, all the way to the redline just above 6,000 RPM, the ZL1's LSA engine complete with a 9-liter Eaton supercharger provides a shot of adrenaline that can wake you up in the morning, and keep you awake at night. But the demonic growl piping from the minimal twin mufflers out the foursome of exhaust pipes could simply mean the big Chevy is all talk and crying for attention. Not unlike some of the people that will end up driving it with their Tapout shirts and overly gelled hair.
To find out if the ZL1 could back up its swagger, I took it to the most challenging layout of highway that I knew of. The roads of Hell. Not Satan's Hell. Not the Green Hell. But Hell, Michigan. If you don't believe Hell's a real place, it is. And it has putt-putt golf.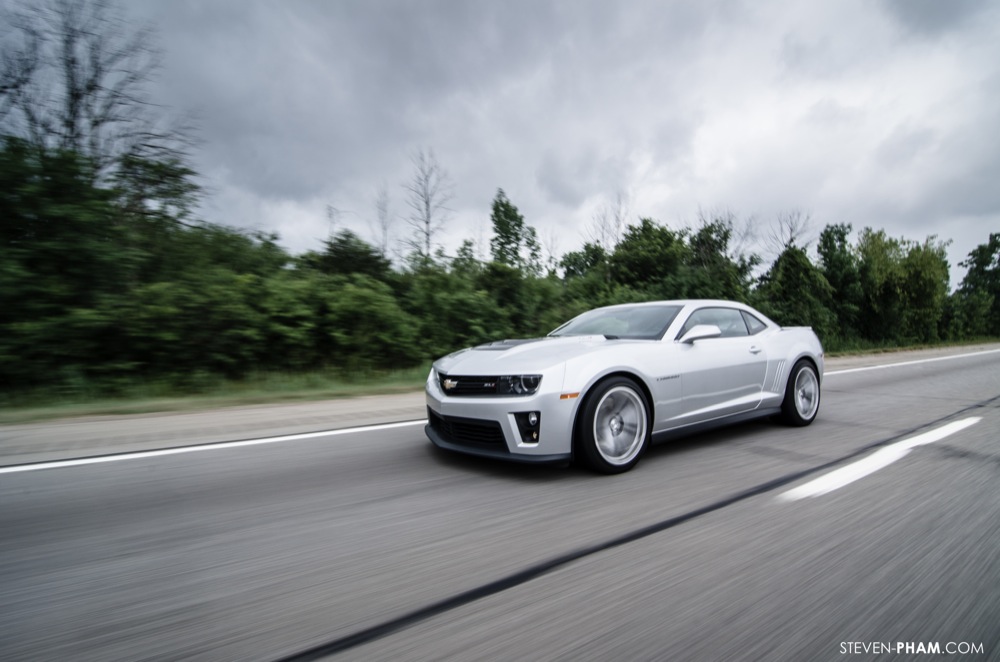 The Mission To Hell
On a sunny Sunday morning (yes, I went to Hell on a Sunday) our favorite photographer Steve Pham snugly placed his camera gear in the 11.3 square-foot trunk of the Camaro ZL1 and we made our way to Brighton, Michigan, where we met up with TSE Michigan, a local BMW enthusiast group who invited us to tag along in their convoy of M3s and other machines of Munich.
Now, some people's idea of foreign relations and diplomacy might involve a bunch of pompous windbags gathering in a secure room and exchanging ideas on how to continue their fear-mongering tactics in order to keep us little people in line. But this is my idea. The latest American muscle car gathering with coveted German imports, only to quickly become the center of attention. And we haven't even began our drive yet.
As people began to gather, everyone's initial reaction to the ZL1 was that its proportions are huge up close. They're right, as it is in fact just 3.6 inches narrower than a Chevrolet Suburban. And the low-as-possible seating position and cropped roofline gives us the feeling of a high dashboard that runs with the elongated hood, and thus the visibility sensation of driving a Panzer tank. It's far more comfortable looking off into the distance when driving any fifth-generation Camaro, as you aim it down the road with increasing velocity. Parking does take some getting used to, and it's a good thing the splitter protruding from the bottom of the ZL1 is made of durable plastic. Thankfully, a rear-backup camera embedded in left side of the Camaro's rearview mirror helps us cope with parking it.
As we have come to accept the overgrown proportions of today's Camaro and its Zeta architecture, expect the next generation Camaro to go on a diet and slim down in both weight and size as it transitions to GM's new Alpha architecture in a few years.
Buckle Up
After about a half hour of small talk and waiting for other drivers to join the growing number of Bimmers (there was actually one 2012 Ford Mustang GT joining in on the fun, as well), we fired up our engines, merged onto Interstate 96 and made our way to the glorious twists, turns and elevation-changing straights of the nearly-empty roads encompassing our 46.5-mile drive surrounding the unincorporated region of Hell. We moved in a linear fashion, with our leader piloting a flawless white E92 M3 coupe, its halo-ring day lamps resembling that of the Chevy's.
Getting off the interstate and into more open spaces, the group began to size each other up, with many curious as to how well the bulky Camaro ZL1 will handle the bends compared to the smaller and more lithe BMW models, let alone keep up. It didn't take long for them all to realize that it wasn't if the ZL1 could keep up with the pack of M3s, but if they could keep up with the ZL1.
Since their inception, so-called pony cars have been known for their straight line speed. And with a 0-60 time of under four seconds, built-in launch control, and a top speed of 184 mph, the ZL1 definitely carries on that bloodline. Yet the straight line game isn't even the ZL1's strongpoint. Rather it's something that few would have ever suspected out of anything with the name "Camaro" planted on the quarter panels: cornering abilities.
Engineers tout that one third of the ZL1 has been totally re-engineered from the SS, and that effort clearly was not focused on the interior. Instead, nearly everything went into fitting in the latest and fastest responding suspension system General Motors has ever released. Fortified with generation III Magnetic Ride Control complete with five Performance Traction Management (PTM) settings, the ZL1's updated suspension system feels more responsive than today's Cadillac CTS-V — which is already a poster child for American performance.
Complementing the suspension is a top-shelf Brembo brake package consisting of huge 14.6-inch rotors and six-piston discs in the front enclosed by 20-inch wheels and huge 285/35Z R20 Goodyear Eagle F1 SuperCar G:2 rubber specifically designed for the ZL1. The rear features four-piston discs, 14.3 inch rotors and even larger 305mm Goodyear rubbers that are essentially cheater slicks. Altogether the beastly brakes provide enough force to halt the 4,210-pound ZL1 from 60-0 in as little as 110 feet. More importantly, the brakes possess the stamina for the most demanding of track days. Or an epic drive to Hell and back, as we've come to discover.
Finding ourselves midway through our journey, we pulled into a gravel lot next to a shop that  offers ice cream (yes, they serve ice cream in Hell). This gave us a chance to recover a bit, let our internal organs return to their proper position, blood return back to our hands, and our brains to unscramble themselves. Also judging by the smell of the Brembos, the oil temperature approaching 275 degrees fahrenheit, and waves of heat pouring out of the hood's carbon fiber extractor vents, the ZL1 could use a breather, too.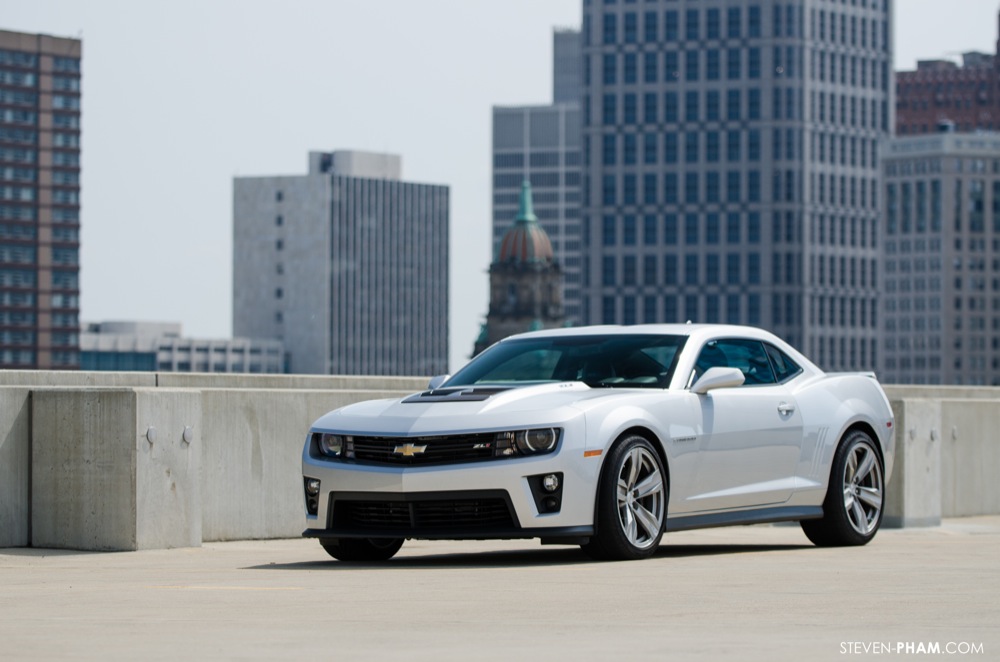 A Familiar Shape Inside And Out
The pause additionally provided a great chance to assess the ZL1's cabin. Of which, the major changes over the base and SS models are both a suede insert on the dash, a grippy flat-bottom steering wheel (no more "donut" wheel), abundant "ZL1" markings, and slightly better seats. The back seats? Unless you're transporting toddlers, we should all know by now that the second row is there only as a novelty and better serves as an extension of the trunk than as actual accommodation. Secondly, the front seats are not exactly the Recaros found in the likes of the CTS-V. A bolstering adjustment feature would have been welcomed here, as the seats were obviously designed for *ahem* wider-set bodies.
Casually driving the ZL1 can be harsh on some, but rewarding for others. It gets hot in the ZL1's cabin just from the heat escaping from the engine bay and exhaust, and the engine's hum is always present, lazily droning about until its driver mashes the throttle. It's this raw experience that can be hard to find in most modern cars with their sound deadening features, but those looking for it will definitely find satisfaction in the ZL1.
To amplify the driving experience, be sure to blare the heaviest metal music you can bring yourself to listen to. For me, it could be the Colors album from Between the Buried and Me, Horizons from Parkway Drive, or Ashes of the Wake by Lamb of God. The Camaro's Boston unit makes for a great audio system, after all. That is, if you feel the need to listen to anything other than the ZL1's exhaust.
Before we all got too comfortable, it was high noon, and time to press on. So I wiped off the sweat from my forehead, climbed back into the driver's seat, and turned the key, giving way to an unmistakable growl and burble through the soot-coated tail pipes. Off we went.
Duality
Despite the size, despite the weakened visibility, despite the power, and despite the e-brake being on the wrong side of the center console, the Camaro ZL1's over-the-top properties hardly sacrifice daily driving abilities. It might just be that our tester just so happened to come with a Hydra-Matic 6L90 automatic transmission with TAP-shift paddle shifters (which were always in use), but driving one at normal speeds is almost too docile to be true.
There is in fact an extreme case of duality here, with the ZL1 being able to softly absorb the imperfections of the road, while bearing the ability to unmask itself as a four-wheeled AIM-120 AMRAMM missile at will. Factor in the ZL1's official Nurburgring lap time of 7:41.27 compared to the Cadillac CTS-V's time of 7:59.32, and it quickly becomes clear that the ZL1 is in an elite class. Having driven both, the Chevrolet does feel to have the higher performance threshold. Or maybe Aaron Link is that much better of a driver than John Heinricy, but I have my doubts.
Still, if you would have told anybody 10 years ago that a factory Chevrolet Camaro would be able to outmatch a $149,000 supercar from Audi (R8 V10) and a $189,600 supercar from Mercedes (SLS AMG) around a German super track, you would have been called a heretic. But, as we live and breathe, we currently live in a world where such things happen. And the ZL1 comes with a track-covered factory warranty as a bonus. As an aside, there should be optional five-point harnesses and a racing helmet included with the purchase of a ZL1. It only makes perfect sense.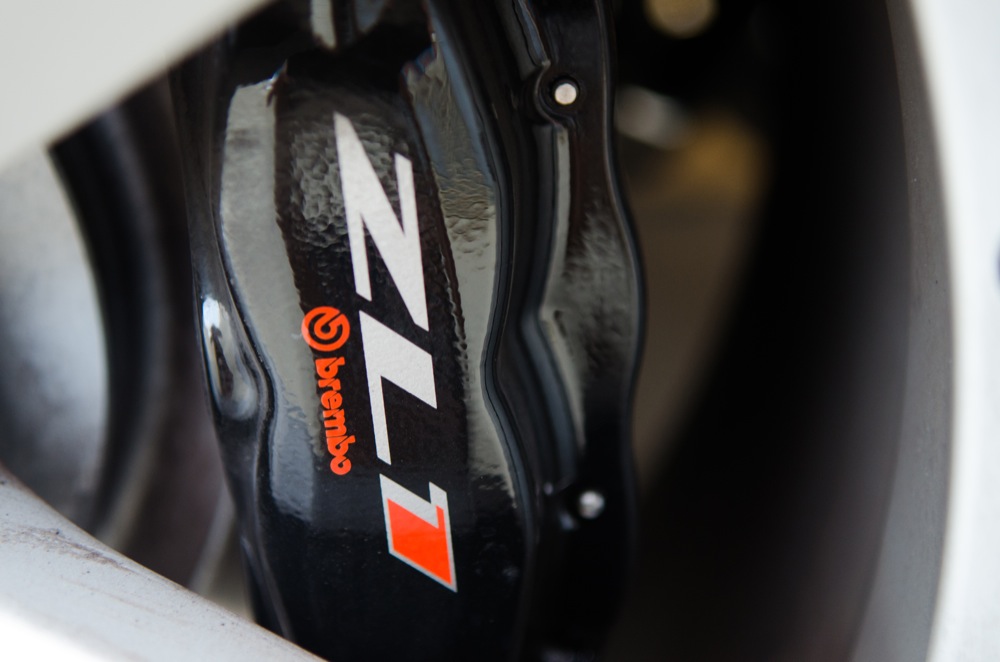 Six Figure Performance, For Half The Price
Clinching onto the road with a combined 20 inches of tire width in front and 22 inches of rubber in the back will give any driver a sense of confidence that has never been attainable at this price range. The car is incredibly stable and planted, steering sharply as the ZL1's track constantly hugs the road, assisted by the controlling properties of downforce (up to 65 pounds of it at 150 mph). It might not be a lot of downforce, but as a comparison, the lesser SS model currently generates an unwanted 200 pounds of lift at the same speed.
There are very few cars, and much fewer American cars, that have ever been as dynamic and capable as the Camaro ZL1. And none of them come in at such a relatively low MSRP: $54,095. Tack on the options found on our tester: a $600 carbon fiber hood insert, $470 forged five-spoke aluminum wheels (we'd rather have the black ones), a $1,185 automatic option (shame on you if you order one) plus the mandatory $2,600 gas guzzler tax slapped on every ZL1, and the 580-horse Chevrolet scrapes $60,000. As a counter point, the 662-horse 2013 Ford Mustang Shelby GT500 ($54,200 starting MSRP) will outmatch the ZL1 on the straightway, shout louder, and is rated at a way more manageable 24 mpg highway compared to the Chevy's 19 mpg.
At the same time, the ZL1 can do things a factory 2013 GT500 could never do. Things like pulling up to 1.02 lateral G forces before the rear tires begin to slide out, and its independent rear suspension absorbing bumps that would make the 'Stang's live rear axle buck itself off the road. Configuring the ZL1's Heads Up Display to show the G-forces as they happen also helps the driver monitor the vehicle as they power through corners at speeds that would make lesser vehicles slip off the pavement.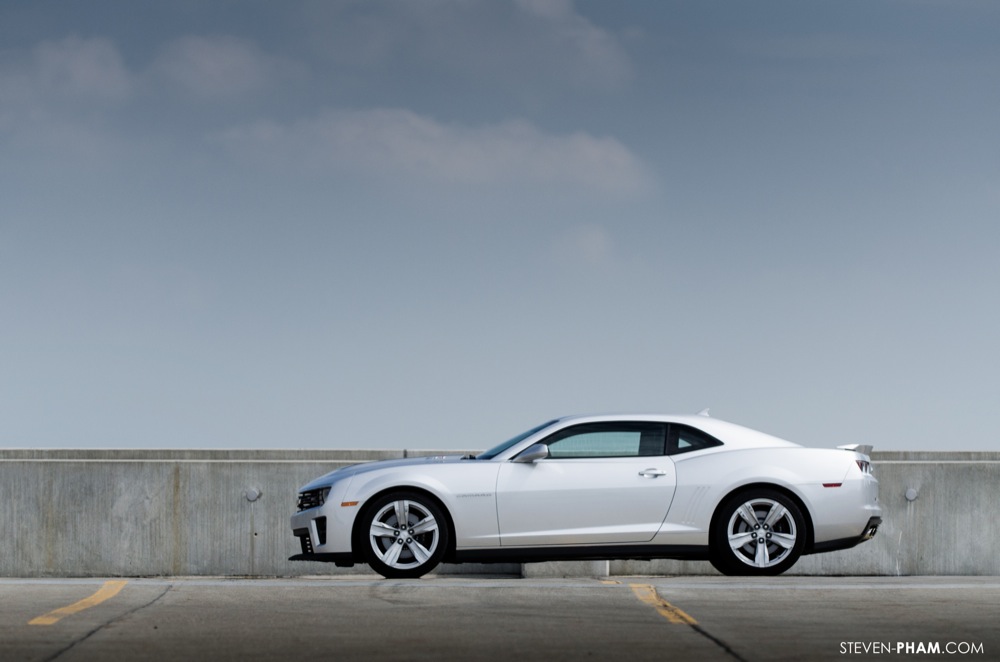 The Muscle Car, Version 5.0
Finally, after countless hairpin turns, cresting hills, and barren straights, we arrived in the small city of Chelsea, home of Jiffy corn muffin mix and Dumb and Dumber's Jeff Daniels. We all parked next to a rustic brick wall, stepped out of our cars and began inspecting our vehicles. The ZL1's front fascia was decorated with the corpses of at least 500 insects, tiny pelts from rocklets, and a dash of roadkill fur. The wheels transitioned from their aluminum sheen to fifty shades of gray, courtesy of the Brembo brake dust caked all over them, and the extractors continued to flow heat upwards like a powerplant. The Bimmers experienced the same results, albeit more pelts from the pebbles the ZL1's massive 305s kept spitting backwards. It was after this that we stopped in for brunch at The Common Grill (we had reservations) and enjoyed the shelter from the unrelenting sun, live jazz music, and fresh bread rolls.
Reflecting on the morning's drive, it became clear that six-figure cars like the BMW M6 have a new performance rival from America, and it's not even a Cadillac. It's a humble Chevrolet. A Chevrolet that comes with a track-covered factory warranty. Certainly, it's come a long way from '67 with its cutting edge suspension systems, traction systems, and aerodynamics properties… perhaps too long, and too far.
Not many of you readers may agree, but as fantastic of a driving machine as the Chevrolet Camaro ZL1 is, there seems to be a loss of character and identity. Its systems are coldly calculated, sophisticated and precisely executed, and to that extent we should all be grateful. But more seasoned consumers may not recognize today's ZL1 as the straightforward, no-frills bruiser they fell in love with almost 50 years ago, and it's too big and too expensive to appeal to the hardcore hoon nucleus of Generation Y, who could care less about things like suede inserts.
So here we are with this hyper-evolved road and track instrument, that at one time used to be little more than a primal rear-drive scrapper with a huge V8 under the hood. Welcome to the 21st century, where blue-collar Detroit muscle cars have shaped themselves to be some of the most well-rounded performance vehicles in the world, while still managing to be cheaper than virtually everything else comparable. It's just too bad that we can't get the ZL1 in Synergy Green.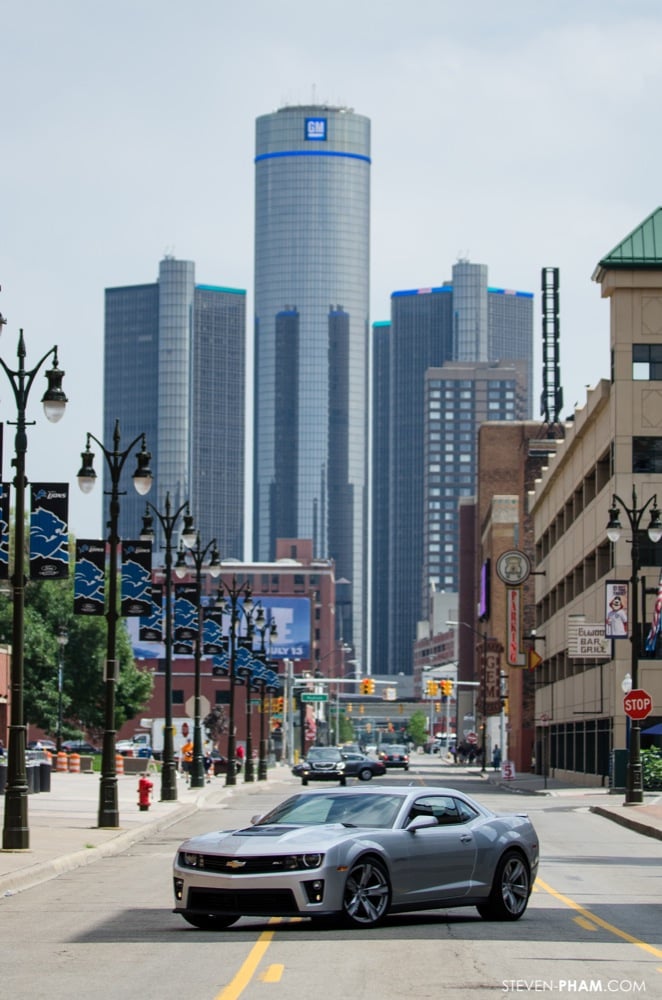 *Disclaimer: GM provided the ZL1 for the drive, complete with one tank of gas, which the car gulped down in a matter of a few hours. It was an expensive weekend. And we have to give a shout out to Steven Pham Photography, who both connected us with the BMW enthusiasts and shot these epic photos.
Sweepstakes Of The Month: Win a 2023 Corvette Z06 Convertible. Details here.
We are currently looking for experienced automotive journalists and editors to join our team. Make $60k-$80k per year doing what you love. We are also looking for an experienced web developer.
See details here
.