Opinion: Encore Good Start, But Buick Needs Companion Crossovers
We are currently looking for experienced automotive journalists and editors to join our team. Make $60k-$80k per year doing what you love. We are also looking for an experienced web developer.
See details here
.
66
It may be an understatement to say that there's been a significant amount speculation, discussion, and expressed sentiment about the Buick Encore before the vehicle's official unveiling at the Detroit Auto Show in January. "How's this a Buick", asked one loyal GM Authority reader. "Can I fit the Encore inside an Enclave?", asked another. Suffice to say, the preliminary reactions were mostly negative.
After the Encore's unveiling, however, many have changed their tune and opinion about the subcompact crossover: "Nicely done!", commented a GM Authority patron. "The interior is beautiful, gorgeously appointed with nice warm colors.".
Indeed, even the toughest Encore critics (such as yours truly) have come around to the idea of the vehicle being successful in wearing the Buick badge. To that end, Buick's press material has assisted in understanding its purpose — and, more importantly, the target market — of the Encore. For instance:
"Buick Encore is a great-looking, smart choice for those who want luxury crossover amenities in a more maneuverable and agile vehicle," said Tony DiSalle, U.S. vice president of Buick Marketing. "It represents a luxury alternative for a new audience of Buick customers, and delivers features and flexibility not typically found in vehicles of its size today."
In other words, the Encore breaks new ground for crossovers. Its subcompact dimensions make it smaller than the smallest premium-luxury CUVs in North America today: Encore is smaller than C-segment stalwarts such as the Audi Q5, Mercedes-Benz GLK, BMW X3, Acura RDX, and Infiniti EX — placing the Gamma-based crossover squarely in the B-Segment with the likes of the BMW X1, and Audi Q3. And more than anything, these classes emphasize just how different the Encore is to the Enclave. For instance, the full-size Enclave is an impressive 33 inches (83.82 cm) longer than the Encore, which measures 168 inches in length to the Enclave's gargantuan 201, with trunk room to spare even with the third row upright.
As such, it could be said that with the Encore and Enclave, Buick is serving two extreme markets while possibly missing the sweet spot: the compact and midsized crossover segments that represent the majority of car and crossover sales. And because of that, the Encore is a good start… but we hope it's only the beginning of Buick's long-term crossover strategy.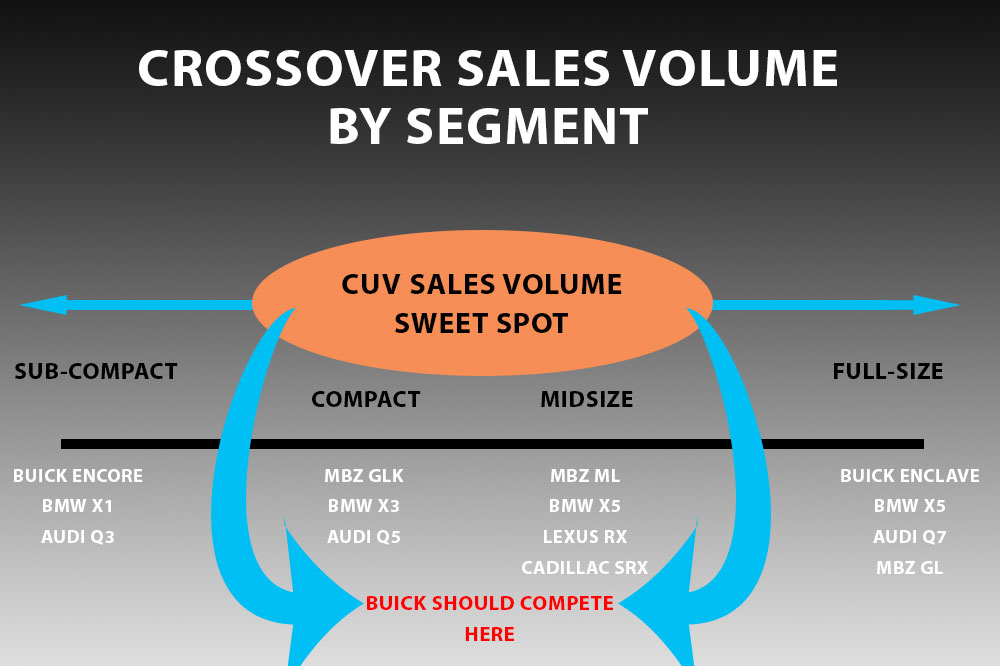 One of the segments in which Buick currently does not compete is the compact CUV space. This void could be filled by an all-new vehicle arriving sometime around 2015. Here are a few interesting developments that should be noted:
The next-generation Chevrolet Equinox and Captiva will merge to become a single global vehicle riding on the Delta platform used by the Chevy Cruze.
Opel's compact Antara crossover — which first debuted in 2006 and made available as the Saturn Vue in North America (currently sold exclusively to fleets as the Chevrolet Captiva Sport) is due for a complete revamp in the next two years. If GM continues on the path of taking Opel up-market while aligning it with Buick — a strategy put into question by the ongoing turnaround plans at Opel — then it could very well be that the next-gen Antara could join the Equinox/Captiva in riding on the Delta platform while creating a quieter and more refined Buick variant. In fact, this vehicle could have been previewed by the Buick Envision Concept and could be similar to the symbiosis between the Opel Mokka and Buick Encore, as well as the Opel Astra and Buick Verano.
And then there's the complete repositioning of Cadillac as a performance-luxury brand. The strategy will result in the creation of a new compact Alpha-based crossover to take on the BMW X3 and Mercedes-Benz GLK. The compact ATS-based crossover could even end up replacing the current-generation Theta-based SRX. If the Theta-based SRX is dropped, then Buick could have a chance to re-skin the crossover and have itself a quick entry into the also-popular midsize CUV segment… not to mention the fact that the Theta architecture and tooling will have been well paid for.
In effect, the problem is that Buick's current crossover offerings — the Enclave and Encore — and not positioned in the most popular (luxury) crossover segments, since they exist at opposite ends of the crossover size continuum. Ironically, this isn't the first time Buick has faced such a dilemma: before the arrival of the Verano and
Regal
, Buick's lineup appealed to a tiny 30 percent of the luxury car buyer. Adding a compact and/or midsize CUV to its lineup will give the brand broader reach in making its crossovers relevant to a wider buying public, resulting in more sales and greater market share. And best of all, the compact and midsize crossovers may not be that far off… if Buick is planning on it, that is.
Proposed Buick Crossover Lineup

| CROSSOVER | PLATFORM | CLASS | LENGTH (INCHES) | YEAR ON SALE |
| --- | --- | --- | --- | --- |
| ENCORE | GAMMA EXTENDED | SUBCOMPACT | 168 | 2013 |
| ENVISION | THETA | COMPACT | 180 | 2015 |
| MID-SIZE CUV | THETA PREMIUM? | MID-SIZED | 190 | 2015 |
| ENCLAVE | LAMBDA | FULL-SIZED | 201 | 2008+ |
Sweepstakes Of The Month: Win a 2022 Corvette C8.R IMSA GTLM Championship Edition. Details here.
We are currently looking for experienced automotive journalists and editors to join our team. Make $60k-$80k per year doing what you love. We are also looking for an experienced web developer.
See details here
.