Review: 2012 Buick Verano 1SL
8
Admittedly, I'm an adrenaline junkie. It's probably why I enjoy participating in extreme sports, like mixed martial arts, and rugby. It would also explain many of my hospital visits. Regardless, while my thrill-seeking spirit remains constantly intact, I do like to get in touch with my mellow side. And such a mood struck me whilst holding the key fob of a White Diamond 2012 Buick Verano. So with a muffled thud, the driver's side door shut, I pushed the start button, tuned to XM Chill, and off I went.
Overview 
We had some time with the 2012 Verano last fall. The lasting impressions were that it was subliminally quiet, well appointed, and brought a great alternative to the otherwise overly hard and sporty luxury compacts in the market. But time with the vehicle was limited, and wasn't enough to really dispense with a solid verdict. Revisiting the Verano for a second time offered a great perspective.
In particular, our Verano tester fell into the range-topping Leather package, while the Monroney told us that it's adorned in the 1LS trim and cost $25,965. As you can see from the photos, our tester was colored a $495 White Diamond hue, which was the only additional option, while the interior is a descriptive Choccachino leather. Tally in the premium paint and $885 destination charge, and the final price still rests well below thirty grand, at $27,345.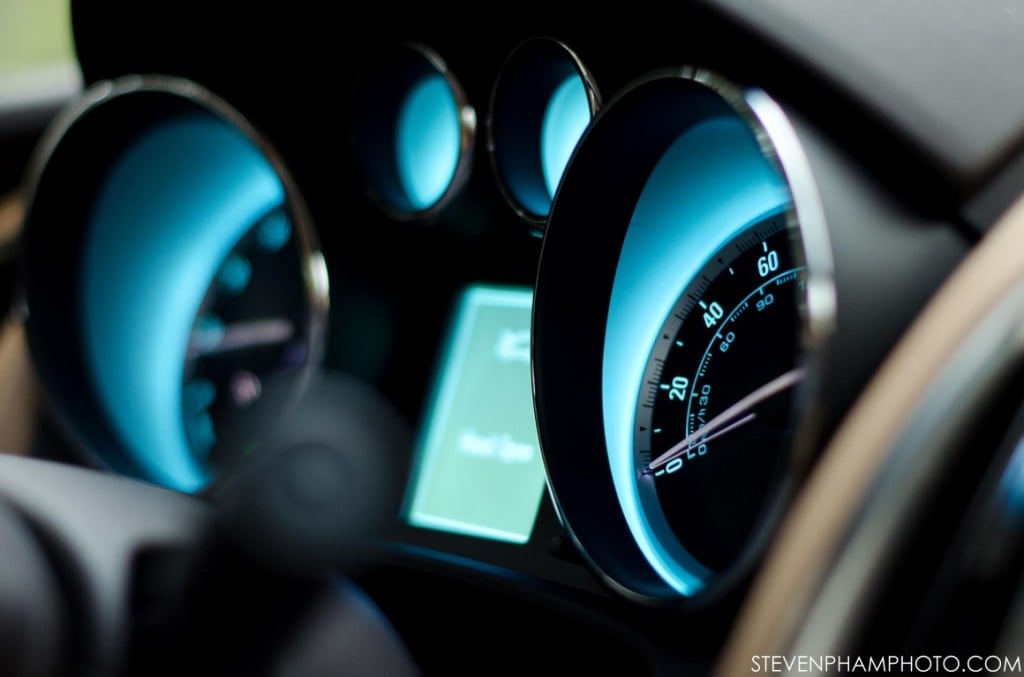 Available options missing from the tester included things like a $900 power sunroof, a $795 navigation system and the $450 set of more premium-looking wheels. The Verano doesn't really get much more advanced than that. Bi-Xenon headlamps, surprisingly, are absent from the party. Come to think of it, so are power-reclining seats, a power-adjusting steering wheel, and power-folding mirrors. These options would be welcome additions, and don't seem like too much to ask for. Oddly enough on the contrary, the mirrors are heated, the leather steering wheel is heated, and the high-quality seats can be found in its bigger, more expensive family member, the Buick LaCrosse.
The Verano's appearance features an attractive, conservative front fascia, but the rear end never grew on me. The chrome ass-brows above the tail-lamps just look tacky. Is this the kind of styling young single professionals and empty nest couples look for in a car? I'm gonna go with no.
Well Blended Ride And Handling
Revisiting the Buick Verano reassured me of the fact that it's one of the quietest vehicles I've ever been inside of. And it's a sub-$30,000 compact. Almost no wind noise, even at interstate speeds. The steering is sharp and the Continental tires grip appropriately. Complementing the steering, the suspension isn't floaty, and not overly hard. To get more descriptive, it's on the jaunty end of neutral. However if I could, I'd tune the suspension for an even softer ride only if I could keep the existing steering settings for the sake of added comfort — an element the vehicle seems to exhibit the most. The braking feel is initially squishy before the four discs clamp down enough to stop the 3,300-pound Verano from 60-0 in 124 feet, but nevertheless is easy to get used to.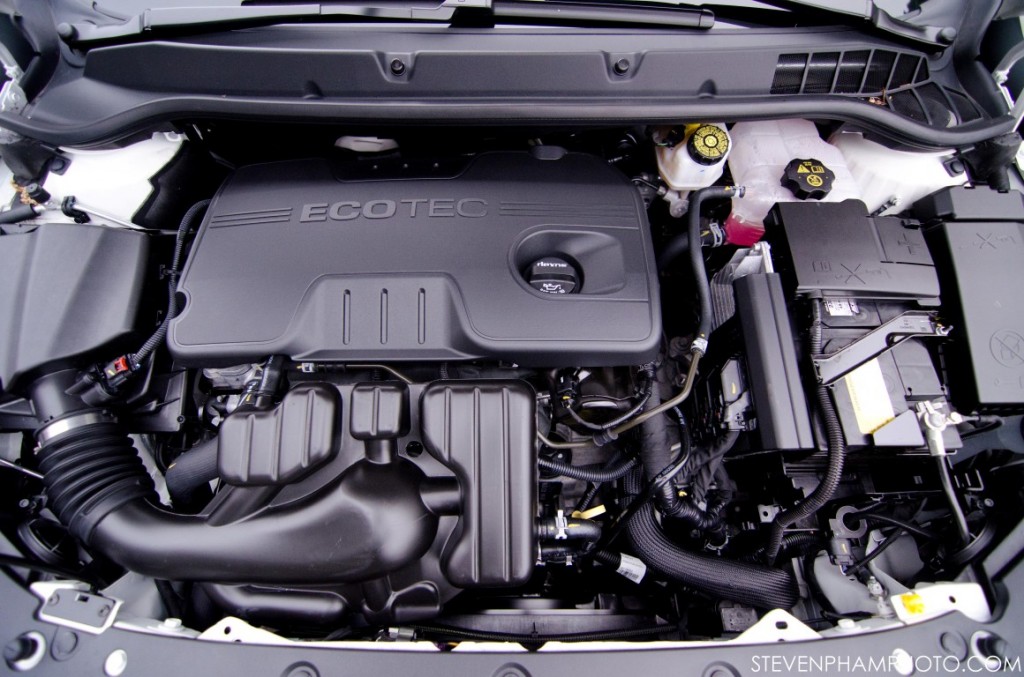 The Verano's engine is nothing to get excited about, though the six-speed transmission is the smooth standout in the powertrain. Mash the pedal and the 2.4L Ecotec seemingly yells more out of discomfort than pleasure. I'm sure we can all relate to that. Anyways, the 0-60 sprint is just under nine seconds, so it's not exactly an athlete. Than again, this car isn't pretending to be one. But for the hungry swarms of you out there pent up with desire for a 2.0L Ecotec turbo engine complete with a six-speed manual transmission in the Verano, don't you worry. The combination is coming.
Hopefully some of you bought into my sarcasm, as I am still left scratching my slowly balding head as to how a stick-turbo Verano got the green light for the North American market, and appealing and practical cars like the Chevrolet Cruze wagon and hatchback are left to be enjoyed across the pond. Regardless, I will continue to pray to the car gods for GM to show some product consistency. /rant.
The EPA rates the 2012 Verano with its 180 hp, 171 lb.-ft. 2.4L Ecotec at 21 mpg in the city and 32 mpg highway. I averaged 27 mpg, which is two points higher than the EPA-rated average, but I will confess that it was mostly highway driving with 55 mph speed limits and interstate driving with 70 mph speed limits. Some people who are now used to 40 mpg compacts may find the Verano's numbers unsatisfactory, but when it comes to its competition, such as the Lexus IS250 and Acura TSX, the 32 mpg highway figure is still class leading. Though it's still fairly low for a modern front wheel drive compact. But that seems to be changing soon.
Those who have been paying attention may also note that GM's about to launch a brand new 2.5L four-cylinder mill, essentially making the aged 2.4L engine in the Verano obsolete. It will be the new 2.5L that will gradually replace the 2.4L Ecotec across GM's portfolio going forward. Expect the all-new, smoother, quieter, more powerful and more efficient 2.5L Ecotec in the Verano by the 2013 model year, at which point we will revisit the Verano again to test both this new engine and the 2.0L turbo configuration. With the 2.5L block, we can hope for yet even more refinement, more power and increased fuel economy.
Full Sized Comfort, Compact Size
If plushness is what you want, a Buick Verano equipped with Choccachino leather seats is the best way to go. The grained leather is soft to the touch, and the design of the seats provides plenty of support, even for hours of driving. The chairs are also of a wider nature with less of an emphasis on bolstering, giving the cabin a less confined feeling that's also supplemented by the vanity windows. Rear passengers may find their amount of legroom disappointing, but then again, this isn't a LaCrosse, even though the small Verano is as quiet as one.
While my first try with the Verano yielded much of what the chassis was capable of, I didn't play as much with the Intellilink system as I would have liked to, that changed this time around. The system itself is standard, as is the attractive seven-inch color display screen. To play a certain radio station, users must first push the proper button on the steering wheel, and say "tune". From there, simply say whatever frequency (AM, FM, or XM) and then the station number. In the case of XM, you can opt to say the station's name (like "Electric Area" or "Classic Vinyl") instead. And if you have a smartphone, you can even stream Pandora or Stitcher through the Bose Premium Audio System via Bluetooth if your heart so desires.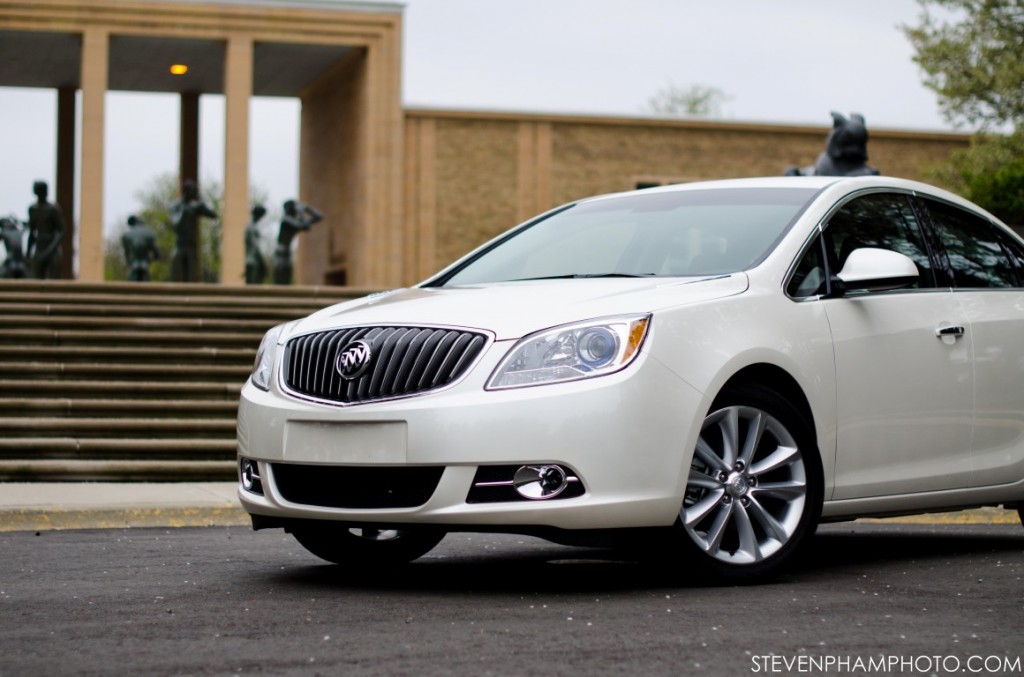 Looking Forward
A base Verano starts a hair over $22,500. And there's a few sore spots that give way as to why the Verano carries a relatively low price tag, despite being great otherwise. The center storage compartment may have been soft to the touch, but felt loose and flimsy. The plastic window vents tasked with defogging the front driver's and passenger windows look and feel as if they came from a Rubbermaid reject bin, and are extremely noticeable to occupants. To back this up, I introduced my mother to the Verano as she fits that "empty nest couples" demographic Buick is targeting with the vehicle. Before I even asked for her thoughts, she gazed at these vents and exclaimed: "I don't like those at all". Take it from my mom, Buick. Sequentially, she did warm up to the car after she realized how serene the Verano rode.
Other weak marks are the plastichrome interior accents and wood carved from a faux tree. Real brushed metals and veneered wood could do wonders here. And if that means bumping up the MSRP, I doubt few will care, because according to Buick's people, almost nobody goes for a base Verano in the first place. Additionally, it will show that GM is serious about making Buick a true luxury brand. Despite it all, these blemishes never spoiled the experience. But like eating a tender steak, you know it would sometimes be better with a little more seasoning, even if it still tastes good.
The GM Authority Final Word
The 2012 Buick Verano is a well-done first attempt at a comfortable, contemporary entry luxury vehicle. Its starting MSRP is a great value considering the creature comforts, and its hushed ride is reminiscent of vehicles much larger and more expensive. And with just a few tweaks, the surprising Verano can be pretty much perfect.
Photo Credit: Steven Pham
Sweepstakes Of The Month: Win a 2023 Corvette Z06 Convertible. Details here.
We are currently looking for experienced automotive journalists and editors to join our team. Make $60k-$80k per year doing what you love. We are also looking for an experienced web developer.
See details here
.