Future Product Guide: GMC Vehicles For 2012, 2013, 2014 Model Years
We are currently looking for experienced automotive journalists and editors to join our team. Make $60k-$80k per year doing what you love. We are also looking for an experienced web developer.
See details here
.
104
Below, we've outlined GM's plans for its GMC brand for the next three model years in North America. Without further ado, enjoy the guide and share your thoughts (and otherwise) in the comments!
Please note that dates are in model years, which tend to precede calendar years by approximately a year. For instance, a vehicle may first debut in 2012 and then be brought to market later the same year as a 2013.
GMC Product Guide - 2012 2013 2014
| 2012 MY | 2013 MY | 2014 MY |
| --- | --- | --- |
| CANYON DISCONTINUATION | GRANITE DEBUT (CANCELLED) | SIERRA 1500 REDESIGN & RE-ENGINEER |
| | 2013 TERRAIN DENALI DEBUT | YUKON REDESIGN & RE-ENGINEER |
| | 2013 ACADIA REFRESH | CANYON REPLACEMENT DEBUT? |
| | TERRAIN EASSIST? | MIDSIZE SUV DEBUT? |
2012: The Year Of Nothing
Canyon: production of the present-generation midsize truck will cease by mid-2012 when the Shreveport, LA plant is shut down.
2013: The Year Of Crossovers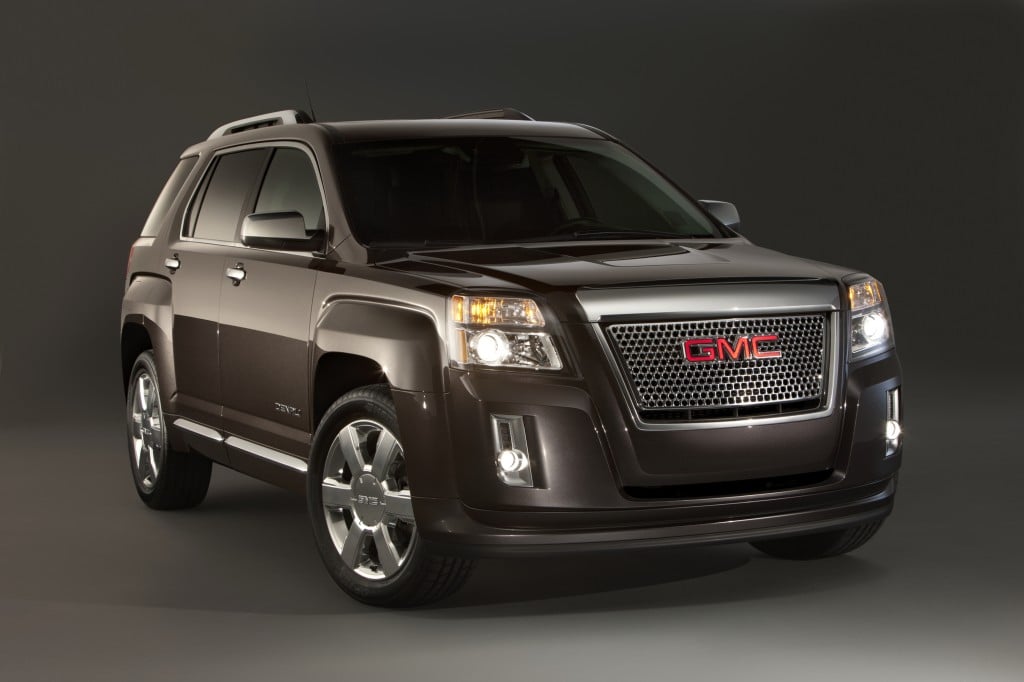 Terrain Denali: coming to market in 2012 for the 2013 model year, the range-topping Denali version of the Terrain will don enough chrome to make a rapper jealous, as well as high-flow dampers that will result in a smoother ride. The 3.6 liter LFX will finally make its way to the compact/midsize CUV, replacing the anemic 3.0 LF1 across the Terrain range.
Granite Debut: The Granite has been cancelled — and we think it's better that way. having been greelit for production, the subcompact crossover will bow in 2012 for the 2013 model year. The Delta II-based model will share its platform with the Cruze and Verano, although it will ride on a shortened wheelbase. Staying true to the concept, it will also have Dutch doors and have a pickup variant that was shown as the Granite CPU. The concept was powered by a 1.4 liter turbocharged Ecotec engine mated to a six-speed manual transmission — the same powertrain as in the Chevy Cruze. The production version may get the 2.0 liter turbocharged Ecotec or GM's new 2.5 liter naturally aspirated Ecotec.
Acadia Freshening: GMC's full-sized three-row crossover will receive a refresh for the 2013 model year. The 2013 Acadia and Acadia Denali will include new front and rear fascias, the industry's first front center airbag, and the addition of IntelliLink, among other enhancements.
2014: The Year Of Trucks And SUVs
Sierra 1500 Redesign & Re-Engineer: expected in the second half of 2013 for the 2014 model year, the next-generation Sierra will utilize an updated architecture called K2XG and will sport significant powertrain improvements to increase fuel economy while not sacrificing capability. A six cylinder turbo and optional 8-speed transmission are likely, but we wouldn't discount a naturally-aspirated six-banger under the hood as the base engine. The styling will be greatly differentiated from the Silverado platform mate and a number of GMC-exclusive convenience features are also in the cards. According to sources, "interesting trim levels" are being discussed that have never been seen before. A specialty off-road-oriented variant, along the lines of the Sierra All-Terrain HD Concept, will come a year or two after the debut of the "regular" Sierra.
Yukon Redesign & Re-Engineer: the truck-based full sized SUVs will bow in 2013 as 2014 model year vehicles. The Yukon and larger Yukon XL will ride on an updated platform called K2UG and share more sheet metal with the Sierra pickup truck than the current generation. More importantly, the styling will have a high degree of differentiation compared to the Tahoe/Suburban — the Yukon's platform mates. In an effort to improve fuel economy in a wide range of driving scenarios, an eight-speed transmission will be utilized and GM's four-mode hybrid system will replace the current two-mode setup in the optional Hybrid trim.
Canyon: even though GM has (finally) confirmed that the next-generation Chevy Colorado will make its way to the States, it has not announced any plans for a GMC version. As such it's unclear whether the new truck will don both the Chevy Colorado and GMC Canyon nameplates, but we think that GMC will get a version of the truck for the 2014 model year. For the sanity of truck fans all over North America, we hope that the Chevy and GMC midsizers will be differentiated by more than a simple badge engineering job. Engines in the international-market Colorado include the 2.5 and 2.8 liter Duramax turbo diesels making as much as 346 lb.-ft. of torque (in the 2.8 model). Furthermore, new CAFE requirements will most likely result in the discontinuation of the range of outdated powertrains in the current model, including the large yet not very power-dense fours, fives, and eights.
Midsize SUV Debut: expected for the 2013 model year, the new vehicle will be based on GM's global midsize SUV platform shared with the recently-debuted Chevrolet Colorado. This vehicle, whose name is unknown at time of publication, will be GMC's version of the Chevy TrailBlazer but will be heavily differentiated, containing squared styling to the Blazer's more rounded shape. Engine choices are currently unknown, but the global Chevy Colorado will utilize GM's new turbo-diesel four cylinders, available in 2.5 and 2.8 liter displacements. It's unlikely that GM will offer turbodiesels on family- or personal-use SUV, so the 3.0 liter LF1 or 3.6 liter LFX are the most likely contenders to power the vehicle.
2015 & Beyond
Sierra Heavy Duty: the best-in-class heavy duty truck was restyled and re-engineered for the 2011 model year. Expect updates to the heavy duty to follow the release of the all-new Sierra 1500 by a year or two, due for the 2014 or 2015 model year. Details are scarce, but a new version of the Duramax Diesel is in the works.
Savana: a new Savana full-size van will come several years later (timing unknown). There have been rumblings of GM modernizing the traditional classic old vans by moving them to a single global vehicle based on the Opel Movano, just as Ford is doing with the T-Series and its Transit line in Europe.
Term Legend
Rolling Update
Minor on-the-fly updates to configuration options, features, etc.
Facelift
Minor changes to the vehicle's sheet metal, with most hanges including new grille, front and/or rear fascias, headlights, tail lights, hood, and fenders.
Refresh
All-around improvements and changes to exterior, interior, and mechanical components. The platform and overall body style remain unchanged.
Re-engineer & Redesign
Re-engineer: platform, powertrains, and components receive extensive makeover as well as upgrades to improve ride, handling, braking, steering, fuel economy, safety.
Redesign: extensive changes to the exterior and interior. May include a new body style.
All-new (Overhaul)
New platform, new interior and exterior. New or carried over engine and transmission.
Debut
New model reveal.
We are currently looking for experienced automotive journalists and editors to join our team. Make $60k-$80k per year doing what you love. We are also looking for an experienced web developer.
See details here
.