First Drive: 2012 Buick Verano
23
I thought I ran over  a chipmunk. It was hard to tell. I haven't run over many rodents in my lifetime, but I imagine a chipmunk to be somewhat of an unnoticeable obstacle if it was left to grotesquely festoon the pavement upon an encounter with a wheel of Buick's first-ever Verano — GM's next take on a compact vehicle for the storied brand, and it's just what I happened to be driving at the time of my chipmunk encounter, which ended up living to cross another street.
This Is Not A Chevy Cruze
Don't ever mistake this car to be a rebadged Chevrolet Cruze. But there is a resemblance. The biggest similarity between the two are the well-built bones of GM's Delta II compact vehicle architecture. As such, dimensions of the Verano are listed at 183.9 inches long, 71.5 inches wide, and 58.4 inches tall. Those numbers are on the high end for something considered a compact vehicle. It's also fairly heavy, at 3,484 lbs. — which could totally pass for midsized. Also giving the impression of a larger vehicle are 10 standard airbags, and a generous 15.4 cubic feet of trunk space — a figure that can easily fit at least two people, as observed in the photos below.
Certainly there will be ignoramuses that will see the vehicles as the same model with minor change-ups (the stereotypical badge engineering practice), but this case would honestly be like comparing my college football-playing little brother with my female cousin who is an interior design major. They may share similar genes, but there are major differences between both.
Just by looking at the Verano, you can tell that it proudly stands as its own vehicle. The front fascia is distinctively Buick, with the traditional waterfall grille and oval-shaped headlamps accompanied by a tasteful blue halo light in each one. The back has a flair all its own, with a pair of chrome lines accenting the taillamps — a feature we here at GM Authority have sophomorically coined as "assbrows." The sides display a proportioned belt line, complimented by a sheet metal crease near the bottom of the doors and multi-spoke wheels. All in all, the car looks graceful and inviting if not a tad conservative.
The engine behind the Verano's well-appointed front fascia is a 180 hp, 171 lb.-ft. 2.4-liter Ecotec  that you won't find in the 138 hp Cruze — but rather the larger Buick Regal and other vehicles unrelated to the Verano. There are four disc brakes, polished 18-inch wheels — both features just so happen to be standard — and the Intellilink infotainment system, which brings smartphone connectivity to the table and lets users stream Pandora and Stitcher Smart Radio through the Verano's optional 9-speaker Bose sound system. The system also utilizes voice-activated commands to place phone calls, and change tracks and radio stations without ever having to take any hands off the steering wheel. The new features are activated by simply touching the wheel-mounted button, but commands must be said with precision, otherwise it's simply easier and less frustrating to change songs manually.
Quietly Standing Out
Plush front seats and headrests that could moonlight as pillows further expand on the Verano's emphasis on comfort, and the full-grain leather that can be found in the larger and more expensive LaCrosse has trickled its way into the cabin of the Buick entry-level sedan as well. But cloth seats are present in the base model, and there isn't much electronic seat adjustments to be found in any trim level. The car is also seemingly missing ample AC ventilation for rear seat passengers and the vents designated to blow on the driver's and front passenger's windows stuck out as distinctively crude compared to the rest of the cabin, which even features fabric-wrapped A-pillars.
Despite these minor gripes, the engineers tasked with soundproofing the Verano deserve more than just a few pats on the back, as the hype of the Verano's quietness wasn't found to be exaggerated. This $23,470 base-price compact sedan managed to deafen noise, vibration and harshness (NVH) levels comparable to vehicles much larger and quite a deal more expensive. Truth be told, if I did run over that chipmunk, there's probably a very good chance I wouldn't have felt or heard anything, anyway.
Triple-sealed doors, a laminated windshield, driver and front passenger windows, sound deadening foam stuffed wherever it would fit, aerodynamic paneling along the underbody, tuned chambers designed to muffle the engine's exhaust note, and other unique features all contribute to providing the Verano with its unique selling point: it's numbingly quiet. And while the Verano's adequate handling reflects the vehicle's hushed features, it's far from being incompetent.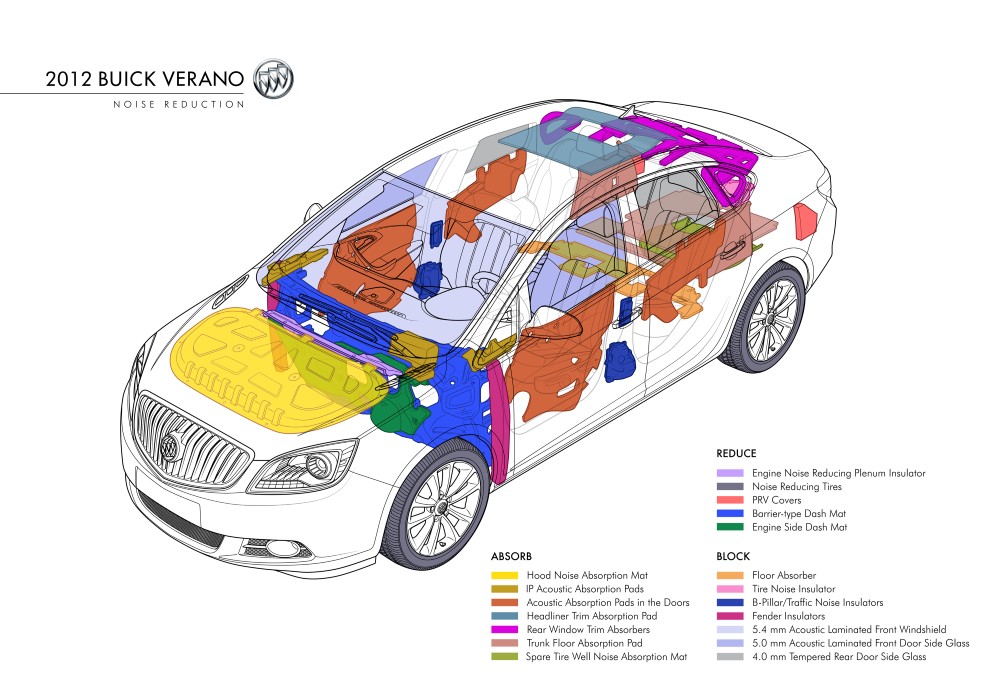 An Unassuming Performer
Four standard disc brakes will press with enough ferocity to bring the Verano to a standstill from 60 miles per hour in just 124 feet. Impressive, for a car that doesn't necessarily suggest much performance, though the brake pedal did feel a tad spongy. Additionally, the Watt's Z-Link rear suspension system proved itself more than just capable during the hours of intense driving through the mountainous regions in the lovely state of Oregon. No, I didn't get to eat at Portland's world-famous Voodoo Donuts, but If I really wanted a bacon laden oily cake dipped in caramel and covered in Fruit Loops, I'd just make it myself. The coffee out there is damn good, though.
Before I get too caught up in my travel experience, I should note that the Verano's 0-60 time falls in at under 9 seconds, which is not something the car's target market would care much about, but they may appreciate the vehicle's maneuverability. The spirited performance of the Verano on the winding roads is perhaps the biggest surprise of the car. A quiet cabin was expected. Intuitive technology was expected. But the car's athleticism reminds me of the soft-spoken kid in class who never looks for trouble, but goes to boxing lessons after school. You wouldn't know what you were in for, until you messed with him. But where the car shines in on-road aptitude, it comes across as "just alright" in fuel economy.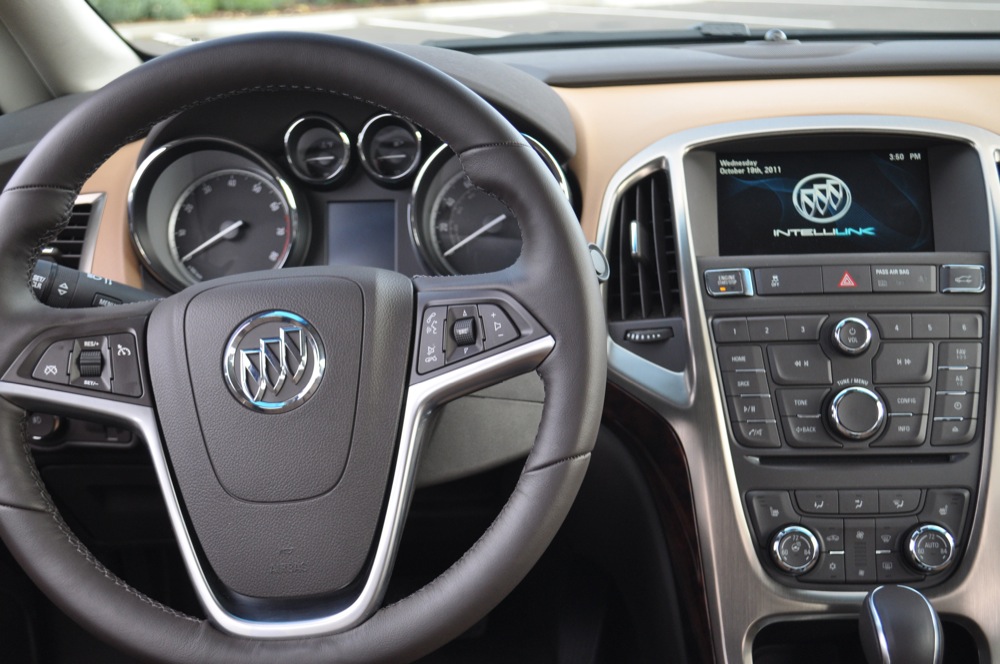 Only 31 MPG
Listening to the opinions of other automotive writers during lunch, it seemed that they all agreed that a major selling point for the Verano is going to be its fuel economy. While they may be right, an estimated 31 miles per gallon is not a stellar number for a compact car these days. Yes, competitive models in the segment may post similar or even lower numbers, but they are also more performance oriented; quicker in the straights and more powerful. Buick would like us to think that some rivals to the Verano are the likes of the Lexus IS, Audi A3 and Acura TSX, even though they all come across as a different car on paper and on the road, as well as in marketing. But most importantly, consumers are more conscious of fuel economy numbers more than ever before. Some food for thought: the 2012 Chevrolet Camaro V6 with 312 horsepower boasts a near-equal 30 mpg highway rating. Make of that what you will.
Consider that — if you wanted — you could get a loaded 2012 Cruze LTZ and get 38 miles per gallon on the highway with similar performance numbers, though your ride won't be as relaxing. Additionally, the Verano's 2.4L Ecotec can be found in larger GM vehicles such as the Chevrolet Malibu and GMC Terrain, yet their fuel economy numbers are slightly better than what we see in the compact Verano. So while the Verano may stand out among other premium compacts, it seemingly underachieves when looking at vehicles just within the GM family.
This could be due to the circumstance that the all-new 2.5L Ecotec isn't quite ready for production, as it will make its debut in the 2013 Malibu sometime next year. There's also the expectation of mating the 2.4L Ecotec with an eAssist application, as seen in the larger Regal and LaCrosse. Additionally, an eAssist Verano is mentioned in the GM Authority Future Product Guide. Whichever scenario pans out, the fuel economy of the Verano should rise in the not-too-distant-future.
The GM Authority Final Word
Plush, comfortable and capable. But most importantly, the 2012 Buick Verano is possibly the quietest car available for under $30,000. With seemingly no mirror rivals currently on the market, the hushed Verano looks to carve its own little niche in an otherwise performance-oriented compact luxury segment. While it's great in those respects, the car should feature more content if it wants to reflect Buick's premium message, even if it means raising the base price. Look for it to roll out of GM's Lake Orion, MI assembly plant next month.
Photo Credit: Manoli Katakis
Sweepstakes Of The Month: Win a 2023 Corvette Z06 Convertible. Details here.
We are currently looking for experienced automotive journalists and editors to join our team. Make $60k-$80k per year doing what you love. We are also looking for an experienced web developer.
See details here
.