Review: The 2012 GMC Acadia Denali
3
The first-ever GMC Acadia Denali has only been on the market for less than a year, but sales have been so successful that General Motors plans on increasing the model's supply so that it amounts to 30 percent of overall volume of the entire Acadia family. And wouldn't you know it? We happened to get a hold of the brand's latest cash cow. Let's see how it is…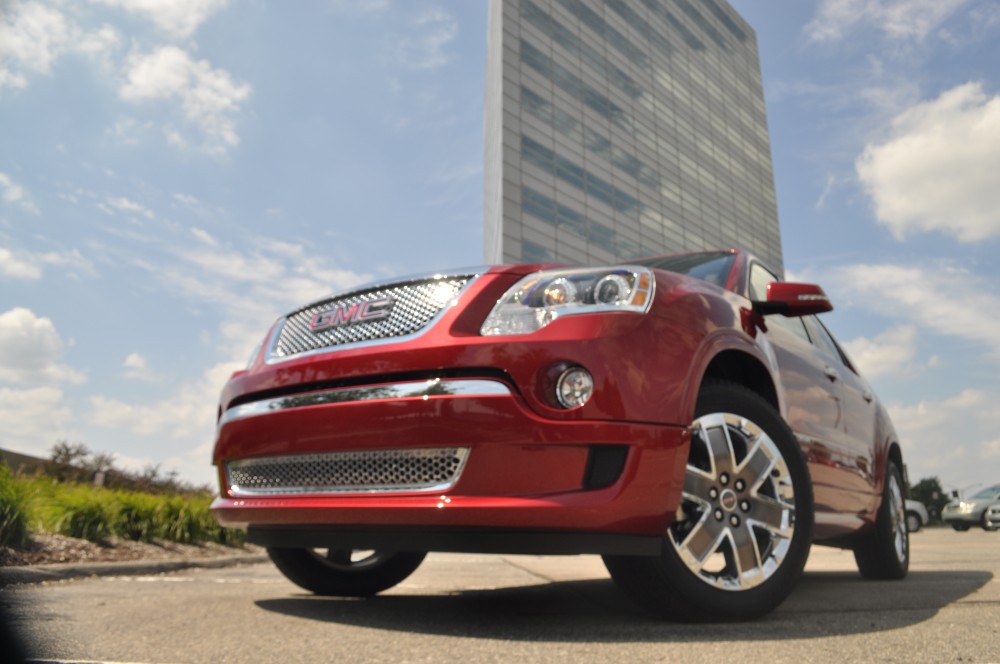 Overview
GMC's competition is widely seen to be other models in the General Motors family, and in many ways that's true. Even its exclusive Denali line can be cross-shopped with loaded Chevrolet, Buicks and Cadillacs, though it seems that GMC has always played in its own little spot in the sandbox. Though in this case, the Acadia Denali isn't the only niche vehicle in the premium seven-seater segment. Other vehicles that come to mind that the Denali can be compared to include the Ford Flex Titanium ($38,145), Lincoln MKT ($44,300),Volkswagen Touareg ($42,975) or even the Acura MDX ($42,930).
The GMC Acadia Denali — like the rest of GM's Lambda crossover family — arrives out of the factory with a 3.6-liter V6 engine calibrated to produce 288 horsepower at 6,300 rpm and 270 pound-feet of torque at 3,400 rpm. That power is charged with the task of moving my 4,720-pound tester (this happened to be a front-wheel-drive model). It only gets heavier with the addition of all-wheel-drive, tipping the scales at 4,925 pounds.
Mechanically, there's nothing different between the standard Acadia and this dressed-up one.
The aforementioned 3.6L V6 is currently the only engine offering across the board, and is a bit of a bummer considering the Chevrolet Camaro V6 cradles pretty much the same engine, though it's tuned to produce 312 horsepower and 278 pounds-feet of torque. The Acadia Denali also features a 118-inch wheelbase, a width of 78.9 inches and an overall length of 201.1 inches.
Our tester stickers just under 50-grand, at $48,420. That cost includes the $810 destination charge as well. There's also $3,730 in options which include an updated $1,890 touchscreen satellite navigation setup and rearview camera system. A $1,445 Rear Seat Entertainment system also joins in, as does a 110-volt rear power outlet and AV outlets, which is great for plugging in a laptop and finishing that presentation while your mom buddy carpools you to work, or you could just play videogames. Finally there's the $395 Crystal Red Tintcoat premium color option that helps set this particular model apart from all of the copycat White Diamond Tricoat models running around.
Despite the price, the Denali package adds merely around $1,000 on top of topped-out Acadia SLT-2 with AWD. Essentially, it's an appearance package, albeit a well done appearance package.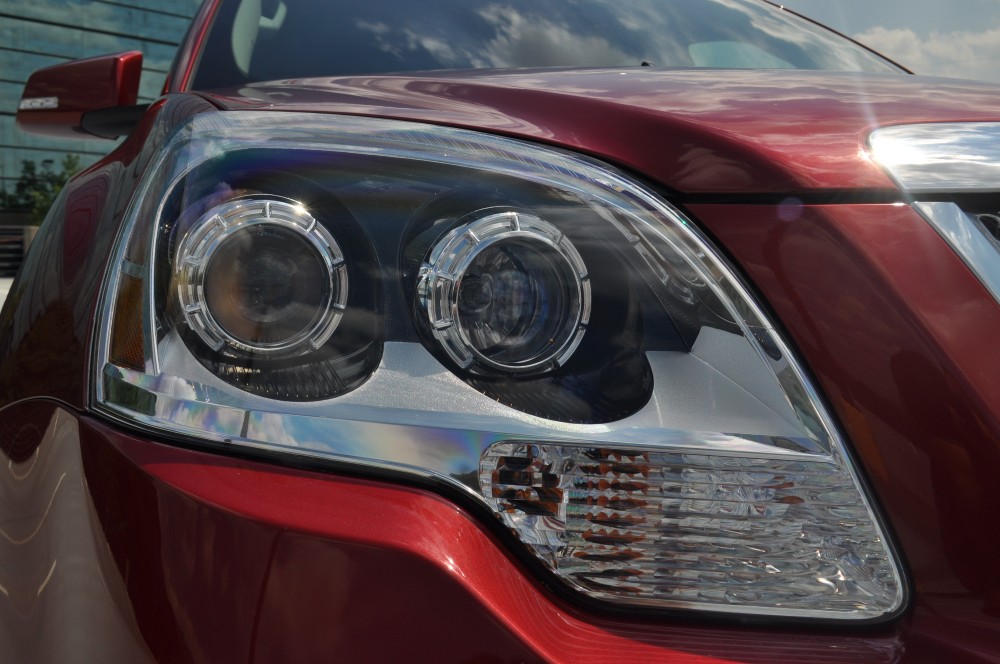 Design
The looks of the Acadia Denali are unlike anything else in the segment, and are clearly distinguishable its fellow Chevy Traverse and Buick Enclave crossovers from the outside. It also sheds away the unattractive plastic bordering that surrounds lesser Acadia models. The grey 20-inch wheels are unique to the vehicle and look absolutely amazing (but would probably stand out better in White Diamond paint, rather then the red). Then there's the intricate attention to detail in the chic head and tail lamps that give an impression all their own. Dare I say, very GMC-esque? Perhaps.
The fresh take on the wheels made me think for a moment that perhaps maybe the Denali line doesn't need to be dripping in chrome. Maybe it's better off carving into more of a niche style look that appears at home next to shimmering office buildings. GM seems to overdo it in the chrome department, anyways.
Still, the attention to detail was unbalanced. For instance, there's no reason that the bottom of the rear seating frames need to be exposed. Especially in a $48,000-plus vehicle. The rest of the interior was fairly plush, accented with warm grey paneling and a touch of polished metal. But there was too much hard-touch plastics present in the cabin, and I guess that's what happens when the base model is $13,000 cheaper then the one we have here.
Overall, the Denali's presence was clean and professional, and even slightly original. But there's still some things to gripe about when inspecting the vehicle up close.
Handling
There is an appropriate amount of accelerative grunt to be found here, and a surprisingly sporty exhaust note. But despite the adequate performance, some (myself included) would like to see a bump in power — a traditional feature that GMC has done in the larger Yukon and Sierra Denali models — but unfortunately the powers that be had decided against it. They also decided against offering all-wheel-drive as a standard feature, but at least fuel economy doesn't take a drop this way. Additionally, the six-speed automatic seemed confused in its shifting when throttled, and there is a noticeable delay in the upshift as it tries to figure out what to do.
The Acadia Denali's heft can be felt while driving the vehicle. Body roll is noticeable, which is a characteristic of all Lambda platform crossovers, though the ride is more comfortable as a tradeoff. Therefore, it's easy to conclude that this crossover is by no means performance oriented compared to say, the Porsche Cayenne, but it does a great job loading up 7 passengers — a purpose that the crossover seemed to have been built around. Though the Acadia's team didn't do the chunky CUV any favors by giving it obstructive B-pillers, though steering is fairly tight.
There also happened to be blind-spot mirrors (rather than more expensive blind-spot sensors) to aid in the sometimes perilous task of merging lanes. Additionally, the new backup camera system features guidelines that help gauge as to weather or not that small tree is really in the way and helps to clarify if a steering adjustment is needed, that is if you don't trust all of the irritating beeping coming from the radar sensors.
Fuel economy worked out to be just as advertised, averaging 18.3 miles per gallon over roughly 525 combined driving miles. It wasn't hard to achieve the EPA estimated 24 mpg on the highway, or the 17 mpg in the city, and the 22-gallon tank is advertised to last as long as 506 highway miles. Those choosing between the heftier, thirstier Yukon Denali and this very model may be swayed towards the latter for this very reason, unless towing a camper is on the agenda.
Comfort
Sitting in the driver's seat of the Acadia Denali is not much different from any other fancy Lambda crossover, but that's not really a bad thing, unless you want to fiddle with buttons on the center stack, at which point some where just out of the range my stocky arms could reach without having to slightly lean over. The second row also happens to be a great place to sit, and is heads and shoulders more comfortable than the more rigid Yukon Denali. The third row should only be reserved for children, or those with anorexia.
Some pleasant, and even unexpected features included a Heads Up Display (awesome!) that would show my current speed and engine revs per minute right on the windshield, and would display music information as I changed the station or the song switched on my iPod that was plugged in the auxiliary glove box above the center console. Glancing up at the ceiling revealed not one, but two moon-roofs to gave upon the heavens with, though only the front one was retractable. There's also a set of audio control buttons located — get this — in the trunk. Somebody had tailgating in mind with that feature.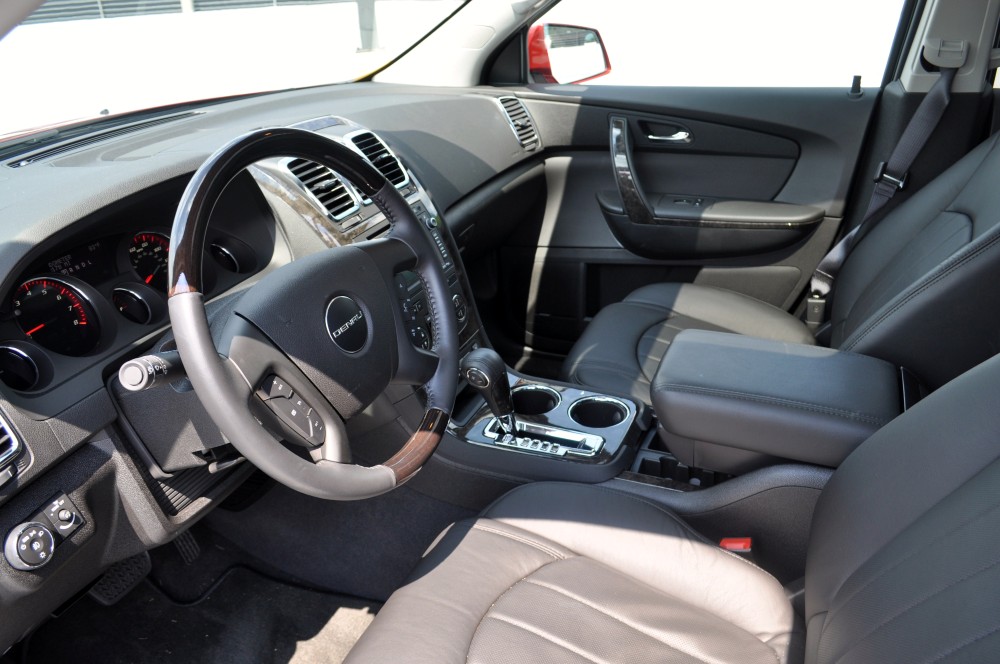 The GM Authority Bottom Line
Another trendy soccer-mom SUV? Or a niche Professional Grade business shuttle? The GMC Acadia Denali plays both roles well. However, the fully loaded Buick Enclave sitting across the showroom floor is just as nice.
Sweepstakes Of The Month: Win a Corvette Z06 and 2024 Silverado. Details here.
We are currently looking for experienced automotive journalists and editors to join our team. Make $60k-$80k per year doing what you love. We are also looking for an experienced web developer.
See details here
.