Deep Dive: Interior Of The 2013 Chevrolet Malibu
4
On incredibly short notice, Chevy's media team sent me an email asking if I would like to attend an event showcasing the interior of the all-new 2013 Chevrolet Malibu within the locked-down confines that is GM's Milford Proving Grounds. It's not everyday one is invited to such a place. Whatever plans I had for the day, I immediately canceled them.
Cut the grass? Go to the dentist? Screw that, I'm going to Milford.
After registering at the front desk, Chevy's Dave Darovitz escorted myself and a few other journalists to a sealed off room within a massive garage full of cloaked vehicles that I couldn't help but gawk at. Considering that myself and everyone else who was invited to this function happen to be nosy journalists, it was really difficult not to stare. But when they shut the doors and sealed us off, all everyone could focus on was the red 2013 Malibu in the center of the room. Shortly after the formalities, we were paired into color coordinated groups. In accordance to the sticker on my name tag, I was in the yellow group.
NVH, Acoustics
The first station Group Yellow was sent to was the "Quiet" station. Essentially, it was a soundproofed jury room and helped optimize the sound demonstrations given to us with these special headphones, that looked far from cutting edge, but were in fact anything but. With these deceiving devices, we were given an audio simulation of the acoustics within the new 'Bu's cabin, which were recorded on something called an Aachen HEAD.
The German-made instrument is a mannequin-like device that stores sounds exactly as a human would hear them, and is then able to play them back. This is incredibly useful, as a human's acoustic memory lasts for no more than 10 seconds. By that, I don't mean people can't remember what something sounds like, but rather where a sound is coming from. And while the 2013 'Bu still has another half-year's worth of refinement to go through, what I heard in the demonstration was impressive. This is due to the attention to detail involved, as thousands of sounds have so far been recorded and measured — ranging from engine noise, to doors shutting, and even to the pressing of buttons. If it creates a decibel, it's monitored.
There are several sound-proofing features in the upcoming Malibu that contribute to an isolated ride, all of which are shown in the graphic below. Some highlights include triple-sealed doors, with absorption pads located behind the paneling, and even a 5 millimeter laminate on the front windows that reduce wind noise by 3 decibels compared to conventional tempered glass. There's also sound dampening material located beneath the carpet on the floor and even efforts to isolate engine noise in the front and wind noise emitting from the trunk and wheel housing.
Design, Colors And Layout
From a sheer numbers standpoint, the 2013 Malibu is exactly 191.3 inches in length, which is less than an inch shorter than the outgoing model. However, at 73 inches wide, its stance is nearly a full three inches larger than the old Malibu, and is a mere half inch taller, at 57.6 inches. In total, there is exactly 100 cubic feet of cabin space, which is more than the 97.3 cubic feet observed in the outgoing 'Bu. Trunk space increases 1.2 cubic feet to total 16.3 cubic feet.
The gains are mostly attributed to the significant increases in front and rear shoulder room, but we see a slight decrease in legroom in both the front and back, with .9 inches lost in the second row. There is, however, a slight increase in headroom for both the front and back rows. However, my esteemed colleague Mark Phelan of The Detroit Free Press bumped his head upon entering the second row. I'll take that as a sign.
Just how does the interior look? Well, if you paid attention to our many videos and coverage of the 2013 Malibu at the 2011 New York International Auto Show, you may already be familiar. But as a recap, the layout up front retains the outgoing Malibu's dual cockpit setup, while featuring a Camaro-inspired gauge cluster, and an all-new center stack. There are cleverly-placed nooks for storage located on both sides on the center console, as well as storage bins molded into the front doors, each being capable of holding two beverage containers. There's also the traditional two beverage holders located in the middle, so if you do the math, you've got six cup holders among the front two seats alone. There's also a hidden storage compartment located behind the center touch-screen, which is good for hiding things, if you will.
In total, there will be 10 different interior configurations upon the vehicle's launch, along with 11 fairly neutral-looking exterior colors. Faux wood (ugh) will be the alternative to the grey metallic plastic paneling to go along with the cloth, vinyl or leather seats. The trim level you choose (LS, LT or LTZ) will determine just what kind of materials you get. The grille-inspired wraparound on the dashboard is present and accounted for on all trim levels, and I honestly wouldn't be a fan if it weren't for the ice blue lighting that highlights it. The lighting is also present in the door handle wells, and is the very color that the instrument panel and center console gently illuminate into the cabin.
It's currently unclear whether or not the Malibu Eco will feature anything exclusive in terms of interior trim packaging. The verdict: The new Malibu's interior brings an incredible balance of style, elegance, color and sexy to the otherwise fairly unexciting midsize segment.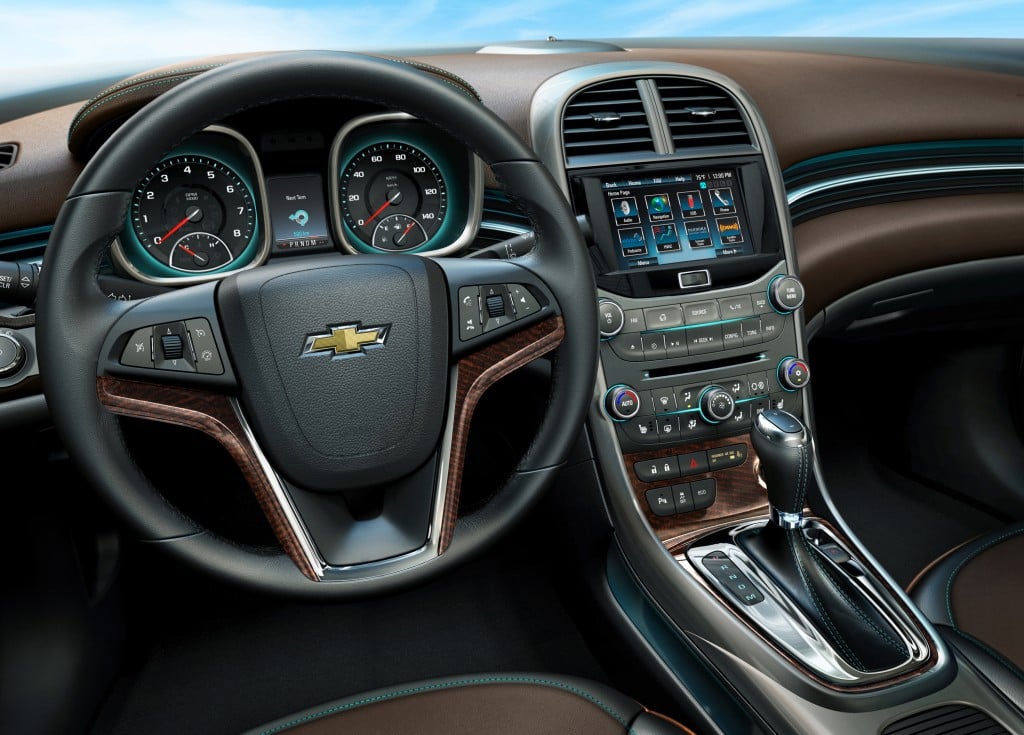 Seats, Comfort
Fact: Americans are on average an inch taller, and 22 pounds heavier than they were 50 years ago. This statistic probably has a lot to do with why the new 'Bu is so much wider than ever before. There are bigger butts to fit inside. To bolster such boisterous behinds, a lot of work went into making sure that the seats are as accommodating as ever for the most spoiled demanding customers in the world.
On average, Americans spend 18 hours of seat time a week in their cars. So it's only fitting that hundreds of hours were spent in testing and developing the seats of the 2013 Malibu. So, with high-tech methods like pressure mapping that can immediately locate pressure points as soon as a passenger sits down, and analogue techniques utilizing special mannequins that simulate and measure how a typical human would fit in a seat, we can be thankful for the amount of  work put into the optimization of comfort, while still meeting weight targets and safety requirements.
That said, the seats are more bolstered this time around, absorbing the natural contours of the passenger more thoroughly, and therefore capable of keeping him or her more stable during the ride. But we'll have to get behind the wheel and take the 2013 Malibu to the road to really get a feel on just how well the seats absorb us. Hopefully, that will be next time.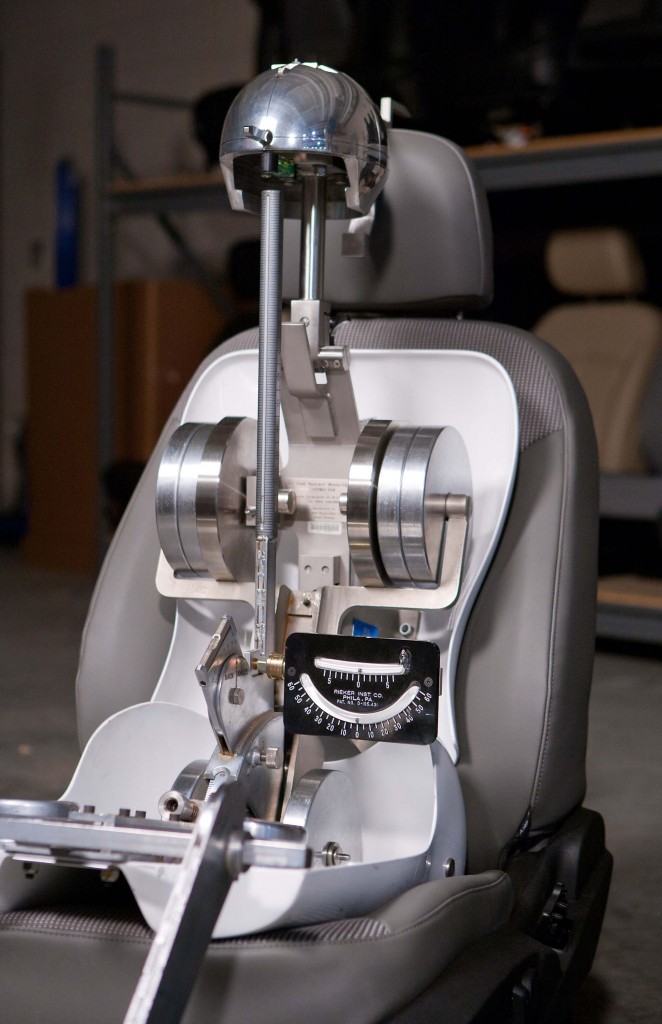 Technology, Chevy MyLink
Virtually identical to what was seen in a pre-production version of the 2012 Buick LaCrosse eAssist under the IntelliLink name, Chevy MyLink is an all new infotainment system that uses voice commands, touch screen controls and smartphone integration. The intuitive feature has so far stricken me as easy to use as well as very safe.
Apps such as Pandora internet radio and Stitcher SmartRadio are streamed from the driver's Android, Blackberry or Apple smartphones to the speakers via Bluetooth, and are controlled from the high resolution touch screen. Simple things such as climate control and audio settings can also be controlled from the screen. On top of that, users can switch between AM, FM, and XM radio stations by simple voice commands (ie: "Play XM Radio: Electric Area"), as well as make hands-free phone calls (also via voice). The only bummer to this otherwise highly intuitive system is that MyLink will not include satellite navigation by launch time, though such an update is planned to materialize around six months following (which puts it in the June-July 2012 time slot). For those wondering, I noticed a Pioneer Audio logo grace one of the speakers.
I was also informed that a website is planned for the MyLink system, where users will be able to download updates onto a USB drive and plug it into the car to install them.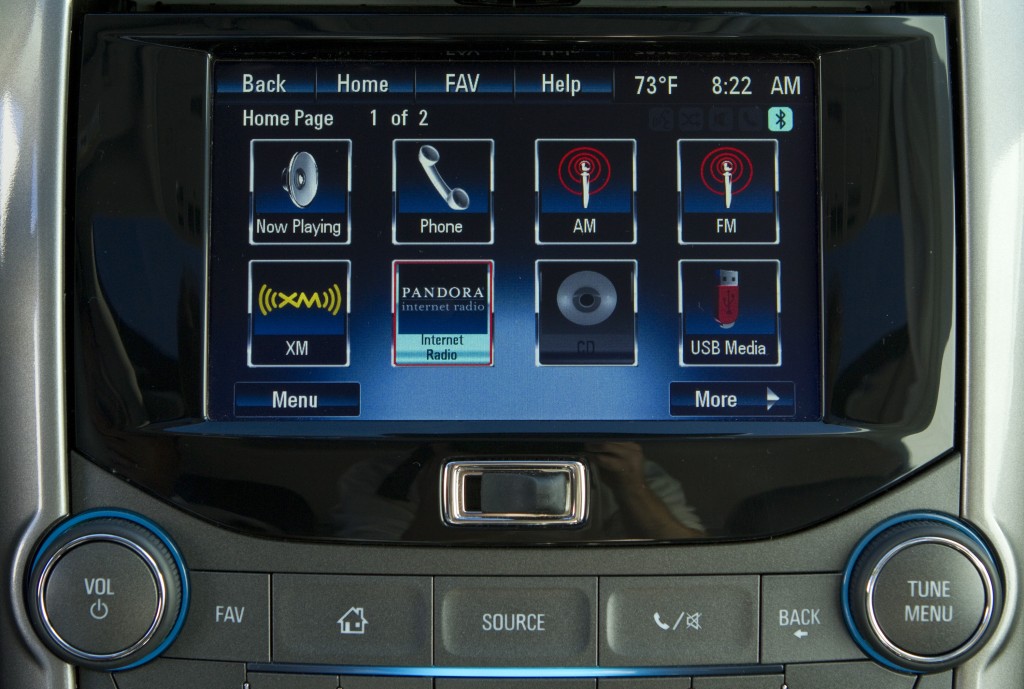 The GM Authority Take
The 2013 Chevrolet Malibu has promise written all over it in bold letters in terms of refinement, technology and design. Now all that's left is to drive it…
Sweepstakes Of The Month: Win a Corvette Z06 and 2024 Silverado. Details here.
We are currently looking for experienced automotive journalists and editors to join our team. Make $60k-$80k per year doing what you love. We are also looking for an experienced web developer.
See details here
.