Review: 2011 Buick Regal Turbo
13
While listening to Sirius-XM Electric Area with the bass up on its Harman Kardon sound system cruising down I-696, I realized that the 2011 Buick Regal Turbo is perhaps the farthest thing from what Buick has been known for over the past 20 years: something that a driving enthusiast would actually consider. And I'm not the only one.
While showing off the ride to a few of my friends — the age average of this group was probably 21 years old — they all came to the conclusion that they too could see themselves owning a Buick Regal Turbo based on their first impressions. And this was all before we went for a drive.
Before I get into how the car feels on the road, I have to note that the 2011 Buick Regal Turbo CXL starts at $29,220, and our tester featured the TO7 equipment package, which puts the final price at $34,910, not including the $750 destination charge. From a dimensions standpoint, the car is classified as a mid-sized vehicle. It weighs in at 3,600 pounds, stretches 190.2 inches in length with a 107.8 inch wheelbase, and stands 58.4 inches high. These specs are virtually identical to the Lexus ES, Volkswagen Passat, and Lincoln MKZ. Yet from an engine output standpoint, the Regal Turbo compares to smaller, sportier cars like the Audi A4 and Acura TSX. So, if you're looking for a mirror rival to the Regal Turbo, have fun, because you'll be looking far and wide to find a car that shares a similar price, size, power and demographics to the Regal Turbo.
From the outside, the Regal Turbo looks the same as the cheaper naturally aspirated model, save for the "T" badging next to the right rear taillight. Its Quicksilver Metallic paint and 19-inch wheels gave our tester a look that was clean and approachable, while still having an upscale and composed look about it that tells passers by that it's no Camry. Humbly put, its modern looks are degrees more attractive than what you'd find from Lexus, Lincoln or Acura. The only disappointment in its design is that its a straight carbon copy of the Opel Insignia, which depending on your views on the whole badge-engineering thing, you may find yourself shaking your head. Though when I climbed inside the cockpit of my tester, I forgot about such trivial things, at least for a moment.
The interior of the Buick Regal Turbo is one of the cleanest looking cabins I've sat in, being able to figure out what mostly everything on the steering wheel and center console does at first glance, all while being tastefully accompanied with a glossy piano black trim. Yes, of course the Regal Turbo features the necessary heated front row leather seats, a color display satellite navigation system and USB port. But then there's also a bangin' 320 Watt 9-speaker Harman-Kardon sound system, a handy 120-volt power outlet and a fantastic Bluetooth system that a 3-year-old can learn to operate in a minute. But my favorite feature in the cabin had to be the knob and button cluster located just behind the shifter that allowed for easy and intuitive controls of the audio and navigation systems with minimal effort, and helped keep my focus on the ever-enjoyable driving.
This thing might not be a Cadillac CTS-V, but don't take it for a slug. The 2.0-liter, 220 horsepower, 258 lbs.-ft. turbocharged ECOTEC four-pot will bring the Regal Turbo up to 60 miles per hour in as little as 7.5 seconds. Okay, so that's actually pretty weak considering that's the same time it takes a massive GMC Sierra 3500 HD to sprint to the same speed. Maybe it has something to do with the Regal Turbo's very noticeable turbo lag, which could be managed to a degree by using the vehicles TAPshift system, allowing for manual changing of the gears. But was it still fun to drive? Yes.
Unlike the retired Regal Grand National of the 1980's, the Regal Turbo can take a corner with enthusiasm, thanks to its MacPherson struts up front and 4-link suspension system in the back. Turn after turn, the Regal Turbo reminded me that the athleticism of a car cannot be solely based on straight-line speed anymore. And despite the slow 0-60 sprint, it really didn't feel that slow, as the car becomes much more punchy when the turbo finally charges up at 2,000 RPM or so. It could be that the turbo lag had something to do with the fact that our tester was equipped with a six-speed automatic transmission, and not a more liberating manual, which is available. We'll find out soon enough. This is also probably a good time to mention that the range-topping Regal GS, which launches this fall, promises more performance with increased horsepower, a six-speed manual and Brembo brake system.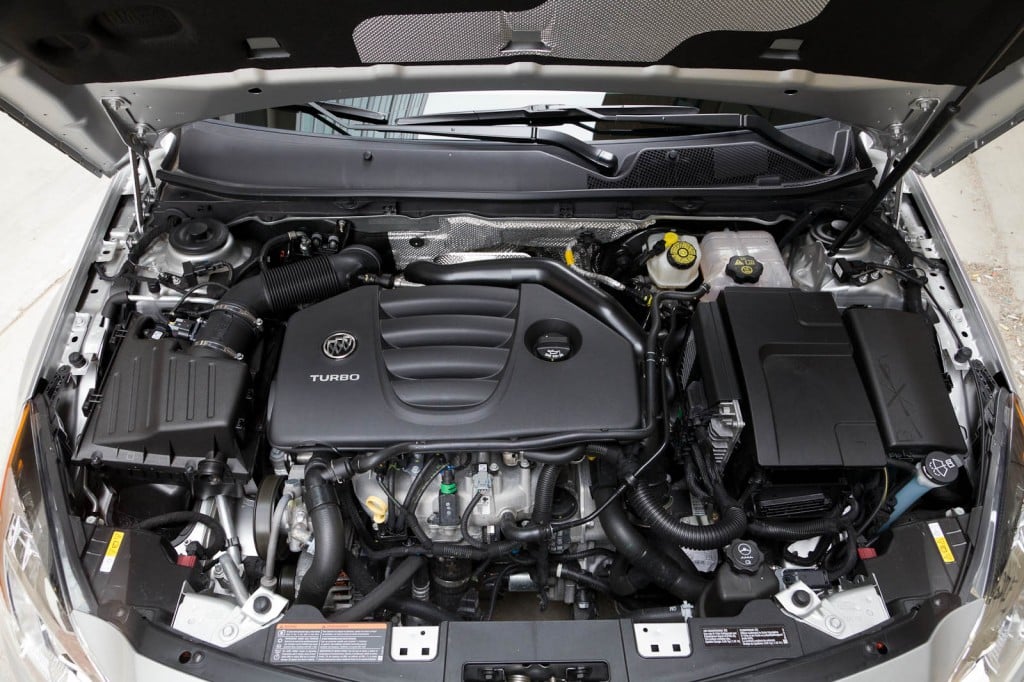 With fuel economy becoming an ever more important priority, our tester is rated at 18 miles per gallon in the city and 28 on the highway. It was hard to touch a number like 30 MPG on the highway, but it should be easier with the manual version, which is rated at 20 MPG in the city and 32 MPG on the highway. Still, 28 MPG isn't bad for a 3,600 lb. turbocharged performance sedan. With that in mind, I have to say that the driving experience of the Regal Turbo made my smiles so affordable, I felt like I was stealing them from the gas-hog muscle car owner that can't afford to fill his tank these days.
While the engine's power was limited, it didn't matter how fast I went. The Buick Regal Turbo didn't complain. It remained stable, it remained poised, and it unapologetically proved to me that I was indeed driving a bona fide sport sedan. But that doesn't mean the Regal Turbo can't relax.
What I found to be one of the most interesting features on the Regal Turbo is its Interactive Driver Control System, which is Buick-talk for an adjustable steering and suspension system. The IDCS allows the driver to configure the ride, throttle and the steering to be softened and numbed like the *ahem* more traditional Buicks by pressing the Tour button on the center stack, or behave more like the autobahn-ready sport sedan that makes me happy by simply pushing the Sport button. Or it could be left in Standard mode. To note, the IDCS feature is perhaps the most overlooked among other reviews I've read on the Buick Regal Turbo, and it's a shame because it allows the car to appeal to a very wide audience that a less sophisticated car could not manage. On top of that, Buick's Phil Colley also told me that the car's computer would adjust its ride and handling to reflect my driving habits if it had to. You could call it a "smart car," but I wouldn't for obvious reasons.
The GM Authority Bottom Line
Easily one of the most enjoyable mid-sized FWD sedans starting under $30,000. The 2011 Buick Regal Turbo graces the fine line between a premium sport sedan and mild luxury cruiser with solid performance, a versatile suspension system and refined technology that deserves the attention of the casual driver and enthusiasts alike.
Why You Would Buy One
A great combination of performance and comfort for its price
Awesome tech and audio features
Why You Wouldn't
Turbo lag, and just not enough power
You're holding out for the Regal GS
Sweepstakes Of The Month: Win a Corvette Z06 and 2024 Silverado. Details here.
We are currently looking for experienced automotive journalists and editors to join our team. Make $60k-$80k per year doing what you love. We are also looking for an experienced web developer.
See details here
.