Review: The 2011 Cadillac SRX Turbo
3
Earlier this year, we reported with news that General Motors will be euthanising the Cadillac SRX Turbo due to poor sales results, turning this into a review of a crossover deemed unfit for the world. But should we miss it?
Overview
**Our tester was actually painted Crystal Red, not the Platinum Ice hue we have photographed. Regardless, everything else is virtually the same, so don't fret.**
To start, our tester was as loaded as the SRX could possibly get. With features like all-wheel-drive, a massive UltraView sunroof, a Bose sound system and power adjustable pedals listed as standard, and major options such as the $1,395 rear seat entertainment (RSE) package and a $995 Crystal Red paint job, all the way down to incredibly minute things including a $90 pet guard barrier net being present and accounted for to tip the scales at $56,635, by no means near the base model's starting price of $34,430. Cadillac's website lists the Lexus RX and Audi Q5 as its top competitors and the vehicle itself is built in Ramos Arizpe, Mexico alongside the Saab 9-4X.
To note, the entry-level SRX lacks today's luxury necessities such as a GPS, heated leather seats, remote start, keyless access and ultrasonic parking assist. If GM wants Cadillac to be taken more seriously as a luxury brand, they should offer such things as a standard — even on the most basic of models (and to live up to their "New Standard of the World" tagline).
On paper, the SRX weighs in at a porky 4,387 lbs., is 190 inches long and offers 61.1 cu. ft. of trunk space with the second row folded. The engine powering our tester is a turbocharged 2.8L V6 engine that makes 300 hp and 295 pounds-feet of torque, which is a significant boost from the base model's 3.oL LF1 V6 engine that pushes out a more docile 265 horsepower and 223 pounds-feet of torque. The SRX was also made an NHTSA Top Safety Pick.
From a styling standpoint, the SRX is perhaps the boldest in the segment, with sharp, angled tail lamps, headlights and grille that are all distinctively Cadillac. There is no mistaking the SRX for another crossover, as it rolls around with noticeably more swagger than the conservative design language of the Lexus RX — the sales leader of the segment.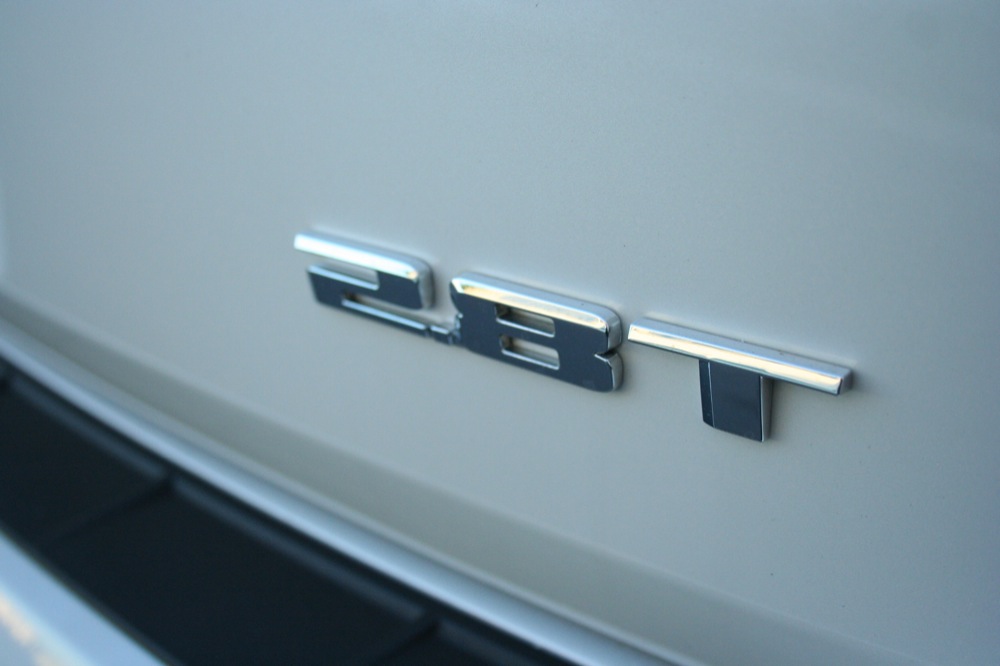 I Wanna Race You
The Cadillac SRX Turbo and its boosted 2.8L V6 engine boasts an output that is pretty much dead even with the rest of the European competition, at 300 horsepower and 295 pounds-feet of torque, of which is ready to push your unsuspecting body into the seat at just 2,000 RPM and will continue to keep the pressure on, thanks to an even torque curve. It also helps the Caddy achieve a 0-60 time of around 7.6 seconds, which isn't bad considering its 4,387 lb. curb weight — though still mediocre compared to its lighter German rivals. More forgiving, however, is the braking distance, needing just 128 feet to come to a complete stop from 60 MPH. Overly anxious drivers will also be impressed by the passing power of the SRX Turbo, coupled by the assuring whir of the turbocharger. What they won't be impressed by, however, is the fuel economy,which is rated by the EPA at just 15 MPG in the city and 22 MPG on the highway, while we observed 18.5 MPG of combined driving. Oh, and it needs to drink premium. Or else. Adding to the drawbacks were the A-pillars, which were fat enough to make me feel like I was driving my mother's larger Buick Enclave.
Our tester also felt confident in the corners thanks to its sporty FE3 suspension system and its all-wheel-drive. These features give the SRX Turbo a much more dramatic and dynamic driving feel than the naturally aspirated base model, which uses a more cushy FE2 suspension system and starts with just front-wheel-drive before charging a little extra for the AWD system. However, the overall handling and suspension subtracts from the ride comfort, but such is the world of sport luxury crossovers.
While the SRX Turbo is leaps ahead of the base model in terms of a rewarding driving experience, it doesn't fall in as a performance leader in this hyper-competitive segment. The reason could be that GM engineers had the soft-core Lexus RX in mind (as I'm told by those involved) when developing the SRX. That makes me feel that this range-topping variant would have been better if they would have primarily eyed the more athletic BMW or Audi crossovers from the bottom-up and gone with another take on using the RWD Sigma platform — like the first-generation SRX — instead of a modified version of the Theta platform while leaving the Lexus-poaching to Buick. Maybe if it wasn't for the whole project being shared with Saab, that would have happened.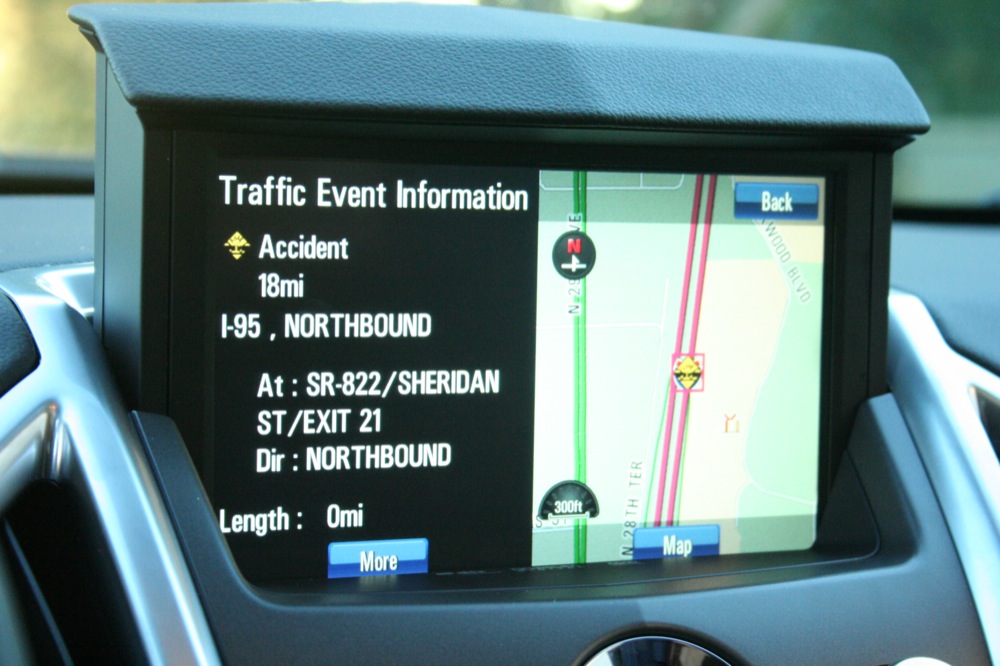 A Bold, Yet Clumsy Cabin
As I opened the door to the SRX for the first time, I was drawn in by its sexy ambiance. Compared to the CTS, the SRX feels a little fancier, with subtle ice blue lighting illuminating the footwells and striking through the dash. Looking up, the enormous UltraView sunroof gave way to an amazing view of a clear night sky above, while the HID headlamps lit the way ahead, also turning their gaze in whatever direction I turned the wheel. It's easy to see what draws so many people to the SRX just from the vibe it puts out both inside and out.
I found the heated/ventilated seats comfortable, and the adjustable seat pedals able to meet up with my stocky legs. With the versatile seats adjusted to my liking I was in one of the more comfortable positions as a driver that I can think of off the top of my head. All I had to do now was electronically adjust the steering wheel and… wait a minute…
…It turns out that there is the lack of an electronic tilt/telescope option for the steering wheel across the board for the SRX. If you're wondering what the big deal is, I'll tell you. This is simple feature is missing on a car that stickers well over $50K, and it's not even offered as an option, yet the cheaper CTS Coupe I reviewed had the feature present and accounted for. What's more, Cadillac's PR team informed me that there are no immediate plans to address the issue and implement one, and this is the same comfort-deficient steering wheel that I griped over in the cabin of the CTS, mind you. What gives? Your guess is as good as mine.
Another minor grievance is that the ultrasonic parking assist that features sensors both in front and on the back of the car struck me as overly sensitive. I found myself constantly stopping the car and walking out to check on what all the hyperactive beeping fuss was about, only to find I had another two-and-a-half feet of clearance to go. It's by no means a nuisance for the casual parker, but if you're one who enjoys taking risks and boldly parks where most crossover drivers are afraid to, this system might get under your skin. And you can't just turn it off with a button.
As for the GPS system, overall ergonomics not as refined as they should be. By that I mean that there's a few too many buttons, or perhaps they are just not as nicely bundled together where all I would have to do is rest my hand near the gear stick and have all the command buttons within the spread of my finger tips. If it sounds like I'm describing Audi's MMI system, I am.  That aside, entering a destination into the navigation system was quite simple, thanks to the computer narrowing down the choices as I spelled out on the touch-screen where I wanted to go.
Another topic concerning the ergonomics that needs to be brought up is the MP3 playback. Though I didn't need both USB and auxiliary jacks to listen to my iPod, the interface puts all of my music in a different order than how it was on my iPod. For instance, if I selected to play Tool on the touch screen, the system would then proceed to play all of their songs in an alphabetical order, mixing up the albums and track listings in the process, as opposed to just playing in the order I have it listed on my iPod. If I wanted to listen to just a Tool album the way it's listed on my iPod, I would have to go to the Album category and choose only one. But I didn't want to listen to just one album, I wanted to listen to all of their albums, in proper order, just like I can on my iPod.
Making up for the MP3 playback shortcomings was the intuitive feature that allowed me to browse XM radio stations based on genre. No more flipping through the 100+ channels looking for an alternative rock station, the display brings it up for you — and it tells you who is playing on that station at that moment before you even tune in, though sometimes I caught it being a little delayed. Equally as helpful were the real-time traffic and weather updates.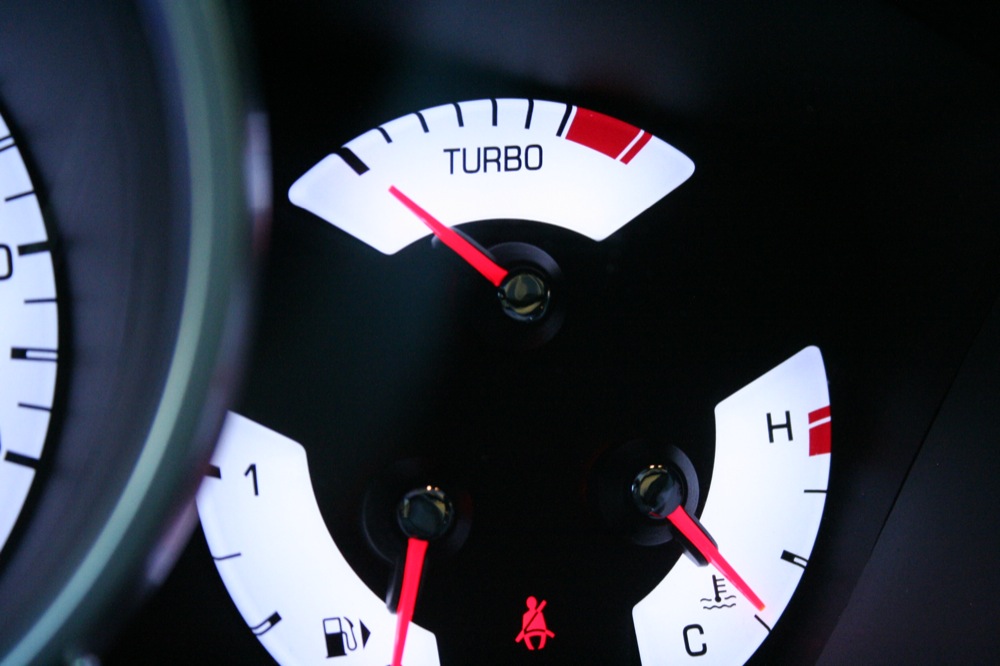 A Compact Fullsized Midsized Crossover
From a sheer numbers standpoint, the SRX Turbo is all over the place. With a starting price of $49,915, a length of 190.3 inches, and a width of 75.2 inches, it's nearly the same size of the BMW X5 midsized crossover while being just a couple hundred dollars north of the smaller Audi Q5 3.2 Prestige compact crossover. The SRX Turbo's engine output was also nearly the same as the X5, being just under in the torque margin by 5 pounds-feet and even at 300 horsepower.
More vehicle for the money one might say, but with its poor fuel economy rating of 22 MPG on the highway and 15 MPG in the city, the SRX Turbo sports nearly the same fuel economy numbers as the much more massive Audi Q7, a crossover that is over 200 inches long and weighs in at 5,192 pounds. Yikes.
It's one thing if you're shopping for a sport luxury crossover or SUV the size of a Q7, as lower fuel economy numbers are commonplace in such a segment. It's another thing to buy a much smaller crossover and see virtually no improvement in fuel economy whatsoever. Not to mention, it requires premium fuel, altogether making every drive feel like you're getting ripped off inside a theme park. If you could never put a finger on why over 90 percent of all SRX crossovers sold last year cradled the more economical 3.0L LF1 V6 engine instead of the thirsty 2.8L turbo, you can now.
Thankfully word on the street is that the SRX will offer the upcoming 3.6L LFX V6 engine in the future that is expected to put out as much as 330 horsepower and returning nearly 30 MPG on the highway without demanding anything higher than 87 octane , appropriately replacing the boosted 2.8L V6 in every way. Reports also point to a hybrid system being in the works as well.
After my time with the SRX Turbo, it became evident that those involved in deciding what they wanted the crossover to be couldn't make up their minds. So they built something that tries to be everything at the same time. What they ended up with was a crossover that is too sporty to rival the coddling seen in the popular Lexus RX, doesn't offer a third row like the Q7, and those looking for a sport-luxury crossover would argue that it rides on an unfavorable FWD-based platform compared to the RWD-based X3 and X5.
Simply put, the SRX Turbo sits completely dead-center in the Venn diagram of luxury crossovers. It doesn't excel in anything, other than perhaps being a multi-role luxury crossover (did I just make up a segment?).
All of this more or less points to one thing: the current SRX could be a stop-gap vehicle, something that hugs a lot of middle ground while GM engineers prepare the next generation of crossovers that are more appropriate for both the compact and midsized crossover segments instead of attempting to mash everything into one vehicle.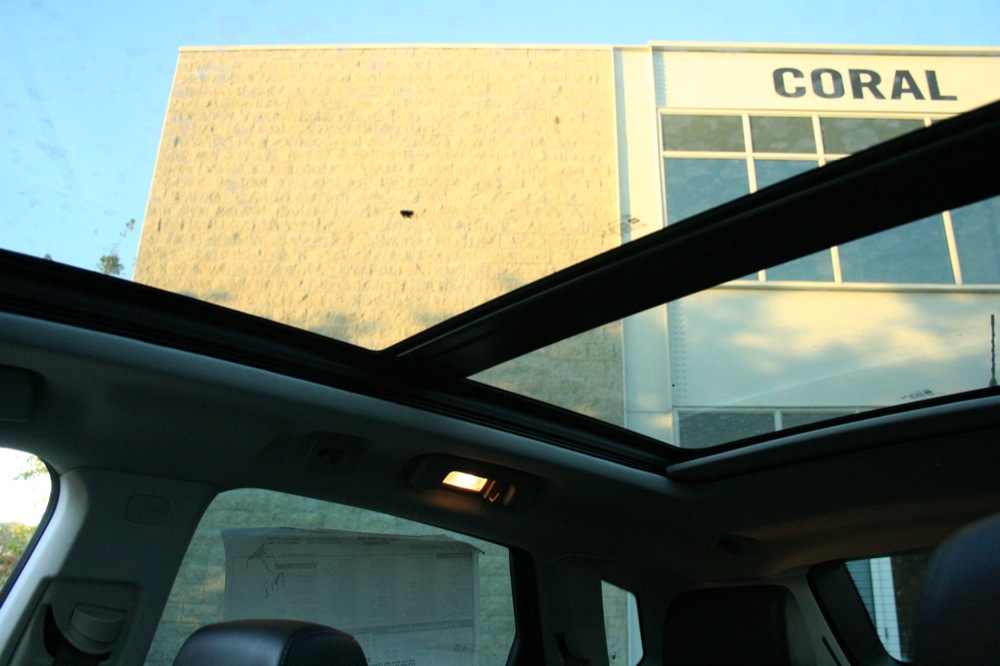 The GM Authority Bottom Line
Though the Cadillac SRX Turbo is a fun and stylish crossover, I found too many things that kept me from really falling in love with it. But even if it may not be the best crossover in its segment, the expiring 2.8L V6 turbocharged engine was around for barely a year, and therefore one could argue that the SRX Turbo will be the most collectible sport-luxury CUV on the market today.
Disclaimer
The preceding review has been conducted and written on a purely unbiased basis. While GM Authority is The Best General Motors Enthusiast Destination  in the world, we are in no way, shape, or form related to or compensated by General Motors and/or its subsidiaries, affiliates, partners, or otherwise. While we openly admire The General and its products, we also deliver unprejudiced criticism of the company and its vehicles, making this review 100% GM Authority proof. We rock.
I would also like to take this moment to extend a special thanks to Coral Cadillac, its friendly staff and Scott Lynton for letting us borrow their CTS Coupe to snap the photos that you see in this review. You can contact Scott on his cell at 561-350-3797 for all your Cadillac and Hummer needs.
Sweepstakes Of The Month: Win a Corvette Z06 and 2024 Silverado. Details here.
We are currently looking for experienced automotive journalists and editors to join our team. Make $60k-$80k per year doing what you love. We are also looking for an experienced web developer.
See details here
.