Review: The 2011 Cadillac CTS Coupe
7
If it had wings, I would probably have mistaken it for the next generation Air Force stealth fighter plane. At first glance, the 2011 Cadillac CTS Coupe basking in the morning light on my driveway was bold, it was sexy, and it was (temporarily) mine. At least that's what I told the ladies that asked me when the lights flickered as I pressed the key fob.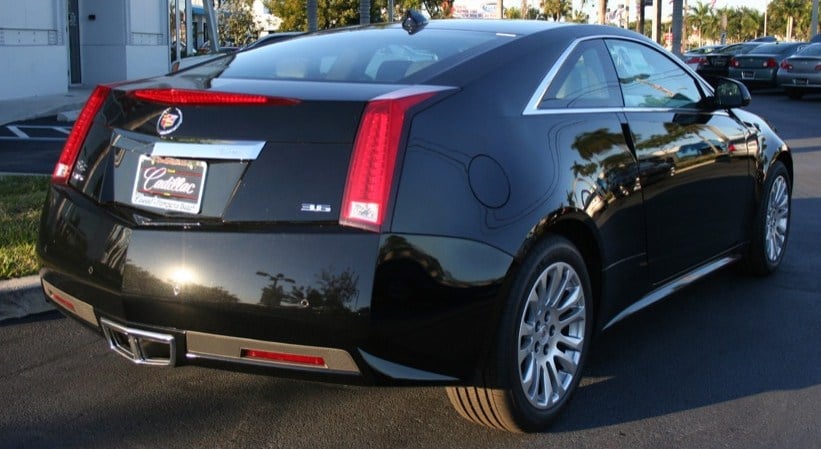 Overview
Now before I go any further, I should note that the Black Raven CTS Coupe with the standard 18-inch polished wheels was not our tester, but still provides a great photographic substitute to the Evolution Green Metallic model with the 19-inch summer tire performance package that I was privileged enough to drive, but will never see in still-frame again thanks to catastrophic photography issues. Anyways, on we go…
Though the standard Cadillac CTS Coupe opens up at just over $38,000 — our Premium Collection tester featured all of the possible bells and whistles (minus AWD), and started at $47,010. Give it the optional $2,090 19″ Summer Tire Performance Package and all of a sudden the $38,000 bargain becomes a $50,035 decision – which is more expensive than a fully loaded (and more powerful) Infiniti G37 Coupe, but easier on the wallet than a topped-out Audi A5 and BMW 335i Coupe (though almost 400 pounds heavier and 7 inches longer), and much less expensive than a topped out (overpriced?) Mercedes-Benz E350 Coupe. Even though our tester came in at over fifty grand,  the CTS Coupe is on the more affordable end of the class in terms of price and doesn't really get any more expensive than our tester. But if you're feeling much more hardcore and end up going for the CTS-V Coupe model — you're looking at throwing down at least $63,465. With that comes the 556 horsepower LSA engine, a magnetic ride suspension system, and other bells and whistles that make it one of the best performance coupes on the road today, according to those fortunate enough to review one.
The CTS Coupe we had also featured a six-speed automatic transmission, with a six-speed manual transmission offered as an option for models equipped with the performance package, knocking $1,300 off the MSRP. Depending on your view of manual transmissions, that could mean that the CTS Coupe just gets better and cheaper at the same time.
As opposed to the CTS Sedan, the Cadillac CTS Coupe currently only offers one flavor of engine – GM's 3.6L LLT V6, which delivers a great balance of power and fuel economy with 304 horsepower and a fairly decent 18 MPG city, 27 MPG highway, and 21 MPG  combined — which is optimistic (more on that later). But keep in mind that this is no Chevy Cruze, but rather a 3,909 lb. sport luxury coupe that can hit 60 miles per hour from a standstill in 5.8 seconds. If you're looking for a review on a 42 mpg snooze cruise, you're looking at the wrong car. And you should stop reading this review at once before you are deeply offended and your day is ruined.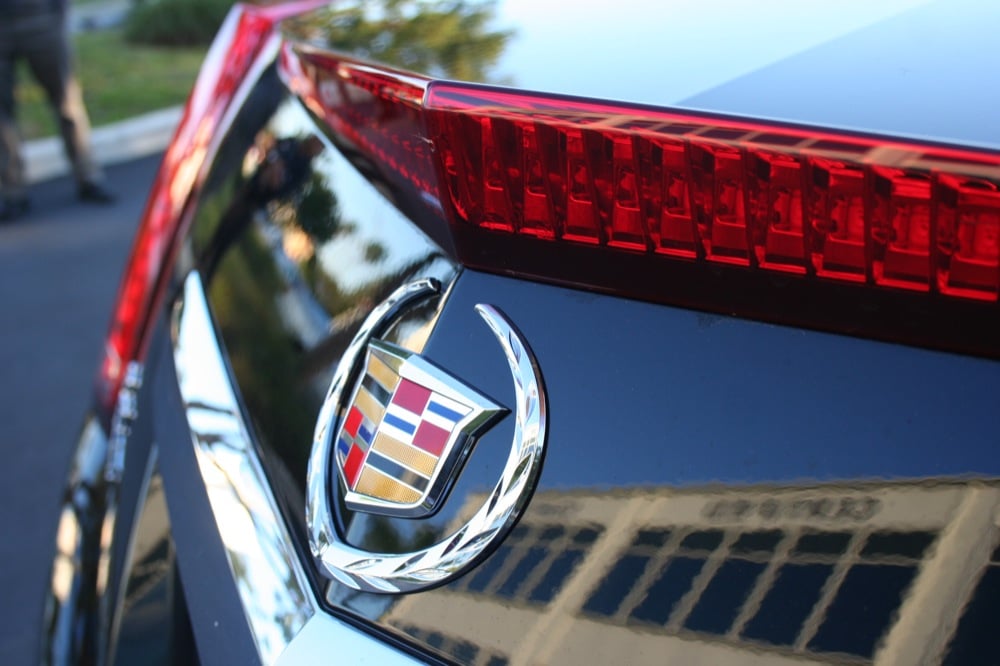 Looks As Sharp As A Sword, Almost Is
While the front design of the CTS Coupe remains unchanged from the sedan, the coupe's rear half has been reworked, and not with just some minor changes, either.
As opposed to traditional door handles seen on the CTS Sedan, the CTS Coupe features a pair of Corvette-style buttons that gives the vehicle as sleeker, sharper appearance when looking down the belt line. But the big news here is the new backside design that makes the CTS Coupe look as if the roof is reaching back and pulling the rear-end inward from the tail lamps by way of the massive C-pillars, giving the roofline an incredibly sharp angle — a total modern take on the fastback look — and simultaneously hiking up the backside, almost as if the CTS Coupe is stuck with a perpetual wedgie.
Despite this, the CTS Coupe doesn't look at all as awkward as my sophomoric description makes it out to be. While all of the above is true, once I took notice to the evening sunlight catching the multiple edges of the car's Evolution Green body, it was hard to imagine any 2+2 sport luxury coupe more striking or original on the market today. I was sold.
In truth, the only vehicle in its class I can think of that looks more stunning in any light is the faster and more aggressive CTS-V Coupe. Both variants may be victims of sheetmetal wedgies, but they are of the most striking and original styles the GM design team has come out with over the past 20 years (outside the fifth-generation Chevrolet Camaro).
If Only The Interior Was As Good As The Exterior
While the ambiance can be described as sexy, with a combination of sport and luxury, it's not nearly as well done compared to what BMW, Audi, and Mercedes-Benz have to offer in their cabins. I found that Cadillac still has a ways to go if it ever plans on getting a better interior design grade than its German classmates, let alone run in the same circles. Though there was some good to be found inside the cabin, such as a pop-up navigation screen, 10-speaker Bose premium sound system, keyless start, heated/cooled seats, and heated steering wheel, they took a back seat to several afflictions I observed. Gripes include the lack of soft-touch materials, the high amount of plastic where there otherwise should be perhaps brushed metal or wood, a crappy steering wheel, and fairly hard seats — all left me shaking my head in discomfort after my trip from my home on the far east side of Michigan (I could swim to Canada if I wanted), to the far west of Kalamazoo and back. All-in-all, it's roughly a two-hour, thirty-minute drive each way if you're legal about it.
The steering wheel was easily the worst feature of the cabin – which is huge deal because steering wheels are such an important element to a driving experience — anybody who's ever driven anything can tell you this. I found the polished wooden grip at the top third of the wheel really annoying, as I did not feel as secure grasping onto the slippery wood compared to, say, a fully leather-wrapped steering wheel while maneuvering the coupe as best as I could in and out of the freeway entrance and exit ramps. Hey, it's as radical as roads get in southeast Michigan (no wonder pony cars are all the rage here, all we have are straights).
Additionally, the shift buttons located just behind the upper spokes that allowed me to change gears without either of my hands leaving the wheel felt awkward and second-rate and left me preferring the tap-shift with the automatic gear stick that results in the same outcome. The wheel's bottom spoke was also irritating, as the metallic-looking, yet plastic paneling did not sit flush with the black plastic paneling behind it; the end result was the imperfect edges digging into the sides my fingers. If you're somebody who likes to rest at least one hand at the bottom of the steering wheel, you will notice the same bothersome sensation — trust me.
The 10-way power adjusting seats were unfortunately not the best they could have been. Though they looked like the 14-way Recaro seats available in the CTS Sedan and CTS-V models, they are in fact merely posing as Recaros. Truth be told, there was not nearly enough padding underneath that ebony leather to softly cushion my 200-pound frame in the fairly stiff ride. I trust the authentic Recaro seats provide much more ample comfort than the basic seats I found myself sitting in. Though the coveted race-inspired seats are currently not available in the CTS Coupe, Cadillac spokesperson Nick Twork informed me that they will be soon.
Another minor gripe would be that the sunroof seems to be capable of only half of what it's meant for. By that I mean it only can be tilted up and cracked open, and was not capable of fully sliding back and letting the cabin air out every time my passengers farted. Additionally, if I wanted to plug in my MP3 player, I needed to have both a USB and auxiliary cord. Every other car with MP3 compatibility in GM's lineup only requires one or the other, so it left me scratching my head as to why the prestigious CTS was left to be that much more inconvenient.
Being that I at least temporarily had the hottest ride among my circle of friends, I did not hesitate to play the role of the transporter as we went from one place to another in comfort style. Watching my 6'4", 230-pound comrade try and make himself comfortable in the second row not once got old, but after one ride in the backseat, he vowed to never make a second trip if he ended up back there again, which spoiled my sick sense of humor — at least for a moment. On that note, the back seat of the CTS Coupe shouldn't be used to seat anybody with a 6'4″, 230 lb. frame. It's just not ethical.
Another story involving my chums happened while driving back home from a Detroit Red Wings game — my seat suddenly began to move me forward. As I inched closer and closer to the steering wheel — and simultaneously the gas pedal — unintended acceleration began to occur. But I wasn't driving a Toyota, so I knew that it had nothing to do with a sticky pedal (or glitchy software).
It turned out that my friend Nathan was sitting behind me (I like to torture my friends) and was pushing a button that electronically propels the seat forward to make exiting the vehicle from the second row easier… turns out it also works while the vehicle is in motion. I could find no way to override the design flaw, other than a very serious threat to my friend that he would walk home if he dared touch it again. Cadillac, if you're reading this — please fix this, or tell us what we were doing wrong.
The short end of the story: if Cadillac is going to charge buyers over $50,000 for a CTS Coupe, the interior better feel worth it. And have your friends come with you on trips, they could turn out to be an asset when nitpicking.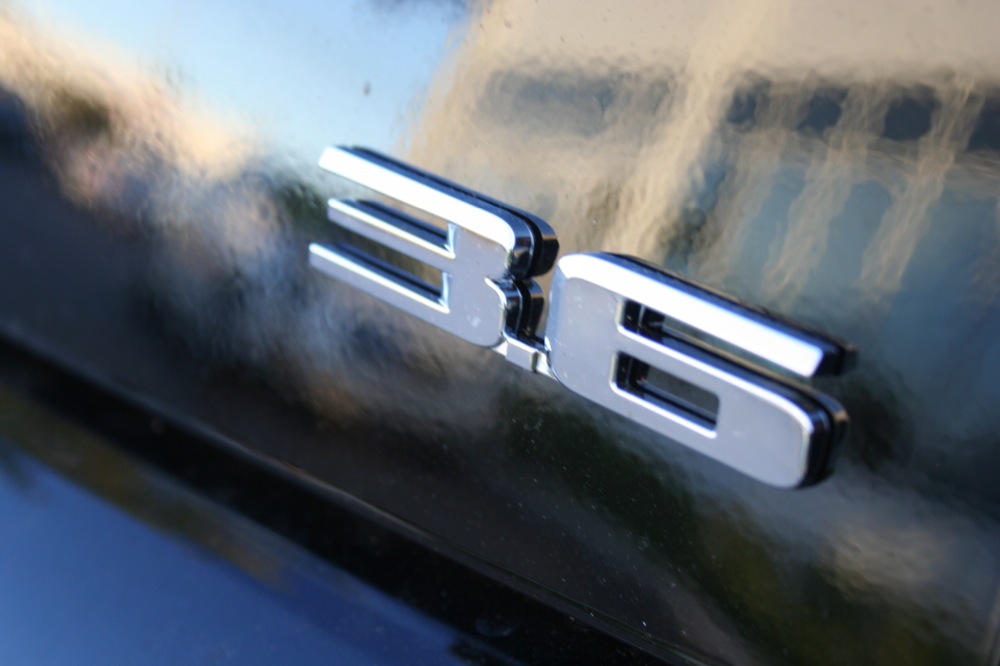 Not As Quick As It Looks, But Still Quick
I realized I just spent a very solid paragraph on degrading the steering wheel, but it should be noted that thankfully it had no effect on the actual steering itself. In terms of how it compares to other vehicles in the GM lineup (CTS-V line aside), I would go as far as to say that the steering and handling of the Cadillac CTS Coupe is only outdone by the even more performance-oriented Corvette. Wherever I pointed my vessel, it went with enthusiasm, holding the throttle down as I hustled around many an embankment. Equally as good were the brakes, and everything altogether gave me the lasting impression that there was no way a car this heavy could handle as good as it does. The true colors of the Cadillac CTS were beginning to show, and I was smiling.
Unfortunately before I got too carried away, the gaslight came on, pausing my fun and nagging me to fill up as soon as I could. Clearly, all of my vroom and zoom really came at a price, and it hit me that this car can be very thirsty. Like, really thirsty. A 280 mile round-trip interstate drive from Detroit, MI to Kalamazoo (on the west side of the state) and back cannot be accomplished with one tank — and I only averaged 19.8 MPG, just under the advertised 21 MPG combined mark.
As far as straight line performance goes, GM touts that the CTS Coupe touches 60 from a standstill in 5.8 seconds, the same as the Zeta-based Chevrolet Camaro V6, which shares the same engine and transmission as the Sigma-based CTS. Not bad for a vehicle that is 200 pounds heavier than the reborn pony car. However, when looking at the Infiniti G37 Coupe — probably the best rival the CTS Coupe has on paper, especially when looking at dimensions, price, performance, fuel economy and technology, the CTS Coupe seemingly falls short.
For instance, Motor Trend compared a CTS Coupe to a competitively priced Infiniti G37 Coupe and found that the Infiniti offers a superior 330 horsepower from its outstanding Nissan V6 engine, and weighs in at a lighter 3,694 pounds when compared to the Caddy. On top of offering a better power-to-weight ratio, the G37 touts practically the same fuel economy numbers, albeit with premium gasoline. 0-60 for the G37 is also quicker at 5.4 seconds and the spread only gets wider as the speeds increase.
Despite the Caddy's shortcomings, it managed to outhandle the G37 in MT's figure-eight course, posting a time of 25.8 seconds to the Infiniti's 26.1. That's right, according to Motor Trend, an American brand beat a Japanese one in overall handling. Going with the comparison, the CTS Coupe I had at my control felt completely rock solid and stable at nearly any speed, and I can only imagine it gets even more thrilling with the 556 horsepower CTS-V Coupe.
The GM Authority Bottom Line
It might not be perfect, but with its rakish looks and impressive performance — it still managed to steal my heart. And judging by the latest sales numbers, I'm not the only one the Cadillac CTS Coupe has won over. If only there was another engine option to bridge the 250 horsepower difference between the base model and the ferocious CTS-V Coupe.
I would also like to take this moment to extend a special thanks to Coral Cadillac, its friendly staff and Scott Lynton for letting us borrow their CTS Coupe to snap the photos that you see in this review. You can contact Scott on his cell at 561-350-3797 for all your Cadillac and Hummer needs.
Sweepstakes Of The Month: Win a 2023 Corvette Z06 Convertible. Details here.
We are currently looking for experienced automotive journalists and editors to join our team. Make $60k-$80k per year doing what you love. We are also looking for an experienced web developer.
See details here
.