Review: 2011 GMC Sierra 3500HD
We are currently looking for experienced automotive journalists and editors to join our team. Make $60k-$80k per year doing what you love. We are also looking for an experienced web developer.
See details here
.
1
You could be wondering to yourself how I — a guy that has an everyday midsized sedan as a daily driver — went the entire time driving a massive GMC 3500 Heavy Duty without accidentally running over a Smart ForTwo that could have been hiding in my blind spot as I merged into a lane, or how I managed to maneuver it up a narrow spiral parking garage ramp in downtown Detroit without suffering a single scratch. Well, it just so happens that I grew up around these full-sized monsters, so driving this 3.2 ton, $52,464 piece of equipment was a lot less intimidating for me than it could have been for many others. And the ladies love it… at least in my neck of the Michigan woods (especially this one blonde girl that goes to Michigan State, but that's a story for another time).
Overview
The GMC 3500HD SLE 4×4 we tested stickered at $52,464 (not including the $995 destination charge) and came equipped with nearly $12,000 in options. No, $12,000 is not a typo, but it should be noted that that number is a little skewed, as $7,195 of that twelve-grand went towards a reworked 6.6-liter Duramax diesel engine that's good for 397 horsepower and 765 pounds-feet of torque and another $1,200 went towards its partner, the Allison 1000 6-speed automatic transmission. Yes, the Duramax remains an option, even for GM's full-ton pickup offerings (as this includes the Chevrolet Silverado 3500HD as well). Yes, it puzzles us, too.
Otherwise, the standard engine is the aging 6.0-liter Vortec V8 gasoline engine, which produces 360 horsepower and 380 pounds-feet of torque. Those numbers mean that the D-Max can deliver over twice the amount of precious torque as the standard unleaded engine, seemingly pushing the consumer to opt for the very expensive — though much more appropriate — diesel powerplant. When asked on why they opted for the 6.0-liter Vortec and not the more potent 6.2-liter Vortec V8 — which is good for a more competitive 403 horsepower and 417 pounds-feet of torque — the engineers involved with the new Heavy Duty were not very specific, but did mention that it had something to do with towing performance. So, there you go.
Other options (which seem like a drop in the bucket compared to the kind of cash needed to throw down on a proper powertrain for the Sierra 3500HD) included the $860 Convenience Package, which consists of power adjusting pedals, a universal home remote, rear parking assist, remote start and a rear window defogger. The second major option was the $980 SLE Preferred Package, which gives the truck steering wheel controls for things such as the stereo volume, dual zone climate control (and considering the truck is so big, it literally does have a different climate on one end of the cabin than it does the other), a 6-way power adjustable driver's seat, a USB port located at the bottom of the center console, fog lamps, and the EZ-Lift and locking tailgate. Remaining options on the truck were the 6-inch tubular assist steps ($689), the HD towing package ($455), a rearview camera displaying inset from the rearview mirror ($450), and a $150 skid plate package.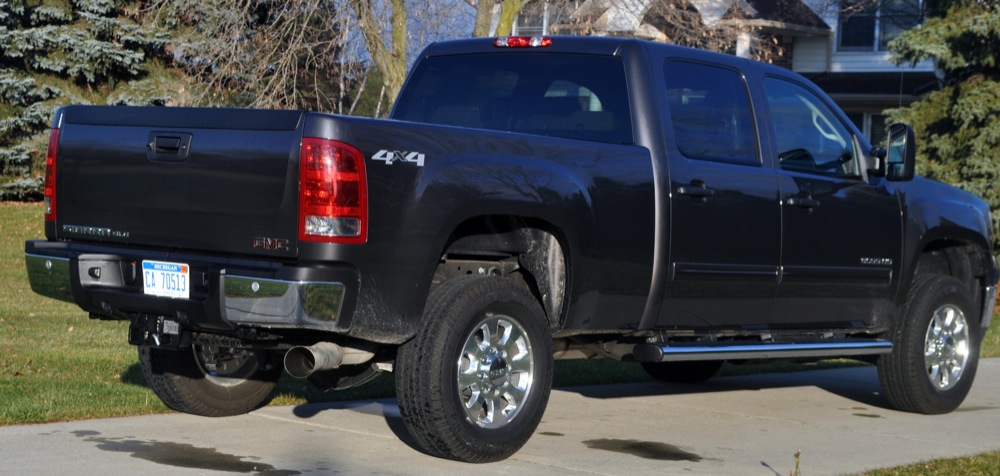 What's New
So, you've taken notice that The General's HD trucks have received no major cosmetic surgery for the 2011 model year. Well, duh, but what separates these 2011 trucks from those of yesteryear is beneath the skin. For the 2011 model year, the GMC Sierra HD (and Chevy Silverado HD) features a different frame from the 2010 model year, giving the trucks five times more torsional strength (that means the frame won't twist from side to side as much as before), is 20 percent better in beam stiffness (meaning the frame will flex less when loaded), has 92 percent better bending stiffness (meaning the frame won't bend downward as much as before when loaded), and the front of the frame is 125-percent stiffer than before — making the truck more capable to handle something like a snow plow.
All of that extra rigidity results in a truck that can pull 21,700 pounds from the fifth wheel, 17,000 pounds hitch towing, 6,635 pounds of payload, and a towering GCWR of 29,200 pounds. However, since this 3500 model in particular is not the maxed-out dually, its capabilities are rated at 4,165 pounds of payload and 13,000 pounds of ball-hitch towing. Not the biggest and baddest, but still high up in the food chain.
Putting all of that utility in motion is a re-engineered 6.6-liter Duramax diesel engine, which recently celebrated its tenth birthday. Back in 2001, the engine made its debut with 300 horsepower and 520 pounds-feet of twist. Today, 60 percent of the parts seen in the current Duramax are brand new and help the engine achieve an output rating of 397 horsepower and 765 pounds-feet of twist. Additionally, sources tell us that the engine still has not reached its potential, and engineers are currently hard at work on squeezing out every last bit of power they can before its retirement — before The General's next generation of HD trucks emerge.
In addition to the updated D-Max, the engine is also equipped with an EPA-mandatory Selective Catalyst Reduction (SCR) system, which uses a urea-based Diesel Exhaust Fluid (DEF) to reduce nitrous-oxide emissions (that diesels are known to spew) by up to 63 percent. The only drawback is that the DEF's 5.3-gallon tank has to be refilled every five thousand miles (give or take, based on driving habits) and the tank must be refilled in order for the truck to function properly. Thankfully, DEF can be found at almost every truck stop or gas station and comes in cheap, at roughly $3 per gallon.
From The Outside
Though the looks of the Sierra HD are modest and a far-cry from anything revolutionary, its appearance is still very tasteful and more modest (more "Professional Grade?") than the "I'm-in-a-truck-get-the-hell-otta-the-way" looks channeled by the Ram Heavy Duty and Ford Super Duty. Probably the truck's most gaudy exterior features were the set of 18″ polished wheels seen on our tester — which really complimented the truck. Opt for the industrially chic Denali package and you're looking at driving one of the most stylish trucks on the road, if not the shiniest. But for most buyers, the grille of the Sierra HD will feature three blacked-out horizontal bars (as opposed to the Denali's four chromed-out bars) proudly guarding the Herculean Duramax LML diesel engine our tester was equipped with.
There is one minor issue, however, which came from the mirrors. Though they were able to be adjusted electronically, these reflective protrusions are not able to electronically fold inward for the sake of something as practical as parking and could only be folded in and back out manually. In fact, a topped-out Denali HD doesn't even offer something as simple as power folding mirrors. But Ford does. A secondary issue would be the lack of some kind of assistance step into the cargo bed, which turns into a workout if you have to climb in and out of the back multiple times. Such a feature also remains absent across the board. And again, Ford offers a solution.
Also absent on our tester were the yellow overhead lights that give off the presence of a commercial-grade truck — which seem to be reserved for the larger 3500HD dually; in their place we have polished running boards. These are a must for anybody under 6-feet tall (which I am), otherwise drivers and passengers alike may find themselves doing a leap for the assistance handle (what many of you may know as the "oh sh*t!" handle), using their momentum to pull themselves into the cabin.
Despite the presence of the running boards, I found myself jumping into the truck anyway — because I felt cool.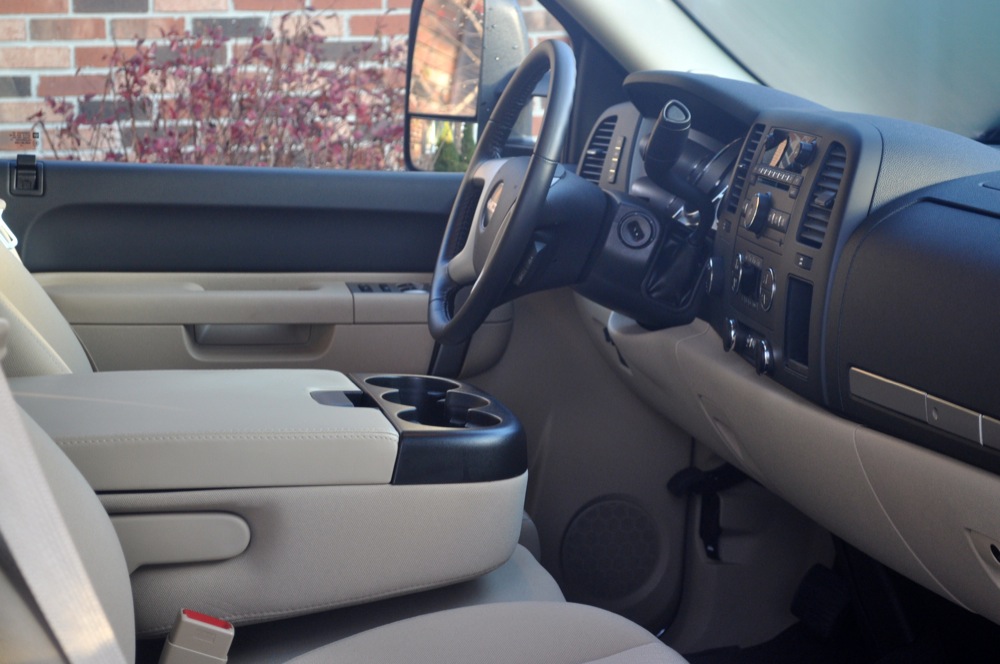 A 6,573-Pound Sofa
Even though this Sierra HD stickered at over $52,000, it's clear from the cloth seats in the interior and the lack of bells and whistles such as leather and a GPS, that this truck is meant to be a work truck. And judging this particular model as a work truck, the cloth seats were fairly absorbing, and made me feel like I was driving a massive couch at times. A couch that can pull over 20,000 lbs. Also affirming that this truck is a work truck was its audio system and the coveted Bose 5.1 audio system that you find in higher trim levels was absent, and my rocking out to bands such as Dethklok by plugging in my iPod was not as enjoyable is it could have been otherwise.
Adding to the soft seats were impressively low NVH levels for a truck so big, with next to no wind noise at highway speeds. Of course the wind noise is kind of replaced by the subtle growl of the Duramax, but its hardly as noticeable as the irritable wind noise, mostly because its growl is so monotone. However, the truck did return a fair bit of road noise. Every time the Sierra HD rolled over an imperfection, I heard it and to a degree, felt it — but this was expected. Again, this is no Buick Lucerne, and for a truck that was built to haul two tons with ease, it comes off as a smooth ride and compared to the more rigid dually variant, the ride is noticeably better.
Now I can let the lack of interior refinement slide, but things like overall ergonomics and functionality, I cannot. Case in point, I'm not really sure who came up with the design for the upper glove compartment, but they should have their head examined. I've never, ever had so many issues with opening something as simple as a glove compartment. To open it, instead of just pushing a button or simply pulling a latch, I had to press my thumb at the base of this hidden lever for it to pop up. I then had to use my pinky finger to grasp and pull it, which in turn opened the compartment. The lever would then slam back into position as soon as I let go, letting out a loud plastic-on-plastic clap that just left me shaking my head. Maybe I'm the dink. Maybe I did something wrong, but again — these trucks are not strange to me.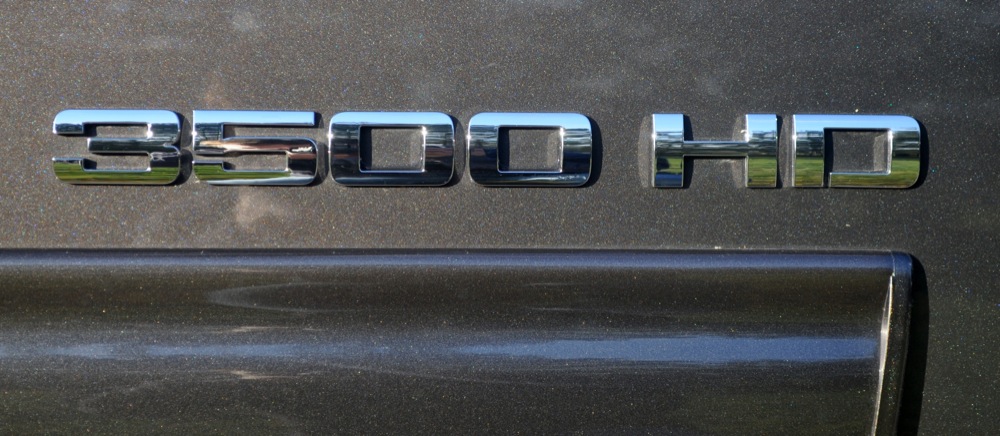 Works Like A Horse, Kicks Like One Too
So, the Sierra HD lacks some of the features and functional refinement found in the Ford Super Duty, the segment's overwhelming majority leader in sales. For a company that strives to "build and sell the World's best vehicles", the GMC Sierra HD is far from the best in these categories. However, consumers of full-ton trucks don't care as much about such minute things as they do for real world performance. This, boys and girls, is where the Sierra HD shines.
This 6,573-pound truck can hit 60 mph from a standstill in almost seven seconds flat unloaded and with the four-wheel-drive engaged. That's faster than the lighter Sierra 1500, heck it's the fastest diesel pickup on the market today. Not only did those 765 torques pin my head back into the seat every time, but the truck's superior power-to-weight ratio compared to the Ford Super Duty allows for better payload and towing performance, as proven by Pickuptrucks.com during its 2010 Heavy Duty Shootout and the Rumble in the Rockies — despite the Blue Oval sporting higher horsepower and torque specs than the GMC and Chevrolet HD trucks.
Seen from the real-world testing, it seems that the Sierra HD can haul and tow much more than the spec sheets claim, while the Ford Super Duty struggles with its proposed ratings.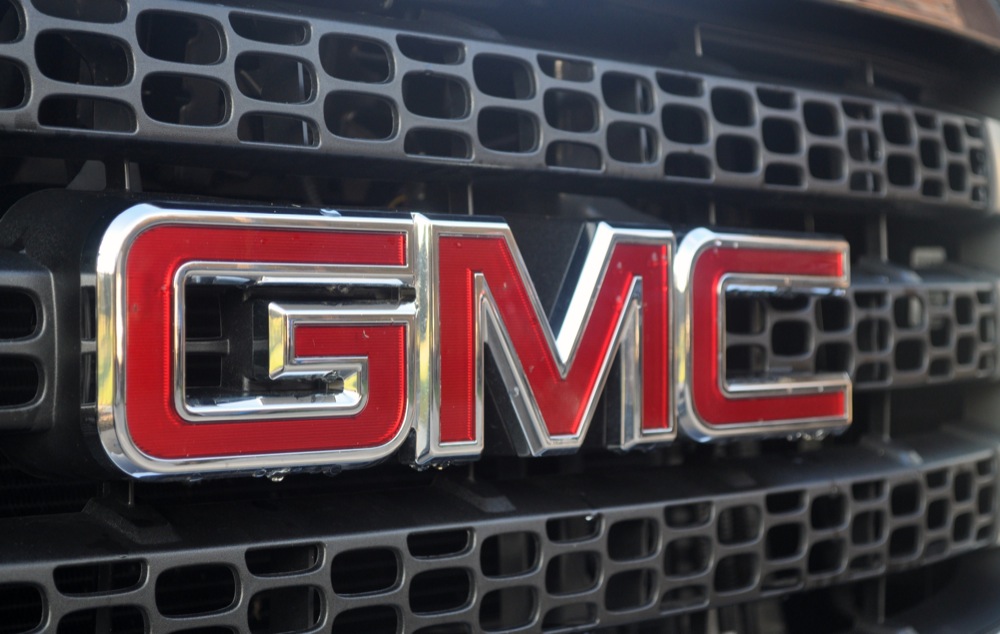 The GM Authority Bottom Line
The short end of it: the GMC Sierra 3500HD cuts no corners in terms of engineering, and is only hindered by the lack of interior flair and cumbersome ergonomics — even in the topped-out Sierra Denali HD — compared to its rivals from Ford and Ram. But if you're looking for a no BS type of truck that is capable of leaving all other full-ton trucks by the wayside with its outstanding real-world performance, than this is the truck for you.
Disclaimer
The preceding review has been conducted and written on a purely unbiased basis. While GM Authority is The Best General Motors Enthusiast Destination  in the world, we are in no way, shape, or form related to or compensated by General Motors and/or its subsidiaries, affiliates, partners, or otherwise. While we openly admire The General and its products, we also deliver unprejudiced criticism of the company and its vehicles. This review is 100% GM Authority proof. We rock.
We are currently looking for experienced automotive journalists and editors to join our team. Make $60k-$80k per year doing what you love. We are also looking for an experienced web developer.
See details here
.