Why The Buick Regal GS Is A BAD Idea
We are currently looking for experienced automotive journalists and editors to join our team. Make $60k-$80k per year doing what you love. We are also looking for an experienced web developer.
See details here
.
15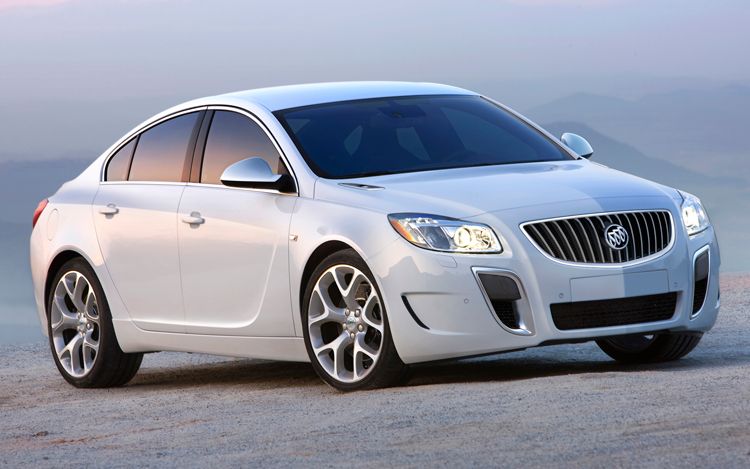 This article is part of the GM Authority Opinion Desk series, where you can see exactly what's on the minds of the GM Authority crew.
It's not that I don't like this car. I do. I really do. I just fail to see how it makes sense.
The Biggest Issue
Hear me out. First off, forget about how great of a car it's going to be. The Regal GS doesn't fit in with brand's overall positioning its been putting out lately. This is a biggie, because  a brand's "Big Idea" indicates heavily on just what target market it is trying to appeal to. Anybody who has some brains in marketing knows that. And with smooth, elegant luxury vehicles such as the LaCrosse and Enclave, it's hard to see where the brash and upcoming Regal GS fits into Buick's overall message (yet alone the standard Regal, available now). Yes, Buick  has been looking to appeal to younger crowds, such as Generation X – but this can be achieved through abundant technology features and modern, tasteful styling- and not this faux-"sport injected" mumbo-jumbo the commercials have been pushing. It just mucks everything up. If you want a General Motors sport-luxury vehicle, go for a Cadillac.
Now for the (other) elephant in the room: If the Regal GS is to be a carbon-copy of the Opel Insignia OPC – like the spy photos suggest – then we can expect an impressive powerplant of 325 hp from a 2.8L twin-turboed V6. Couple that with the expected all-wheel-drive (AWD) as well as Recaro seats, and it's a recipe for a solid performer. However, the Cadillac CTS also comes with a powerful V6 in the hailed 3.6L LLT, punching out north of 300 hp, and offers the AWD Performance Package. The 3.6L V6 AWD CTS also offers Recaro seats, and carries nearly identical dimensions as the OPC. However, the weight is an issue as the CTS tips the scales at 3,861 lbs., over 500 lbs. more than the OPC's weight at 3,314 lbs.  Before you think I'm contradicting myself, I would like to bring up the price…
The Sticker Price
One could purchase a CTS Sedan featuring the LLT V6 engine with the AWD Performance Package, Recaro racing seats, and 18″ polished wheels for $51,145 (including the $825 destination charge). Pricey, yes, but the Insignia OPC sedan also commands a steep price, at 44,900 euros (according to Autobild.com.) It seems a smaller number, until the exchange rate kicks in.
For those of you that follow our weekly podcast, you know that I have just returned from a trip to Greece last week. During my stay, the dollar was trading in at exactly $1.40 per single euro. Using that number as a guide, the price tag for the Opel Insignia OPC comes to $62,860. I'll repeat: $62,860. Considering the Buick Regal GS is a clone to the Insignia OPC, don't rule this number out. For $62,860 one could acquire an LSA-powered, 556 hp CTS-V. A car that goes from 0-60 in 3.9 seconds, and holds the fastest Nurburgring lap time on the planet for a production sedan… what was so appealing about the Buick Regal GS again?
Cadillac Is Expanding
Elephant number 4: What sort of cars will the Buick Regal GS compete with? A few AWD performers with similar size and power come to mind: the Audi S6, Acura TL SH-AWD, the BMW 5-Series xDrive AWD… but wait, doesn't Cadillac hold far better brand positioning than Buick to offer models that can effectively compete with these cars? Very much so.
I'm convinced the GM marketing wise-guys want me to believe with a straight face that people driving around in Audi and BMW models had Buick in the back of their heads when shopping for their new S6 or M5. Anybody with a sober mind knows that just doesn't add up. Whichever vehicles the Regal GS plans on competing with here in North America, a Cadillac can do better thanks to its maturing brand position as a sport luxury brand. Secondly, Cadillac will no longer be a one-trick pony when the lighter and first-ever ATS compact sport sedan makes its way into the world, which could be as early as summer 2012 – only a year after the arrival of the Regal GS. We also expect the ATS to be AWD capable, as well as offering a turbocharged-four in the engine bay. With Cadillac offering both the ATS and CTS in the near future, General Motors will have a solid foothold in the sport luxury sedan market. Attempting to shoehorn the Regal GS somewhere between these two models is a head-scratcher, indeed.
Furthermore, new engines are on the way. Powerplants such as the twin-turboed LF3 V6. This engine happens to be based off of the meek 3.0L LF1, however the twin spools are expected to boost the power all the way up to 350 hp. This engine – which could easily fit into both the CTS and ATS from what we're hearing– puts the Regal GS at even more of a disadvantage. If the CTS begins to offer the LF3 to go with the LLT and LSA engines in the future (which it very easily could,) it would stomp all over the Regal GS.
One Last Thing…
Despite all of the reasons the Regal GS is completely illogical, there is something that makes me understand The General's motives for the car. From a time and energy perspective, the Regal GS seems to demand just minimal effort. Because it's a near-identical copy to the Opel Insignia OPC, just like the standard 2011 Regal is to the standard 2011 Insignia, all the hard work such as research, development and serious troubleshooting seems to be essentially done already. So, maybe it's just a way to make a quick buck – albeit at the sacrifice of clear direction.
My overall dislike for the decision to produce the Buick Regal GS does not mean I have any less respect for any of the engineers within GM, and it certainly won't stop the car from being a hit with both publications and enthusiasts alike. But sometimes it's not about what a brand does, but rather what a brand doesn't (should not) do. For Buick, that means staying out of Cadillac's territory and to just focus on becoming a Lexus-beating marquee.
'Would have made a hell of a Pontiac, though.
We are currently looking for experienced automotive journalists and editors to join our team. Make $60k-$80k per year doing what you love. We are also looking for an experienced web developer.
See details here
.