Breaking: 2011 Chevy Aveo5 Revealed Before Paris
0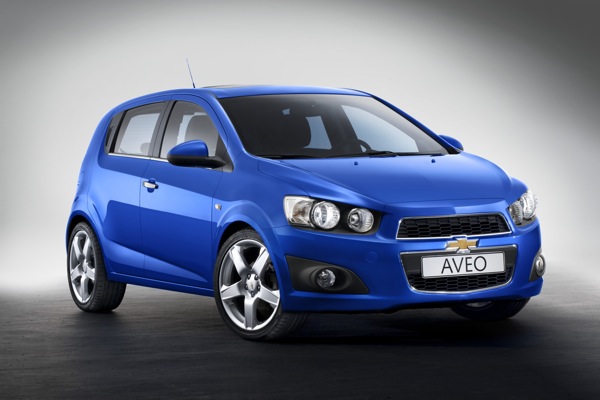 If you're  fixing to buy a Ford Fiesta, hold off for just a little bit. By next year, you could be driving the all-new Chevrolet Aveo instead. The all-new hatch, which will be The General's second truly global vehicle following the Cruze, will be on display at the Paris Motor Show, joining the Chevy Orlando MPV and Cruze hatch. The trifecta of hatchbacks (along with a possible wildcard entry from the Chevy Spark) will surely help to quench Europe's thirst for wagon/hatchback vehicles. Today, General Motors released the first official photos of the tiny hatch – here's what we've gleamed so far.
The styling of the all-new Gamma II-based subcompact stays fairly true to the Aveo RS show car seen at the beginning of the year at the Detroit Auto Show. In fact, it's nearly identical to the leaked photo of the production-spec 2012 Aveo sedan.
As you can see in the photo above, the front headlamps still dominate much of the car's face, as seen with the Aveo RS model. The protruding wheel wells also made their way over from the concept, giving the car a broad and sporty look. A few noticeable changes, however, have been made between the Paris-bound Aveo and the one seen at Detroit.
For example, the concept's twin exhaust ports that sat right in the center of the rear bumper are noticeably absent, as are the colored brake calipers. And though the rear and front lights retain a similar shape seen on the Aveo RS concept, the assumed production version looks much less menacing.
The interior still remains a mystery, but we're predicting that the colored stitching woven around the leather seats and through the dash will be a concept-only feature. What's more, the presser failed to mention the turbocharged 138 hp ECOTEC four cylinder powerplant for the bow tie subcompact.
The Aveo will offer four gasoline engine options ranging from a lowly 1.2 L engine, capable of only 70 and 86 hp, to a 100 hp 1.4L plant, and finally to a 1.6L engine delivering 115 hp. The Aveo will also see diesel for the first time, as the Euro-spec. models will see a 1.3 L engine that is capable of either  75 hp or 95 hp and will feature start/stop technology.
There are still a few things that give us hope in seeing a mighter Aveo: the presser didn't mention an RS model and photos of the car make us assume what we see here is the middle-of-the-road Aveo. Perhaps we will still see a proper Aveo RS in the future (fingers crossed). One thing's for sure: this is much better than the outgoing model.
Want to see your GM ride featured on GM Authority? We welcome your submissions. See
here
for details.