New, More Efficient Dealer Network Brings Upgrades, Increased Focus On Customer Care
We are currently looking for experienced automotive journalists and editors to join our team. Make $60k-$80k per year doing what you love. We are also looking for an experienced web developer.
See details here
.
0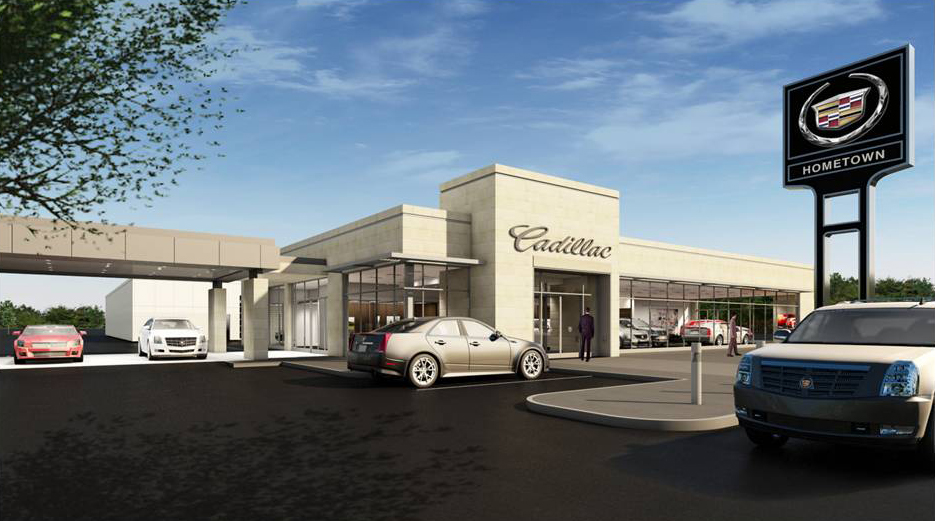 General Motors has concluded its dealer arbitration process and – effective November 1st – will have a network of 4,500 U.S. dealerships selling the company's four core brands – including Chevrolet, GMC, Buick, and Cadillac.
New And Improved Facilities
GM's revamped stores are participating in a major facilities upgrade program in order to align with GM's new dealer branding guidelines. More than 300 upgrades have already been completed and 1,000 projects are scheduled through the end of 2010.
The initiative, which began in October 2009, is accelerating – with nearly 100 dealerships upgrading their stores every month. Major elements of the image upgrades include work areas with power outlets for phones and portable computers, Wi-Fi access, and a café with refreshments.
GM is also updating or installing new signs at Chevrolet, Buick, GMC, and Cadillac dealerships across the country. The signs include a contemporary design and reflect the current image guidelines for each of the four core brands.
"Customers throughout the country will be seeing a new look at the Chevrolet, Buick, GMC and Cadillac dealerships in their communities," said President of GM North America Mark Reuss. "Putting our new dealer network in place is one of the most important elements in the rebirth of GM."
Smaller But Still The Biggest
With 4,500 dealerships, GM's dealer network is 25 percent smaller than that of early 2009, which was consisted of 6,049 stores. Compared to the previous network that sold 87 brand combinations, the new dealer body has dropped that number down to 15. This decreases complexity, provides greater operating efficiencies, and increased dealer throughput and profitability – all while providing existing and potential GM customers choice and convenience.
"Our dealers are the face of GM to our customers and valued members of the communities where they do business across America," said Reuss. "We're confident our dealer network will be the best in the business.  It will be the right size with the right dealers to give our customers great service during and after the purchase."
However, we must point out that even though GM has a reduced dealer count, our favorite automaker still faces similar potential problems when it did with 6,000+ dealerships. A bloated dealer network encourages cross shopping, making GM dealers in the same area/community compete for the same customer. Traditionally, this has lead to lower sale prices, killing dealer profits and resulting in lower vehicle resale values. What's more, decreased profits rob dealers of other opportunities, such as facility upgrades and employee training programs, to name a few.
Higher Emphasis On Customer Care
Even though General Motors dealers historically rank near the top or above the industry average for customer service and sales satisfaction by third-party sources, Reuss noted that the new dealer network would be even more focused on being an industry leader in customer care.
The Backstory
GM offered wind-down agreements to 2,064 Chevy, Buick, GMC, and Cadillac dealers that it determined needed to transition one or more of those brands from the network by October 31, 2001 (coinciding with the running out of the dealer agreement). However, The General hit a legislative roadblock due to federal law passed in December of 2009.
Under the new law, General Motors dealers filed 1,176 arbitration cases with the American Arbitration Association to have their dealer agreements reinstated. Out of those 1,176, only 62 arbitration cases were completed.
GM sent out 702 Letters of Intent to involved dealers which granted them the permission to conduct normal operations as soon as they comply with the terms of the letter. GM has reached 408 individual resolutions with other dealers, most of which call for the dealer to continue the wind down process.
"We spent a considerable amount of time and effort to work toward a mutually agreeable resolution with our dealers," Reuss said.  "We're pleased that we could complete this process in what we believe is an effective and efficient manner.
We are currently looking for experienced automotive journalists and editors to join our team. Make $60k-$80k per year doing what you love. We are also looking for an experienced web developer.
See details here
.