First Drive: 2011 Buick Regal
7
I'm sure it wasn't that much different than the feeling experienced by Brick Tamland, played by Steve Carell in the movie Anchorman, as he observed the birth of a baby panda bear. I didn't understand: I was driving a Buick that didn't feel like a water bed on wheels. Not only that, but I was tempted to call the Lexus driver next to me at the traffic light a sucker – he wasn't driving something that looked as good as this. Probably never did. Sucker.
Before I get carried away though, I should note that the Buick Regal I tested is not akin to a BMW 3 Series, or anything of the like, as some publications (and even Buick itself) would have you believe. Yes, the Regal was engineered in Germany as it is essentially a carbon-copy of the Opel Insignia. Both vehicles are currently built at GM's Rüsselsheim assembly plant in Germany. Yes, it's perfectly capable of cornering at speeds faster than you think it can handle. And yes, it has proven itself on the infamous Nürburgring race track. But, it's still currently only offered front wheel-drive (FWD) unlike most of the rear-driven German sports sedans and currently only offers a 182 horsepower 2.4L Ecotec engine returning 19 mpg city/30 mpg HWY, with the turbocharged 220 hp 2.0L engine option arriving later this year. It puts out roughly the same power as the Audi A4, but it is also longer and heavier than the likes of the A4 or BMW 3 Series. Therefore, it's somewhat difficult for the model to truly go toe-to-toe with the likes of the German compact sport-sedans. So, if it's not a true German compact sport sedan competitor, just what did General Motors produce with a seemingly underpowered FWD sedan (for its size)? Actually, a pretty damn good car. It looks good, it feels good. Tastes good? I wouldn't recommend tasting it, but sure.
As tested, the Regal stickered at $28,840, with the sunroof and Convenience Package that includes rear obstacle detection, a powered front passenger seat, and an AC outlet, which in all increased the price from the $26,995 base (equal to that of the larger LaCrosse CX base model). The Regal currently presents itself with either the mid-range CXL or upper-end CXS trim levels. The more basic and affordable CX model will be available later this year. The car weighs in at 3,600 lbs. dry, stretches 190.2 inches in length with a 107.8 inch wheelbase, and stands 58.4 inches high. These specs are virtually identical to the Lexus ES, Volkswagen Passat, and Lincoln MKZ.
For a car that was originally designed as the next-gen Saturn Aura (or perhaps the next Pontiac G6), the Regal does a good job picking up the slack. Never mind Buick's stale perception of being slow and docile – this car breathes young life into the Tri Shield and has lately been called "the enthusiast's Buick". Though the "Sport Injected" Regal might not be all-too-fast on the straights, the steering is crisp (though a little on the tight side), the MacPherson struts do their work in the twisties, and the brakes are optimal. You do indeed feel connected to the road… in a Buick (here I am feeling confused again).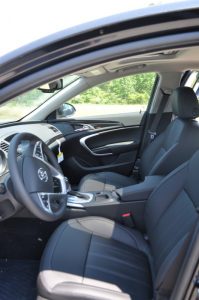 The interior is just as promising as the exterior – composed, yet appealing. The double-cockpit style that GM's Epsilon and Epsilon II platforms have become known for is present and accounted for, as are the shiny accents thanks to plentiful use of brushed metals. The ice blue lighting, which has become synonymous with Buick, looks fantastic, especially at night, though it could be somewhat distracting to those not used to it. The front seats are fairly comfortable, though not to the luxurious level of a Lexus – a place where we believe all Buick models need to be. The back seats, however, were fairly unforgiving and the leather made them feel slippery. But for a sub $30,000 car, it's acceptable. At 37.3 inches, the rear legroom is right in the middle of the segment and did not feel in any way claustrophobic. Headroom was also accommodating at 36.8 inches in the rear and 38.8 inches in the front.
The GM Authority Bottom Line
The Regal has to be one of the top three FWD sedans you can buy for under $30,000. All Buick needs to do is tailor GM's High Feature 3.6L V6 engine as soon as possible to make it more competitive from an engine option and power standpoint, as well as provide more back-seat comfort. However, the overall handling and appearance of the car, given with such a reasonable price tag, seem to more than make up for these absences… for now.
I would also like to thank Saint Clair Chevrolet/Buick/GMC for lending me their only Buick Regal in stock.
Sweepstakes Of The Month: Win a Corvette Z06 and 2024 Silverado. Details here.
We are currently looking for experienced automotive journalists and editors to join our team. Make $60k-$80k per year doing what you love. We are also looking for an experienced web developer.
See details here
.