GM Dealerships: Let's Stop Calling Them Customers, Okay?
0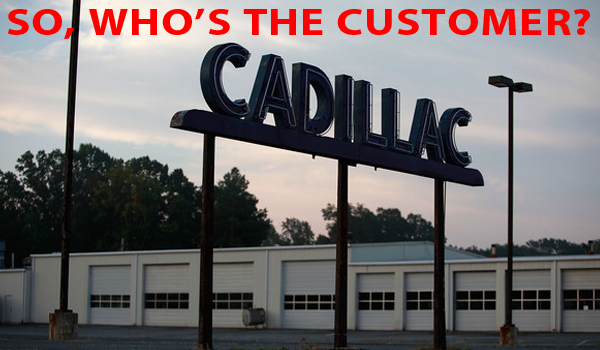 One thing that really burned my ass under Henderson's reign was that he continuously referred to GM's dealership network as "customers". Why did this upset me? Because if dealers feel that they are a customer and should be treated as such, then it makes it impossible to put the end-consumer first. On top of that, this approach makes it very difficult to implement new approaches to sales and service. In other words, what business (GM) would try and tell a customer (a dealer) how to run their own affairs?
Not Customers?
So if GM dealerships are not GM's customers, what are they? Like the thousands of other companies with which GM builds relationships in order to produce and market the company's vehicles, dealerships should be treated as suppliers: they are suppliers of marketing, suppliers of vehicle service, and suppliers of sales service. In simple terms, GM dealerships provide a service to GM and multiple services – along with the ability to buy a product – to the consumer. If anything, the dealerships should be kissing GM's butt (like some suppliers do) since it's GM that allows them to earn a living.
It's no secret that even after the failure and rebuilding of GM, it's still business as usual at some dealerships. For example, it's still common for dealers to employ sales reps who know less about the product than the customer walking through the door.
The Informed Customer
This one issue alone is reason enough for customers to dread the dealership experience. Consumers now see how much gobble-dee-gook a poorly educated sales rep is dishing them when they already know everything the salesman knows and then some. Problem is, the sales reps don't realize what is occurring in this scenario and end up burying themselves – along with any transaction or sale.
Over the last 20 years, the vehicle buying process of the American consumer has changed dramatically. How? We are now able to sit down in the comfort of our own homes and do our own research on our own time. We are able to make up our minds about a vehicle to the point where the only reason for visiting a dealership is for a quick test drive. But even the lack of a test drive will not prevent people from ordering vehicles these days! GM had almost 12,000 Camaro orders before the first car was even built yet. That number would have been even higher had many consumers been able to bypass the dealer experience.
Shady Dealer Practices
Less known (even to GM brass) are the more unethical practices that occur in the trade surrounding the sale of The General's vehicles. For example, did you know that even though you custom ordered a vehicle to your specifications and put down a deposit, the dealer is under no obligation to sell it to you? In fact, once the car arrives at the dealership, the dealer is free to ask even more for the vehicle, citing "market conditions" as the reason for spiking the price. Keep in mind that this is despite the fact that you have a written contract (fine print is a bitch).
Last year, I was contacted by someone who had ordered a 2010 Camaro in September of 2008. He ordered it exactly like he wanted it and spent the entire winter dreaming about the shiny new Camaro that would be in his driveway shortly after the pony car had begun production in April 2009. Once his Camaro arrived at the dealership, the salesman called him and told him to "come on over to sign the papers, the car is here!" How excited he was – he grabbed his particulars and headed down to the dealership. Once there, he was brought into the office and was told that the car would now be $3,000 more due to "market conditions". It was $3,000 that he had not budgeted for and could not come up with. In the end, the deal went south and the car was put on the lot with a price above MSRP.
It's All About The Long Term
What is the result of this scenario? The dealer may have received a short term spike in profit – someone most likely ended up paying over sticker; or the dealer ended up with a lost sale that our would-be owner does not know about. For GM though, both scenarios resulted in one less customer for the next 10 years. If that customer turned around and bought a Mustang, his next car would most likely be a Ford as well, and the individual may do nothing but curse the GM name to anyone who would listen. That's the unfortunate part, the dealer is the face of GM and rarely does the customer comprehend the separation of the two.
The Solution
So how can GM face the challenge of ensuring that good dealerships are properly recognized?
First, they need to change internal and dealer cultures so that all clearly understand who works for who. This simple change will allow GM employees that work in sales to determine better strategies and programs that focus on the consumer that – at the same time – also send a message to dealerships about GM's expectations.
Second, these new strategies must reward dealerships that perform well and penalize those that perform poorly. The "Turn-and-Earn" program is a good start, but I don't think it goes far enough on the penalization front. The CSI program has some merit, except for being highly inaccurate due to only measuring those who purchased a car while neglecting those who tried to purchase but left in dismay (huge gap).
Even today, GM still has about 1,500 dealerships more than it really needs, so stripping someone's franchise away should certainly be a possible outcome of poor performance.
GM must also better educate the consumer so that he understand that poor service is not the normal practice of GM dealers and that certain practices (legal or not) are not condoned by GM. Even GM Authority has received numerous complaints via our Contact page about their dealer experience.
Consumers understand that they have a choice in picking the manufacturer for their hard earned money, but GM should also make sure the consumer understands that there is a choice within the GM dealer network. Do you know which GM dealerships have the most awards and the reasons behind such awards? You don't? Neither do I, but it's GM's duty to inform you before you decide to walk into a dealership. There's only one customer – and that customer, dear reader, is you.
Sweepstakes Of The Month: Win a Corvette Z06 and 2024 Silverado. Details here.
We are currently looking for experienced automotive journalists and editors to join our team. Make $60k-$80k per year doing what you love. We are also looking for an experienced web developer.
See details here
.