Report: GM Has High Hopes For Growing Indonesian Market
0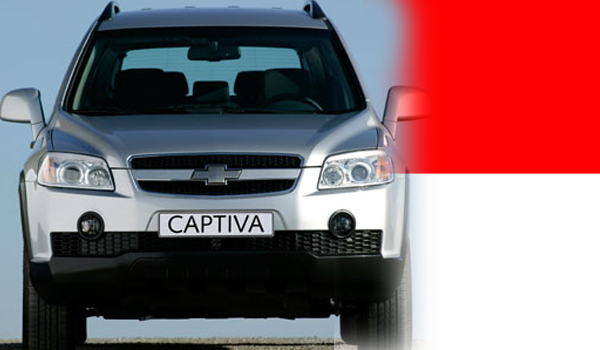 Let's face it: General Motors fans in North America been waiting a very long time for a decent compact sedan from Chevrolet. The Cavalier was as "economy" as one could possibly get, while the recently out-of-production Cobalt wasn't much better. Because of this, it goes without saying that we can't wait for the all-new Chevrolet Cruze to go on sale. Not only is the Cruze very important for GM worldwide, it may be even more important for The General in Indonesia.
The Indonesian market represents a massive growth opportunity for General Motors at a time when our favorite automaker can use all the headway it can get. Indonesia is the world's fourth largest country and accounted for the sale of 483,000 vehicles last year. While that may seem like a paltry amount, especially when compared to double-digit annual sales in the U.S. and Canada, analysts expect volume to reach 1.3 million units over the next five years – which equates to a 170 percent growth rate. GM, which only markets its Chevrolet brand in the country, was responsible for an insignificant 0.5 percent of the market. As such, it would like to control a larger slice of the Indonesian car pie, with hopes of reaching the 10 percent mark.
While expansion plans are unclear at the time of this writing, GM locals in Jakarta, the Indonesian capital, have said that the company is looking to reestablish a plant on the outskirts of the city. Tim Lee, President of GM International Operations, said that he is "very, very optimistic" about the opportunities in the country.
"A Very, Very Good Brand"
What's more, General Motors is looking to capitalize on its reputation in Indonesia. One customer states that "Chevrolet is a very, very good brand. Every model is very good." This is exactly the kind of image that GM wants for its brands all over the world and is the type of customer praise and encouragement that would cause more car shoppers to consider (and favor) GM products, resulting in a higher market share and a healthier bottom line. This customer recently purchased a Chevrolet Captiva for what is approximately $34,000 in his local currency (using current exchange rates). He bought the car for his growing family and financed the purchase, claiming that it was easy to find a loan.
Analysts expect the Indonesian automotive market to continue increasing as the nation's political and economic environments stabilize. With industry volume hovering around 483,000 vehicles last year, growth is staggering compared to the 58,000 cars sold in 1998.
Most importantly, Indonesians associate the Chevrolet brand with quality and prestige, but also raised concerns about repair costs and the availability of parts compared to Toyota, the dominant brand in the country.
Growth and Competition
Speaking of parts and service, GM has 33 dealerships in Indonesia compared to Ford's 35. And while Ford sold 6,477 vehicles there last year, GM only sold 2,616. However, GM sold 1,000 cars through the first quarter of 2010, acquiring 1 percent of the market, which points to the market's tremendous growth opportunities and volatility.
GM's Tom Lee continues, "we're very underrepresented share-wise… we should be… at least 10%." GM faces very strong competition from Toyota, which has 195 dealers and 58 percent of the market through the first quarter of 2010. Customers bought over 34,000 copies of the Toyota Avanza, a mini MPV, which is an increase of 62 percent compared to the same period last year. These results serve as an aspiration for GM in Indonesia.
Stabilization
As Indonesia's political and economic environments continue to stabilize, the country's market has grown in comparison to nearby Thailand, which previously was home to a much-stronger auto industry. According to the Freep, "Jim Castle, a Jackson native who is now a prominent consultant in Jakarta helping Western businesses operate in the country, expects consumers to purchase 650,000 cars this year." This kind of growth is impressive and can be an important opportunity for General Motors.
The ease of financing, low interest rates, and a growing middle class are crucial to GM's success in Indonesia. On the other hand, the lack of a developed infrastructure could inhibit expansionary efforts. Short trips on the country's right-hand-drive streets can take hours due to insufficient and clogged roadways. The market can also be volatile, with 58,000 sales in 1998 and 387,000 the year before that.
J.D. Power expects that auto sales in Indonesia will continue their upward trend, with most of the growth concentrated in compact and midsize passenger car segments. The compact segment spiked 555 percent while the midsize segment shot up 422 percent in March 2010.
GM is working to expand its offerings in Indonesia and is bringing vehicles such as the Cruze and Captiva to market that appeal to young executives. Besides the Cruze and Captiva, Chevrolet offers the Aveo sedan (Kalos), Aveo 5 hatch, Optra Magnum (Daewoo Lacetti sedan), and Optra Wagon (Daewoo Lacetti wagon). Let's hope The General acquires the 10 percent market share it's shooting for… otherwise, it wouldn't really be as global company as it hopes to be. Perhaps Indonesia (or the region of Oceania where the country is located) is due for its own geographic division analogous to the recently-created GM South America?
What do you think? Let us know in the comments!
[Source:
Freep
]
Sweepstakes Of The Month: Win a 2023 Corvette Z06 Convertible. Details here.
We are currently looking for experienced automotive journalists and editors to join our team. Make $60k-$80k per year doing what you love. We are also looking for an experienced web developer.
See details here
.