20 Minutes With Jeff Luke, GM's Chief Engineer And Line Executive For Trucks, Vans And Crossovers
We are currently looking for experienced automotive journalists and editors to join our team. Make $60k-$80k per year doing what you love. We are also looking for an experienced web developer.
See details here
.
2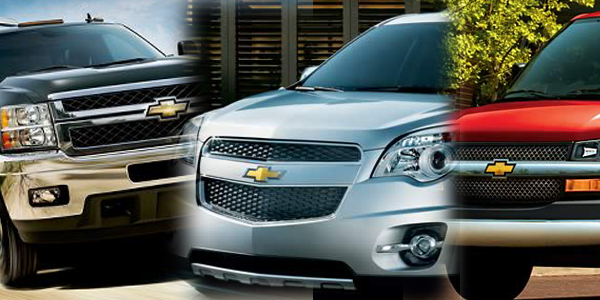 Earlier this week, I had the opportunity to sit down with Jeff Luke, recently appointed Chief Engineer and Line Executive for Global Trucks, Crossovers and Vans at General Motors. Mr. Luke currently holds a very impressive track record, having been in charge of the engineering and launch of vehicles such as the all-new Chevy Equinox, GMC Terrain and GM's amazing all-new HD trucks. He commands a lot of respect around the workplace and lets everyone know just what kind of man he is with a handshake that is capable of bringing you to your knees. Sitting in his office mono-e-mono within the fortified walls of the GM Tech Center in Warren, MI, we discussed some of his latest assignments…

The Evolving Van Segment
Most consumers and enthusiasts dismiss vans as being irrelevant or as something akin to a crocodile or shark: unchanged for thousands of years. However, Mr. Luke shows that this is not the case at all, as GM's current van lineup – consisting of the GMC Savanna and Chevrolet Express full-size vans – have the option of being outfitted with Liquid Propane Gas (LPG) or Compressed Natural Gas (CNG) as a very viable alternative fuel option for the 2011 model year.
"With CNG or LPG, you can have a sole application of those fuels…or you can do a bifuel in conjunction with the gasoline system that comes from the plants and you outfit the CNG/LPG tanks so that you can run the vehicle on gasoline or CNG or LPG – kind of like we do with gasoline and E85," he explains. This way, drivers won't have to worry about running out of CNG or LPG to power their 6.0L Vortec V8 engine as they can simply fill up with gasoline if they want to. Mr. Luke claims the maximum range coming from just the CNG/LPG powering the vehicle is between 250-270 miles. That's without a single drop of gasoline. Running on CNG and LPG is also much cleaner for the environment from a greenhouse gas perspective. But what makes this alternative fuel so appealing is not just its range or eco-friendliness, but rather the price and ease of filling up.
"The cost is much less, somewhere around $1.26 a gallon… you could fill up at your local propane filling station for LPG. CNG is a little more difficult (to find), but fleets can apply for fuel filling permits to get an on-site filling station," he said. This system is great for commercial fleets as they can have the ability to fill up on-site of their facility for a filling price much cheaper than conventional gasoline.
"Depending on the application, I think commercial vehicles will have more and more interest in CNG or LPG because of the fueling for the fleets at their depots… I think it's going to be a very viable alternative in future years… I see in the future an infrastructure for these filling stations much like E85."
From an engineering perspective, some of the challenges included just where to mount the CNG/LPG storage tanks and how to integrate a system that allows the combination of conventional gasoline and CNG/LPG to run seamlessly. But GM doesn't install the alternative fuel system in-house, instead they provide the oversight of a third party system provider to put the finished product together before it makes it to dealership lots. GM makes sure that it's all done correctly.
"We select a system provider for the tanks and controller and somebody who will put it together… we provide oversight and guidance versus letting anybody just do it so that the customer is protected for performance and warranty," Mr. Luke explains. He further informs me that GM's full-size van segment will be offering a diesel option once again starting this summer, this time with the upgraded 6.6 Duramax engine complete with the urea Selective Catalyst Reduction system – the very same engine that powers the titanic Silverado and Sierra 3500 HD trucks. That's 397-hp and 765 lb-ft. of maniacal twist, in case you've forgot.
Mr. Luke recognizes the recent praise given to the Ford Transit Connect compact van, and knows that GM has a weapon to enter that niche market in the Opel/Vauxhall Corsa compact van, however the vehicle is currently only available overseas.
"We are looking at a number of options that we are exploring right now and I believe some of the alternatives are overseas in some of the Opel (van) products," he explained. Couple such an offering in the 'States with alternative fuel powered full size vans, and The General's van lineup could be as robust and evolved as ever in the near future.
A Fuller Full-Sized Truck
While the idea is still very much up in the air, GM has potential to re-enter the medium duty segment after its departure less than a year ago with an offering such as a possible Silverado or Sierra 4500 HD truck – a step up in capability from the already amazingly capable 3500 HD trucks. Since the rumors have been floating around about such a truck, Mr. Luke explains that "we have and continue to look at a 4500 or even a 5500 series truck that customers may want," but it's not as simple as just going forth with a plan.
"One thing that is somewhat troubling is the volume forecast of the market, I think it's 20,000 units total amongst all manufactures last year, which is obviously very small… when it comes to commercial fleet type business you need to watch your margins." That being said, he explains that GM will continue to monitor market conditions to determine a business case for such a truck.
On Midsize Crossovers
The Chevy Equinox and GMC Terrain crossovers have without a doubt been a huge hit – giving consumers a full spectrum of quality, versatility, reliability, and great fuel economy all at an affordable price. They have been huge catalysts in GM's current streak of success along with the Buick LaCrosse, Cadillac SRX and Chevy Camaro. However GM's marketing team (as well as GM Authority's own Alex Luft) has pointed it out against smaller vehicles such as the Ford Escape and Honda CR-V, though fairly equal in price. When I asked Mr. Luke why the Equinox and Terrain aren't compared to more equally proportioned (though more expensive and much less fuel efficient) vehicles such as the Toyota Venza, he cleverly retorted:
"The Toyota Venza, is it? Yeah, that's an interesting vehicle, I think they call it a 'crossover'. When you think about the Terrain and the Equinox, you think more of a utility. I'm not sure you'd say that about a Venza. (With the Equinox and Terrain) the customer gets a great on-road vehicle with the utility of a crossover."
Well when you put it like that, what more could you ask for?
It should be noted that on my way out of the GM Tech Center, I was told that Mr. Luke is one of the best leaders within GM today. After our conversation, it's easy to see why.
Sweepstakes Of The Month: Win a 2023 Corvette Z06 Convertible. Details here.
We are currently looking for experienced automotive journalists and editors to join our team. Make $60k-$80k per year doing what you love. We are also looking for an experienced web developer.
See details here
.