GM Unveils EN-V Concept: A Bubble For Your (Future) Urban Life
2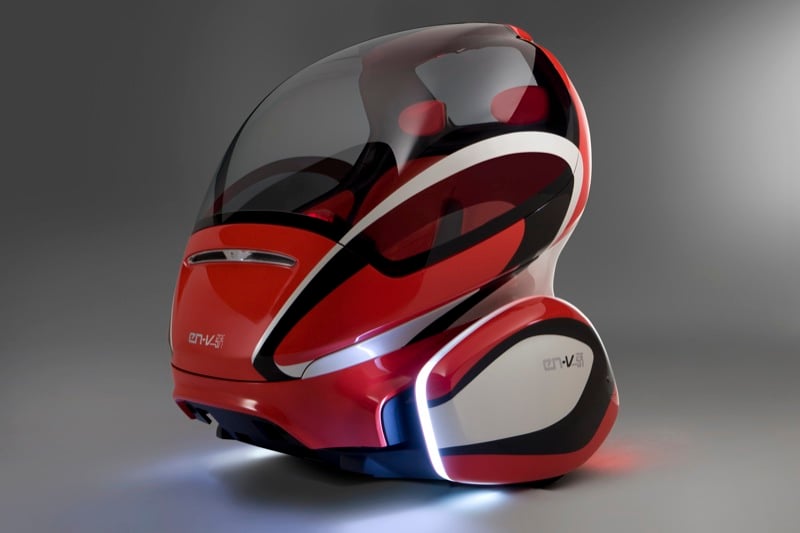 Before you make up your mind about GM's EN-V Concept, you should know that by 2030, 60 percent of the world's 8 billion people will call urban areas home. Needless to say, this will put monumental pressure on a public infrastructure that's – in most urban areas – already struggling to meet the growing demand for transportation.
The Electric Networked-Vehicle (or EN-V), was developed in collaboration with GM's strategic Chinese partner – Shanghai Automotive Industry Corp. Group (SAIC). The vehicles explore a number of solutions for the future of driving while retaining the core principal of personal mobility – freedom.
A 2-seat electric vehicle, the EN-V was designed to diminish traffic, congestion and parking availability while improving air quality and affordability. The concept will be shown in three models – Jiao (Pride), Miao (Magic), and Xiao (Laugh) at the SAIC-GM pavilion at World Expo 2010 in Shanghai (May 1 – October 31).

Platform
EN-V's platform is an evolution of the Personal Urban Mobility and Accessibility prototype (P.U.M.A.) that was developed by Segway and made its debut in April 2009. GM worked with Segway to develop multiple copies of the platform that connects and powers the EN-V.
Powertrain
The EN-V is propelled by electric motors in each of its two driving-mode wheels. The motors provide power for acceleration as well as help bringing the vehicle to a stop. With the use of dynamic stabilization technology, the EN-V is able to carry two passengers and some light cargo all on a minuscule footprint that takes up less than one-third of a traditional vehicle. In fact, the EN-V can turn on a dime within its own operation envelope.
Lithium-ion batteries provide power to the motors that produce zero emissions. Recharging the batteries is accomplished via a conventional outlet using standard household power. This allows the EN-V to travel at least 40 kilometers (25 miles) on a single charge. As is the case with the current generation of electric vehicles, the EN-V can communicate with the electric grid and determine the best time to recharge, helping the public infrastructure remain efficient.
Autonomous Operation
Since everything in the EN-Vs is drive-by-wire, it furnishes the concept with the ability to operate either by manual or autonomous control. This is taken to the next step through the combination of GPS, vehicle-to-vehicle communications, and distance-sensing technologies.
Since the EN-Vs are able to be driven autonomously (read: without driver input/control), they can eventually lead to reduced traffic congestion by selecting the fastest route based on real-time traffic information.
What's more, autonomous operation has the potential to greatly reduce the number of vehicle accidents.
As loyal GM fans may already know, The General has been collaborating with Pittsburgh's Carnegie Mellon University that created "The Boss" Chevrolet Tahoe in 2007. The partnership resulted in an unmanned Tahoe having negotiated a 60 mile course of urban traffic, busy intersections, and stop signs in less than six hour. It won the Defense Advanced Research Projects Agency (DARPA) 2007 Urban Challenge competition.
EN-V applies the lessons GM learned in "The Boss" project to the safety of the EN-V surroundings as well as people who otherwise may not be able to operate a vehicle.
Safety
The EN-V has the ability to "sense" what's around it using vehicle-based sensor and camera systems. This allows it to react quickly to obstacles or other changes in driving conditions. For instance, if a pedestrian happens to step out in front of the EN-V, the vehicle will decelerate to a slower and safer sped and stop sooner than today's vehicles. This is similar to today's emerging self-stop technologies such as Volvo's auto brake.
Design
Each of the EN-V concepts was designed with a unique theme and personality. Design elements such as the door opening, interior, color, lighting, and seat technology are different among the three EN-V Concepts.
Jiao (Laugh) was designed by GM's Holden design team in Australia, while the Jiao (Pride) was penned by designers at GM Europe. The Miao (Magic) was designed at the General Motors Advanced Design Studio in California.
The body of the EN-V is made from carbon fiber, custom-tinted Lexan, and acrylic. These materials can only be found today in race cars and military applications such as spacecraft and airplanes due to their strength and lightweight characteristics. Working with these innovative materials gave GM's design teams an opportunity to learn and study their feasibility in future automotive applications.
Urbanization, emphasized
Needless to say, the EN-V is no Camaro, Corvette, or Tahoe. But it's not made to be either of those – and it doesn't try to be one, either. The EN-V is made for a specific purpose – urban driving environments. Weighing less than 500 kilograms (1,100 pounds) and coming in at about 1.5 meters (5 feet) in length, the EN-V is the perfect example of merging efficient space utilization with transportation. Compare that to today's vehicles that require more than 10 square meters (32 square feet)  for parking and that weigh more than 1,500 kilos (3,306 pounds) and one can see the benefit of something like an EN-V in the city.
Whether the future will actually bring vehicles like the EN-V is a question for an entirely different article. However, it goes without saying that the EN-V is a truly forward-looking concept!
Sweepstakes Of The Month: Win a Corvette Z06 and 2024 Silverado. Details here.
We are currently looking for experienced automotive journalists and editors to join our team. Make $60k-$80k per year doing what you love. We are also looking for an experienced web developer.
See details here
.