Bam! Bob Lutz Unretires From GM For The Third Time In Three Years!
We are currently looking for experienced automotive journalists and editors to join our team.  Make $60k-$80k per year doing what you love.  We are also looking for an experienced forum moderator to join our team. 
See details here
.
0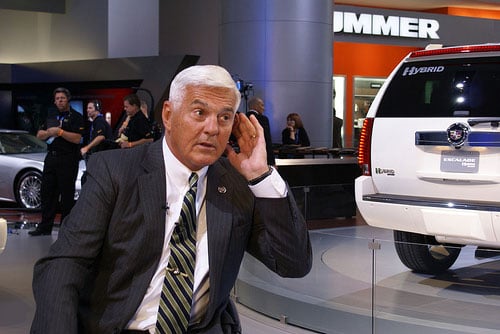 On the heels of announcing its decision to buy back Saab, GM has also announced that Bob Lutz will not be retiring this May, as previously planned. Instead, the charismatic executive will remain with GM to head up the automaker's Executive Training Center (ETC).
The brand new department – to be opened in collaboration with General Motors – will provide long-term training and development services to GM executives and upper level managers. Here's the purpose of the ETC, according to Lutz:
"We have noticed that many up and coming managers and executives in the automotive industry – GM included – simply don't have what it takes. Our goal at the Executive Training Center is very simple: turn current and upcoming managers into charismatic, personable, and fearless leaders."
The ETC will occupy the 75th story of the Ren Cen (GM will take the floor over from its current lessee). In fact, GM is planning on turning the Northern end of the 75th story into Lutz's permanent residence – where he will develop the program and observe executives (literally) below him. The project appears to have been developed after Lutz's (second) announcement to retire in March:
"After realizing that I have more to give back to the automotive community at large, I brought this idea to the board of directors. They liked and approved it within a few weeks."
Lutz said that being in charge of the ETC will make for a fairly smooth transition from his current advisory role at GM.
"Leading the [Executive Training] division will be very similar to my advisory position at GM. I've realized that most executives – in the automotive space or otherwise – simply lack the passion, charisma, and appreciation for the products they produce. They simple don't have what it takes. The executive training center will change that in a big way."
The GM Authority Team agrees with Maximum Bob. Name another automotive exec (or manager) who races a 556 horsepower CTS-V around a track against M3s and Jaguar XF-Rs just to prove that his company's product is better.
The Federal Automotive Task Force was also involved in the decision to open GM's ETC:
"The idea came to me after advising board members of the Automotive Task Force," said Lutz. "These people understand the financial aspect of running a company but simply don't understand what it takes to make a good car. This begins deep in the heart and soul of each employee. Passion is something that – if not already present – should be taught."
The ETC will celebrate its grand opening in the beginning of July, with scheduled programs commencing sometime in September. To participate, managers and executives are required to submit an application that will have to be approved by Lutz himself.
"You have to really suck in order to be approved for the program," Lutz concluded.
Happy April Fools' Day! If the above congratulatory phrase didn't help, here's the full disclosure: this is an April Fools' Day prank and should be treated as such – nothing more and nothing less. In other words, most – if not all – of what you've just read is not real. Our intention is not to misinform, defame, or slander the subjects (people, companies, etc.) in question. Our apologies if we have done so.
[Image Source:
Hybrid Cars
]
Update: Happy April Fools' Day!
Want to see your GM ride featured on GM Authority? We welcome your submissions. See
here
for details.