Cadillac: Remember When It Used To Be a Status Symbol?
2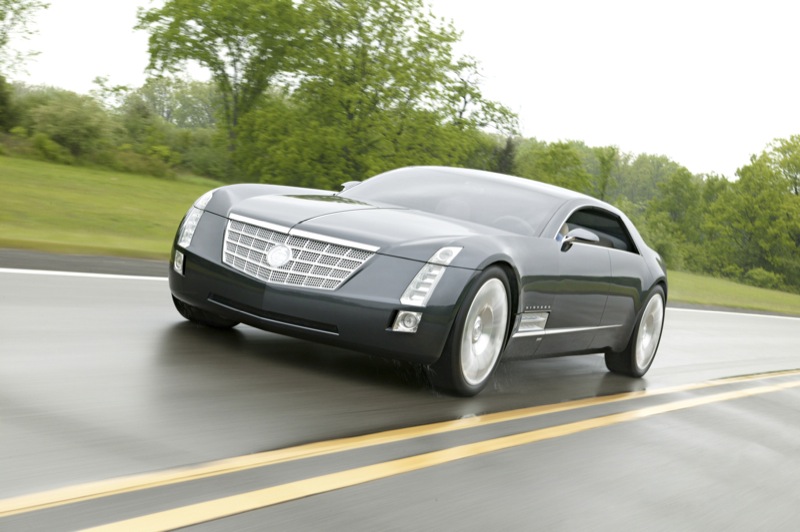 We all know GM's marketing strategy in the 1900's – put Americans in a Chevrolet and – as they progressed towards the American dream – they consequently moved through GM brands until they owned a Cadillac. If you had a Cadillac in your driveway in the '50s and '60s, you were a somebody. Americans actually dreamed about, one day, owning a Cadillac. It was the ultimate status symbol. Neighbors envied you and other motorists enjoyed watching you drive by. Maybe that was then and one can argue that times have changed, but have they? Today, people still long to drive a status symbol to show their success, not only in America but around the world. The only difference is that Cadillac has been replaced by Mercedes-Benz as the status symbol of American success.
Some may say that "status" never mattered in America (or the world for that matter). But human desire to show status (affluence and position) within society has been with us since the caveman days. It is a desire that is as old as our ability to feel love, anger, or happiness. And, believe it or not, this desire is the very thing that should be driving Cadillac's focus going forward. Cadillac needs to get back to being the ultimate vehicle the world wants to drive when they want to show they have "made it." Find out how Caddy can do just that by clicking more!
Turning Heads
So how does a car company become a "status symbol" for the masses? Management and design teams must commit to a vehicle that is absolutely stunning at first glance. The only Cadillac on a lot today that would take my eyes away from a silver Mercedes-Benz is a CTS-V. That's because I know what the car represents from an engineering perspective and not because of exterior styling. Today's Cadillacs all look like they were designed starting with a rectangular block that someone decided to cut a few angles into. It's a design concept that started with the 2003 Cadillac CTS. Since then, every single Cadillac model has had an obtuse angle. Perhaps someone wanted this to become Cadillac's answer to BMW's trademark "kidney grill but – in the end – this design lacks influential style. Today's Cadillac won't turn heads in a store parking lot – and that's the problem.
Affluent = Important
Has Cadillac recently designed a car that was able to turn the heads of everyone who saw it? Damn right they have – it's the Cadillac Sixteen concept car, but someone at GM made the decision to mothball that for the XTS shown at this year's NAIAS. The engineering and interior design of the XTS may be top notch, but the exterior looks nothing more than a warmed-over 2010 DTS. Contrast that with the Cadillac Sixteen, with its business coupe design (very long hood with short trunk overhang) – and it's easy to see that the unique Sixteen could never be mistaken for any other vehicle. Its style commands  presence, something that is currently lacking at Cadillac. And to top it all off, the Sixteen certainly looks affluent.
The Converj
Most recently, Cadillac has mothballed the Converj concept car. The Converj had a sporty exterior along with the drivetrain of the upcoming Volt. Perhaps it would not have sold many units in this configuration, but was the design not worthy of consideration as a four-door BMW fighter? Had this four-door version been presented as an Alpha-based 3 series BMW fighter, we wonder how GM brass would have felt about giving it the green light.
The Status Car Crown
Regaining the "status car" crown means that GM must commit to designs using platforms that may cost more in the long run than using an architecture guaranteed to be the most profitable per unit (as Caddy did with the XTS and the Epsilon platform). "Good enough" is just not going to get Cadillac to where it needs to be in the market. Fit and finish at Cadillac must not only be noticeably better than other GM models, but it must be the absolute best in the world. Is GM willing to invest the money needed to ensure every panel is perfectly aligned and every panel gap is less than 2 millimeters? Are they willing to invest in higher quality material and quality control that ensures flawless finishes? There is just no public visibility to show me that GM believes Cadillac is more than just another brand. This is unfortunate. Cadillac must shine if GM wants to change market perception.
Market Perception
So what is the market perception of Cadillac right now? You tell me! In the first nine months of last year, Cadillac sold a dismal 73,024 vehicles. Compare that with BMW, which sold 160,666 units in North America in the same time period. There are many people talking up the brand and its products but in the end, they're not buying Cadillac. And I blame this on Cadillac's lack of commitment to cutting edge styling. The desire to own a Caddy is simply not there, and until GM realizes that Cadillac has an image problem that only a large investment in design will solve, they can look forward to the brand slowly disappearing.
We discussed this very topic in much more detail on this week's GM Authority Debate podcast – take a listen right here.
Sweepstakes Of The Month: Win a 2023 Corvette Z06 Convertible. Details here.
We are currently looking for experienced automotive journalists and editors to join our team. Make $60k-$80k per year doing what you love. We are also looking for an experienced web developer.
See details here
.