Tahoe Police Special Has Lowest Life Cycle Cost
0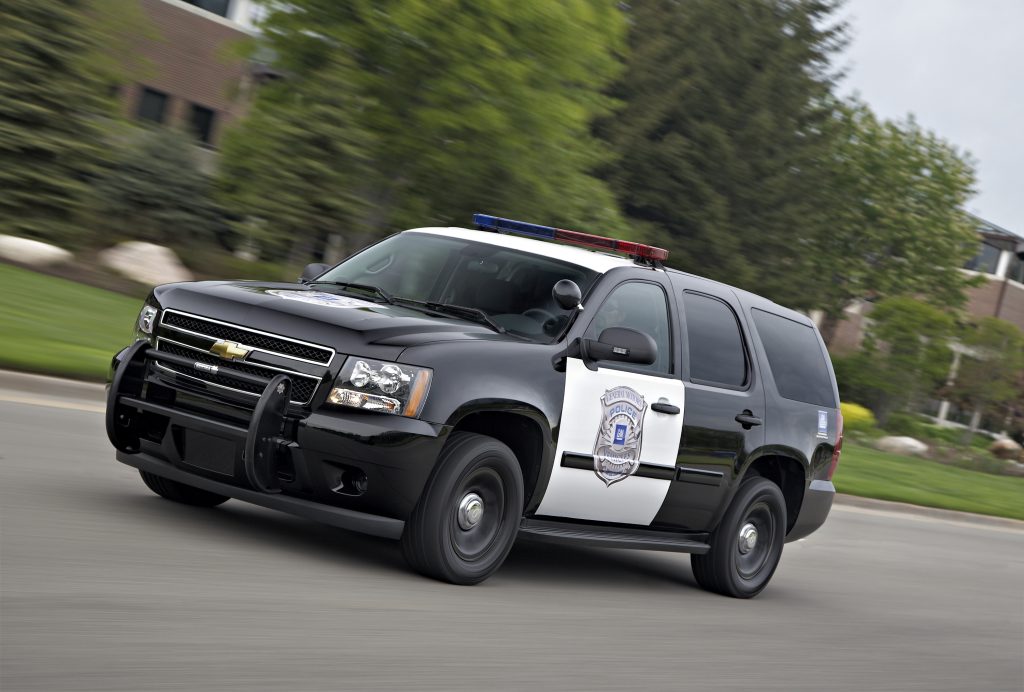 Ask any car enthusiast (and probably any driver) what he or she believes to be the most popular police vehicle and the answer will inevitably be the Ford Crown Vic. While many debate Ford's Panther platform cars (Crown Vic, Grand Marquis, Town Car) are still in production, the conclusion always relates to massive fleet sales of at least two of the three old-school sedans.
In recent years, however, GM and Chrysler have infiltrated the police vehicle game with cars such as the Chevy Tahoe and Dodge Charger. A recent study by Vincentric, a company that studies and analyzes vehicle life cycles, shows that the Tahoe Police 2WD has the lowest life cycle cost (in most situations).
This analysis took into consideration seven different factors, including depreciation, fuel costs, financing costs, opportunity costs, maintenance and repair costs, as well as insurance costs. Due to its strong residual value, the Tahoe fared better than popular choices including the Impala, Crown Vic, and Charger.
In fact, costs attributed to GM vehicles were lower in all aspects of the study compared to equivalent Ford and Chrysler models. This significantly highlights which vehicles provide a better solution for fleet operations compared to their life cycle costs. Not only has GM received praise for the reduced life cycle costs of its vehicles, but the automaker has also earned Vincentric's award for Best Fleet Value in America over a multitude of years. And to top it all off, we can't wait to see how the upcoming Chevy Caprice PPV will fare when it's available in Fall 2010.
Check out galleries of both the Tahoe and Caprice Police Vehicles after the jump, as well as GM's full press release!
2010 Chevy Tahoe Police Vehicle
2010 Chevy Caprice Police Vehicle
PRESS RELEASE
Chevrolet Tahoe Police vehicle achieves lowest lifecycle cost recognition in the law enforcement market
2010-02-04
DETROIT- The Chevrolet Tahoe Police 2WD vehicle was found to have the lowest lifecycle cost in the law enforcement market by Vincentric, a company specializing in the area of automobile lifecycle analysis.  Vincentric recently released their 2010 law enforcement vehicle market analysis that measured 20 mileage/lifecycle timeframes and the Tahoe Police 2WD enjoyed the lowest lifecycle cost in the majority of scenarios.
The lifecycle computation analysis evaluated seven factors: depreciation expense, fuel costs, finance costs, opportunity costs, maintenance costs, repair costs, and insurance costs. When these seven factors were analyzed for 2010 police models of the Chevrolet Tahoe 2WD, Chevrolet Impala, Ford Crown Victoria, and Dodge Charger, it was the Chevrolet Tahoe that came out on top due to its strong residual value.
In addition to the lowest lifecycle costs in the law enforcement market, the Chevy Tahoe offers extensive functionality.  A wide range of applications valued by law enforcement agencies are available including HAZMAT, K9, medical, and tactical operations, with both police and special service packages.
"We are proud our vehicles performed so well in Vincentric's lifecycle cost analysis," commented Joyce Mattman, Product Director, Fleet and Commercial Operations. "The low lifecycle costs of the Tahoe and Impala police vehicles offer our customers great value in this economic climate."
Lifecycle cost analysis allows government agencies to more effectively compare the cost to own and operate law enforcement vehicles. The data provided facilitates a better informed decision about which vehicles provide the combination of features essential to their operations versus the overall lifecycle costs.
'Our intent with any of our fleet lifecycle cost analyses is to  provide guidance to all types of fleet buyers, including small businesses,  large commercial fleets and police and other government organizations," stated David Wurster, President of Vincentric.  "By looking at as many different mileage/lifecycle timeframe scenarios as possible, we're able to account for a wide variety of driving and ownership patterns and provide an independent, solid foundation for accurately evaluating the lifecycle costs of fleet vehicles."
Across all scenarios in the study, the Chevrolet police vehicles' costs were lower than those of the Ford Crown Victoria and Dodge Charger. Not only did the Chevrolet brand dominate the police market in this study, many General Motors vehicles have also won Vincentric's Best Fleet Value in America™ awards throughout the years.
For more information on the Vincentric law enforcement market analysis, visit the Industry Reports section at www.vincentric.com.
About General Motors
General Motors, one of the world's largest automakers, traces its roots back to 1908.  With its global headquarters in Detroit, GM employs 204,000 people in every major region of the world and does business in some 140 countries.  GM and its strategic partners produce cars and trucks in 34 countries, and sell and service these vehicles through the following brands:  Buick, Cadillac, Chevrolet, GMC, GM Daewoo, Holden, Opel, Vauxhall and Wuling.  GM's largest national market is the United States, followed by China, Brazil, Germany, the United Kingdom, Canada, and Italy.  GM's OnStar subsidiary is the industry leader in vehicle safety, security and information services.  General Motors acquired operations from General Motors Corporation on July 10, 2009, and references to prior periods in this and other press materials refer to operations of the old General Motors Corporation.  More information on the new General Motors can be found at www.gm.com.
Sweepstakes Of The Month: Win a Corvette Z06 and 2024 Silverado. Details here.
We are currently looking for experienced automotive journalists and editors to join our team. Make $60k-$80k per year doing what you love. We are also looking for an experienced web developer.
See details here
.