Nostalgic Scenario: If I Could Control GM's Departed Brands.
We are currently looking for experienced automotive journalists and editors to join our team. Make $60k-$80k per year doing what you love. We are also looking for an experienced web developer.
See details here
.
1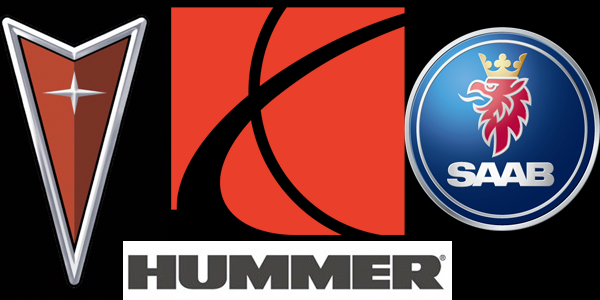 We know the fate of Pontiac and Saturn. We know that Saab is taking off with Spyker while Hummer, the uber American SUV brand, is close to becoming a Chinese-owned entity. Yet secretly somewhere inside, we wish GM had room for all of these brands.
Let's step into the Twilight Zone of GM proposals, imagine that I just became the owner of all four of GM's departed brands, and started another major American automotive company. I want to succeed where GM failed. Assuming I will have access to GM's engines and platforms – future and dormant, here's how I'd do it, brand by brand.
Pontiac
Pontiac had its shining moments, especially at the end. The G8 was a four-door juggernaut and the Solstice brought solace for those looking for an alternative to the Miata. But for every one good thing in Pontiac, two other things weren't. Pontiac deserved to be a unique, passionate driver's brand. I'm going to give it the grace. As far as brand positioning goes: think a mix of Mazda, Lotus, Alfa Romeo, and vintage Pontiac.
GM shelved the Kappa II platform, but Pontiac is the perfect place for it. A re-engineered Solstice would slot well between the Mazda Miata and Lotus Elise. Use of a new engine, such as the direct-injection 1.4 liter 4cyl. with turbo and twin turbo options, will deliver the punch to the rear wheels and a removable targa top may just add the spices that make a recipe for success.
There is a certain short-lived model that many would gladly walk across broken glass to see resurrected – the G8. Going forward, ideas such as giving it a possible four-door coupe variant and some vintage GTO undertones, such as dual headlamps on each side as well as a more fastback roofline could awaken nostalgic hearts. Once again, look to Holden to provide the framework, in this case it would be the Zeta II.
Additionally, a C-segment sport sedan would be added to the lineup for those driving enthusiasts that prefer affordable performance, similar to what the G8 did for its segment. An AWD option would be useful for this model and would have the most variations including a coupe, hatch and convertible. It could potentially be named the G6 and could either run on a shrunken, AWD-capable Epsilon II variation or the Alpha platform.
Saab
Saab is most likely going to be better off with Spyker than it ever was with The General. Regardless, never mind the fact that it's been sold already. This is the Twilight Zone, remember? Saab's somewhat unique styling will make a comeback for the mid-level luxury brand that it is. Targeting Volvo, Acura, Infiniti and to some degree, even Buick. Originality, however, is key for this brand. The Swedish design must flourish. The ignition being located in the center console shouldn't even be a question. The upcoming lineup would stay intact, but her's a list in case someone forgot:
C-segment: 9-3. The new 9-3 should be distinctively AWD, and have a variant that brings back the unique wagon style that made Saab a cult classic many years ago.
E-segment: the new 9-5 is already gaining favor from both myself and many looking for a flagship AWD airplane.
C/D-segment CUV: the Theta-based 9-4X is to be a cousin to the Cadillac SRX, which is a good thing. It should feature the same turbocharged 4cyl. engine featured in the Caddy and will be a good fit for the CUV.
Saturn
The mainstream brand of my misfit GM. Though it wouldn't have as broad a lineup as Chevy, it would stick to more or less competing with import brands such as Honda and VW and focus on fuel economy. It would include A, B, C-segment models as well as a flagship sedan, two different-sized CUV models, and an affordable hybrid. Nothing too full-sized or hardcore, that's for Hummer and Pontiac.
Hummer
One major contributor that turned consumers off the brand was the outright lack of fuel economy and negative perception. Luckily, GM has dormant blueprints for a 4.5 liter Duramax diesel that would be the perfect remedy for the fuel economy woes. Hummer has great potential rivaling Jeep and Land Rover. Let's see what happens when the lineup includes models that aim at Jeep's Cherokee and Wrangler, as well as the Land Rover LR4. A possible  Zeta-based CUV could slot in here very easily. Also, the H3T should be redesigned to prey on the Ford SVT Raptor and offer LS3 and LSA engine options, as well as more mild mannered choices. Pin it under the proven GMT-900 platform and there you have a serious multi-purpose all-terrain box of fun.
That's what I would do. What would you do? The comments are wide open!
We are currently looking for experienced automotive journalists and editors to join our team. Make $60k-$80k per year doing what you love. We are also looking for an experienced web developer.
See details here
.