GM Authority Opinion Desk: Did Toyota Know In 2004?
0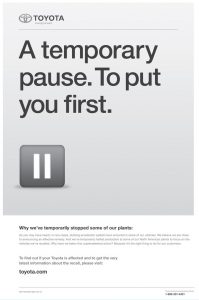 As Toyota owners are cautiously driving with one hand resting on the gear selector, ready to jam their transmissions into neutral should the car begin to accelerate inexplicably, questions way beyond Toyota's ability to construct safe, reliable vehicles are beginning to surface.
The Detroit Free Press reported yesterday that in March 2004, the National Highway Traffic Safety Administration explored complaints of unintended acceleration from owners of 2002-2003 Toyota Camry and Lexus ES300 lines. However, their investigation was limited to surges less than one second in duration. Such limit was likely imposed at the behest of Christopher Santucci, a NHTSA employee who left his government post to work for Toyota. Neither Mr. Santucci nor NHTSA responded to the Free Press' inquiries, but documents produced by a lawsuit on behalf of Guadalupe Alberto, who died when she lost control of her 2005 Camry, suggest that upon securing employment at Toyota, Mr. Santucci asked his former government colleagues to limit the scope of their inquiry, rendering it ineffective. The arrangement should remind readers of former Treasury Secretary Henry Paulson's relationship with Goldman Sachs.
On Thursday, GM Authority's own Wilson Nunnari wrote of the Toyota recall:
This Tylenol-style precaution may inspire confidence and admiration in some.
He went on to describe The General's effort to court worried Toyota owners. Indeed, internal communication at this very blog equated our reporting on the unintended acceleration mess to "kicking Toyota while it is down." But whether the fatalities of last August were the product of an unknown flaw which Toyota is working feverishly to rectify, or the product of a known vulnerability which Toyota attempted to cover up and is now being forced to confront determines whether consumers' confidence in Toyota is misplaced.
The evidence of intent to deceive does not bode well for the Japanese automaker. Toyota says the problem is strictly related to ill-fitting floor mats and sticky accelerator pedals. Many consumers are dissatisfied with this explanation. Regina Weiss, the owner of a 2010 Prius told the New York Times, "It may be safe, but I'm not getting the sense that they know what's wrong or really understand the problem." Such a response is on the favorable part of the spectrum. The day after Christmas, four people died in Texas when their 2008 Toyota rolled over after unintended acceleration. The family had moved the floor mats to the trunk on Toyota's recommendation. Countless victims have reported unintended acceleration in situations where floor mats were not the culprit. Toyota has gone so far in its denials as to tell one man whose wife died in an accident resulting from this issue that he must have mistakenly depressed the accelerator instead of the brake. Sean Kane, head of private safety firm "Safety, Research, and Strategies" told ABC that there have been 60 new grievances reported since the supposed mat and pedal fix. Toyota executives have strenuously rejected the theory that a flaw in the electronic system has caused these issues, but Kane notes that the instances of unintended accelerations surged after 2002, the year the company implemented an entirely electronic system with no mechanical backup. Executives continue to insist that the mat and pedal solution is sufficient.
The Washington Post noted that despite years of complaints, Toyota refused to install a brake-override system, which cuts engine power when the brake and throttle are applied simultaneously while the vehicle is in motion. "General Motors installs brake override in all of its cars in which it is possible for the engine at full throttle to overwhelm the brakes." An engineer at a major automaker told the Post that the cost of implementing such a system would be negligible when spread over enough vehicles, but the real bottleneck was critical skill, as there are not many people who can install such systems. ABC reported that Toyota finally capitulated at the Toyota Auto Show, where North American Toyota president Yoshi Inaba announced that Toyota would install brake override systems on all of its vehicles. The announcement obviously did not come in time to prevent disaster.
The Canadian Press, contrasting this situation with the Ford-Firestone rollover blame game of 2001, is praising Toyota for taking decisive action, calling this an opportunity for Toyota to demonstrate its corporate responsibility. In comparing Toyota's action here with that of Tylenol in 1982, they seem to have forgotten that the 1982 case was an act of deliberate sabotage which was in no way Tylenol's fault. Unfortunately, the evidence here suggests such parallel is woefully inappropriate.
Yes, Toyota made a mistake. That much is forgivable. The Japanese giant is even trying to make amends. However, it forfeited all claims to beneficence when it discovered a serious safety defect in its products, refused to disclose it to the public until after the media forced its hand, used foul play to gut the effectiveness of the very regulatory institution responsible for keeping its customers safe, and then attempted to ride out the media storm with an explanation of the problem that shifts blame to third parties and – ultimately – passed off an ineffective solution as an end to the matter. And if that description of Toyota's crimes is accurate, GM has every right, perhaps even a responsibility, to get as many people as it can out of faulty Toyotas as quickly as possible. More power to The General in filling demand for safe products backed by responsible companies.
[Source:
Autoblog
, ABC News
once
,
twice
,
thrice
, and
four
,
Canadian Press
,
Newser
,
Washington Post
,
New York Times
,
SuddenAcceleration.com
,
Car & Driver
,
Detroit Free Press
]
GM Authority is looking for professional automotive journalists with at least three years of experience to join our rapidly-growing team. We pay between $60,000 and $80,000 per year. More details
here
.