GM Authority Opinion Desk: Buick – Geritol No Longer Included…
0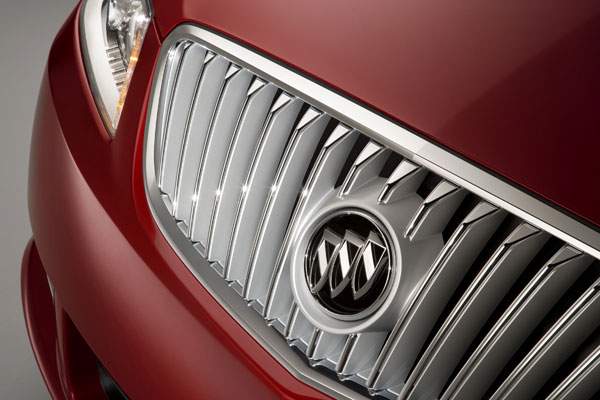 One of the divisions which needed a good start under the New GM is Buick. Thankfully, it is quietly becoming an exciting brand that is giving dealers the opportunity to sell well-built and stylish products. Gone are the re-badged Chevrolets and really bland looking cars that only grandpa could love. Over the past 15 years, Buick sales and market share in North America have been on a freefall (550,000 Buicks sold in 1991 versus less than 50,000 last year). GM had to do something and do it quickly in order to keep the brand going in North America.
Enter today's Buick. Its models not only have heaps of style but are also world class, a term used to describe models that can be sold in all markets without major changes. Many of the products Buick is now/will be offering in North America (LaCrosse, Regal, and Excelle) are actually designs that were originally built for other markets. Buick's new slogan is "The new class of world class," and it will be interesting to see if the brand truly lives up to those words. I interpret this slogan to mean that not only will the brand offer at least one model in every market, but it will also show the "world class" heavyweights such as Volkswagen, BMW and Mercedes how to take the concept one step further.
In North America, Buick currently offers the Enclave – a large (Lambda-based) CUV, the Lacrosse – a luxury car that looks better than anything Cadillac has on the market, and the Lucerne – soon to be replaced by the smaller 2011 Regal (Thank God). Also scheduled to arrive on these shores in the next year or two is the Buick Excelle XT – a hatchback currently sold in China (known in Europe as the Opel Astra). Buick's progress in China has been well documented – selling over 540,000 units last year in the People's Republic alone. And how is Buick doing in Europe? Well in Europe, North America's upcoming Buick Regal was introduced last year as the Opel Insignia. It won European Car of the Year honors and sold an amazing 170,00 units in its first year. No other car has had a higher share of the mid-size market over the past 10 years.
Obviously, this is success that should be nourished. But what is also obvious is the detachment between markets and products. If Buick's slogan is "The new class of world class," why are some Buicks sold as Opels in Europe? I realize that Opel (Vauxhall as well as Holden – for that matter) is a hodgepodge of GM vehicles sold here as Saturns, Chevys and Buicks – but perhaps in the midst of all the past and present Opel turmoil, it's time GM consider rolling Opel into the Buick division.
That's not to say that The General must immediately drop the Opel brand, but rather, amalgamate Buick and Opel's products so that they become more homogeneous. Without a doubt, old GM would have stated that such a proposition was impossible. But take a close look at how high-tech companies have managed mergers and acquisitions: for decades, they have successfully swallowed up companies without disenfranchising the customer base. The economies of scale of such a decision would be enormous, since all products would have to be considered as a global product rather than for one particular geographic market.
Buick is proving that it can offer the same product globally – an encouraging sign indeed. It is trying to position itself as a direct competitor to Lexus and Acura while – at the same time – offering distinct vehicles that are nothing like Chevrolets or Cadillacs. With the Lacrosse, Regal, Excelle and Verano, Buick should be able to do just that – provided it can continue to combine quality, performance, luxury and style in all models. Will it truly become the new class of world class? That's a bold statement in my book. But if the brand structures itself to become a global brand, it will be another sign that GM is on the proper path to success once again.
PS: As promised, our own Alex Luft will publish his in-depth research paper about his proposed strategy GM should take with Buick and Cadillac as discussed on the GM Authority Debate show. Stay tuned!
Sweepstakes Of The Month: Win a Corvette Z06 and 2024 Silverado. Details here.
We are currently looking for experienced automotive journalists and editors to join our team. Make $60k-$80k per year doing what you love. We are also looking for an experienced web developer.
See details here
.