Department 180: Chevrolet Launching New Internet Series
3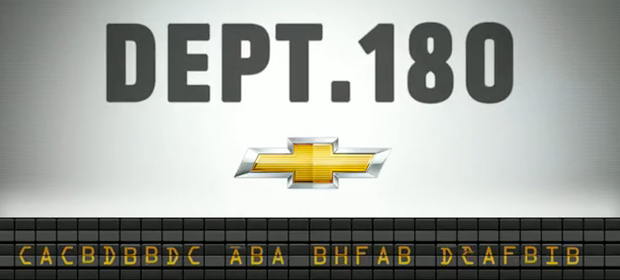 Last week, a mysterious video appeared on Chevy's YouTube channel. It wasn't an ad and it wasn't a video from a recent auto show. No, it was something much, much better: a brand new web series by the folks at Chevrolet featuring quality control engineers from Department 180.
The short clip (available after the break) features a group of real engineers putting Chevys through the paces – freezing, heating,
crashing, and performance testing their products, all while having a great time. The technicians even threw in a few fake tests just for fun!
There's no word on when to expect the first (next) episode, but the video ends with a (barely noticeable) blurb (1:18 mark)
that asks the viewer to scan the beetagg code that may result in more information. (Note: I tried to scan the code with the Beetagg Pro app on the iPhone but was presented with an error message that told me that the beetagg couldn't be found).
The GM Authority Take
While very few of us have to worry about the summer roasting our cars into a pair of baked potatoes, or the winter freezing them Mr. Freeze style, it's good to know that the engineers over at the bow-tie brand put Chevys through those kinds of tests in an effort to increase the final quality of the vehicles!
Moreover, it's great to see what has been known as a monolithic corporate giant like GM harness the power of social media. While
many auto critics and enthusiasts may not see this as a marketing move worthy of discussion, nothing could be further from the truth. Social media, also known as new media, is an emerging (if not yet established) new-age marketing practice that's very powerful and cost effective. And it usually speaks to
a completely different audience compared to traditional advertising. Not only will Chevrolet reap the benefits of reaching that market through this series, but the brand will also be able to prove itself given GM's recent trouble such as the infamous bankruptcy and bailout proceedings.
But this isn't the first time Chevy provides us with some juicy content. Just last month, we got our hands on two Volt videos – one showing the upcoming EV get a 1000-Fahrenheit cookin' and the other showing the Volt go through the fabled 100,000 mile durability test – all part of Chevy's quality testing procedures. These cheap, short, yet interesting videos give us a glimpse of the internal goings-on of Chevrolet, something that's unprecedented in an industry where marketing is usually a multi million-dollar expense. The Department 180 series looks to continue on this path, adding some production quality along the way.
We'll undoubtedly keep you up to date on the latest developments in the Department 180 web series right on this here website. In the meantime, watch the video for yourself after the jump and subscribe to Chevy's YouTube Channel.
Want to see your GM ride featured on GM Authority? We welcome your submissions. See
here
for details.