Delphi Dump, Err, Plant Re-Examined As Casino Plans Drawn
We are currently looking for experienced automotive journalists and editors to join our team. Make $60k-$80k per year doing what you love. We are also looking for an experienced web developer.
See details here
.
1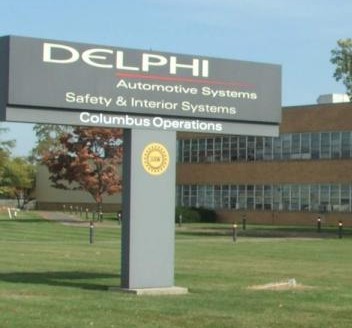 With Toyota's problems piling up, the press has been slow to unearth (quite literally) the latest discovery of The General's corporate indiscretion, namely several decades of waste dumping at a former Ohio factory, the location of which is now being considered for a new casino.
A state constitutional amendment, passed in last November's election, sanctioned plans by Penn National Gaming, of Reading, Pennsylvania, to build a casino in downtown Columbus. The company already purchased 24 acres in the city's "Arena District," but that land may be put up for sale, as Penn would now like to change the venue to Columbus' struggling west side, at the former home of GM subsidiary Delphi's old Franklin Township auto parts factory, which closed in 2007.
What Casino?
Penn has already acquired the 123 acre brownfield site. Before it can proceed, it will have to wait for approval of the change from Ohio voters this May. The potential Hollywood Casino Columbus would be across the street from what is referred to as the emptiest neighborhood in the US, with 70 percent of housing empty, according to AP. Current residents say people are afraid to come near this substantially vacant part of town. Economists debate whether a business like a casino will launch a revival, but the sheer size of the investment suggests it may be a boon for the dilapidated part of town. The new gaming facility would cover 180,000 square feet, contain 4,000 slot machines, 100 table games, and a garage capable of housing 4,000 GM cars (or others) in a pinch. The casino would open in the second half of 2012. If the ballot measure fails in the May election, Penn said it will stick with its downtown plans.
The Obstacle
With a $400 million budget, Penn's casino seems like Columbus' best hope for resurgence of activity in its west side. The eminent obstacle is what GM and Delphi left behind after 60 years of operations. Penn National Gaming is ultimately responsible for clean up. Penn spokesperson Eric Schippers said, "We're going to take our time and make sure we understand where the environmental issues may be." The General's history is certainly not facilitating efforts.
Penn hired a consultant to review the Ohio EPA's Delphi file, which includes state and federal inspection reports, surveys, and company reports. The amount of time required to clean up the site ranges from months to years and is a function of the site and the nature of the pollution.
Let's See How Deep The Rabbit Hole Really Goes
The contents of the file date back to 1981, and thus far reveal that Delphi routinely used harmful substances like barium, chromium, zinc, sulfuric acid, and industrial solvents. Included in the papers is a 1994 Federal EPA survey, which maps three large lagoons, a hazardous waste depot, a coal-fired powerplant, a waste treatment plant, several tanks that stored fuel, lubricants, and chemicals, including methylene chloride which Wikipedia indicates is metabolized by the human body as carbon monoxide. The 16 year old survey also lists locations where Delphi stored used mercury ignition tubes for welders; used light ballasts that contain polychlorinated biphenyl, which Wikipedia notes was banned by Congress in 1979 based on toxicity concerns; and rags soaked in solvents, waste oils, and lubricants. Most significantly, though, this report reveals that GM and Delphi dumped 1,800 tons of waste sludge in the unlined lagoons each year from 1957 until they closed in the 1970s.
State and federal EPA representatives declared the sludge hazardous waste in 1981 and necessitated that GM periodically check the surrounding groundwater for pollution from seepage. GM contracted a consultant to conduct three tests that year, the results of which found arsenic, barium, cadmium, chromium, lead, and mercury in the sludge. As GM paid for the consultant, the official report unsurprisingly concluded that the metals did not pose a threat to groundwater. Consequently, GM successfully persuaded the EPA to declare the sludge 'non-hazardous' in 1987. In 2008, the year after the plant closed, Delphi filed closure papers with the Ohio EPA, indicating that the company had removed all of the hazardous materials, and drained chemical tanks. The papers listed the empty tanks as 'potentially hazardous.'
The crucial question for Penn Gaming is whether the lagoons pose a threat to construction contractors, employees, or clients. The Ohio EPA does have a Voluntary Action program, wherein a developer of polluted land can clean it up in return for contractual agreements barring the government from forcing any future cleanups. Schippers indicated that Penn had not decided whether they would take part in that program, or would apply for a $3 million grant from the Clean Ohio Fund to pay for the cleanup. Such decision will likely be made after their in-house surveys are compiled. None of the solutions seem optimal, but given that it was not Penn's mess in the first place, some cleanup is better than none.
This column recently argued that The General has a responsibility to remove consumers from unsafe Toyota vehicles, not only because of safety implications, but because Toyota's handling of the situation exuded deceit and corporate irresponsibility. It is certainly ironic that Toyota's media nightmare is the only thing that has shielded GM from exposure of its past acts at the Franklin Township plant. As it stands now, GM has been allowed to pass the buck. GM Authority hopes that Penn wins its bid to relocate in the May election, and that all necessary funds will be made available to fully clean the location. At that point, perhaps there will be more media hours available to devote to GM's environmental record.
[Sources:
MarketWatch
, 
USA Today
, 
Columbus Dispatch
,
Columbus Business First
]
Sweepstakes Of The Month: Win a 2023 Corvette Z06 Convertible. Details here.
We are currently looking for experienced automotive journalists and editors to join our team. Make $60k-$80k per year doing what you love. We are also looking for an experienced web developer.
See details here
.