Belgian Unions Protest GM Decision To Close Antwerp Plant
0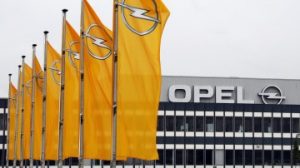 In the midst of an attempt to restructure its European operations, General Motors remains unpopular and is losing friends at a rapid pace, especially among European labor unions. GM recently announced the closure of its Antwerp, Belgium plant, at a loss of 2,606 jobs. GM ultimately hopes to cut 8,300 jobs from its 48,000-member European workforce in its turnaround effort, a plan which weakens relations between The General and its European workers.
Earlier this week, a Belgian union accused GM of violating an agreement to build small sport utility vehicles at the Antwerp plant. GM ultimately decided to produce the vehicle exclusively in South Korea. The union argued such a move was a contract violation and has consequently filed a lawsuit against the American auto maker, with union officials adding:
The relocation of the agreed small SUV models is the only reason for the intended closure of Antwerp. There is a pending lawsuit on this matter filed by the unions of Antwerp.
According to Reuters, Nick Reilly, head of GM Europe, speaking at Opel's headquarters near Frankfurt, characterized the agreement as a "plan," not a "commitment." He made no comment on the lawsuit. The Wall Street Journal reported that Mr. Reilly hoped that unions would approve the restructuring plan in two to three weeks. GM had hoped to present the plan in December, but with this latest lawsuit, labor unions have pushed that target into February at the earliest. Mr. Reilly's time estimates have historically proven low: during his tenure as head of GM Asia-Pacific, he substantially underestimated the length it'd take to bring a hybrid Holden Commodore to market. The press conference further revealed that GM is seeking up to 2.7 billion Euros in state aid from European governments in which it has plants. According to the union, GM will need 500 million Euros in loan guarantees for the Antwerp factory to remain open. The union had the following to say about the matter:
We strongly oppose any plant closure and we will not agree to any sacrifices. We expect that Opel/Vauxhall management will do everything to utilize the existing installed capacity before any decision on job reductions will be taken.
The AFP has reported that the Opel union is threatening widespread strike action. In an act of European solidarity, other European plants have agreed not to fill in for Antwerp production during any cessation. Seeing as GM is already fighting excess capacity in its European operations, voluntary stoppage may not be much of a threat at all.
[Sources:
Financial Times
,
WSJ
,
Reuters
,
AFP
]
Want to see your GM ride featured on GM Authority? We welcome your submissions. See
here
for details.