Opel Refreshes Corsa Sub-Compact
0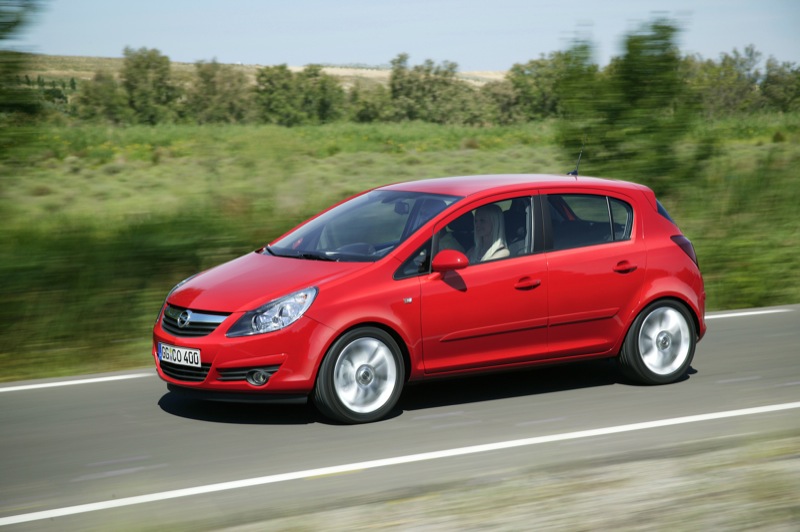 Although the Opel Astra did not get the chance to warm American hearts as a Saturn, it is one of the best selling vehicles in Europe along. And so is the smaller Gamma II-based Corsa. For those not in tune with The General's European offerings, the Corsa is to Opel as the Aveo is to Chevrolet in the United States. It's available in a three and five-door variants. Unfortunately for the US, the Corsa received a refresh before Americans even get a chance to buy the new Aveo.
A redesign sometimes calls for a "less is more" attitude. Now and again, more power often brings a smaller package in order to slightly increase the fuel economy numbers. Not so with the Corsa refresh, as Opel engineers managed to improve fuel economy (by up to 13 percent) and emissions, all while increasing power of the engine.
While the US is mainly concerned with miles per gallon (and the subsequent CAFE effects), the Europeans are highly focused on CO2 emissions. The Corsa is available with a set of diesel powertrains that produce as little as 98 grams per kilometer. For those of us that are not able to buy a new Corsa, that's approximately .35 pounds per mile.
The powertrain line-up includes two gasoline engines, a 1-liter 3 cylinder (48 kW/65 hp ) entry level version and the turbo charged 1.6-liter on the Corsa OPC (141 kW/192 hp). When it comes to diesels, different versions of the 1.3 and 1.7 CDTI motors offer outputs ranging from 55 kW/75 hp to 96 kW/130 hp.
For the enthusiast on an econobox budget, Opel also worked magic on the steering and suspension. Anti-roll bars, dampers, springs, and steering gear have been updated to provide a more direct experience for the driver.
Opel will also release three Color Line variants that will include unique body work and 17-inch wheels. There will also be a 111 Limited Edition celebrating the 111th anniversary of the first car produced by Opel.
Check out the press release after the jump and enjoy the gallery below!
PRESS RELEASE
New Opel Corsa: More power, greater comfort, less fuel
2010-02-10
Rüsselsheim. The new Corsa range has been rejuvenated to provide more power and more driving fun with less fuel consumption. Opel engineers have given the Corsa a complete make-over, introducing an enhanced powertrain line-up that reduces fuel consumption by up to 13 percent, significant chassis improvements and a new steering calibration. In addition to its agile handling and greater ride comfort, drivers will appreciate engines that give more pulling power.
These enhancements are accompanied by the introduction in Germany of several new special editions like the sporty Color Line series. The Color Race, Color Edition and Color Wave variants feature distinctive bodywork finishes and attractive 17-inch alloy wheels. Also, in celebration of 111 years of automotive tradition, Opel will release a captivating 111 Limited Edition in Europe.
The Corsa comes in two distinct body styles, the coupé-like three-door and the family friendly five-door. Inside the cabin, the Corsa continues to offer one of the roomiest and most attractive interiors in its class. True to Opel's philosophy, it also features innovative technologies at an affordable price, including halogen Adaptive Forward Lighting (AFL), a heated steering wheel, active front head restraints, Hill Start Assist, a Panorama sunroof or the integrated FlexFix bicycle carrier which is unique to Opel.
The Corsa is a highly popular choice throughout Europe, accounting for some 30 percent of all Opel/Vauxhall sales. In addition to its athletic dynamic styling and great driving fun, it also offers customers top class quality. Germany's DEKRA Defect Report 2010 named the Corsa the overall winner, with the lowest defect rate (2.4 percent) of all the vehicles tested. DEKRA (Deutscher Kraftfahrzeug-Überwachungs-Verein) is a full-service provider for safe and efficient mobility and Europe's leading technical expert organization.
Reinvigorated to deliver more driving satisfaction and lower fuel costs, the Corsa range ticks all the right boxes for customers seeking a peppy package at an affordable price.
More power with improved fuel economy
The powertrain line-up consists of a wide offer of gasoline engine from the 1-liter 3 cylinder (48 kW/65 hp ) entry level version to the turbo charged 1.6-liter on the Corsa OPC (141 kW/192 hp). On the diesel side, different versions of the 1.3 and 1.7 CDTI motors offer outputs ranging from 55 kW/75 hp to 96 kW/130 hp all with fuel consumption under 5 liters per 100 kilometers. The Corsa ecoFLEX 1.3 l CDTI offers  exceptionally low CO2 emissions of just 98 g/km for the 3-door variant, 99 g/km for the 5-door.
Opel engineers have developed the engines to give greater torque, while at the same time reducing their appetite for fuel and lowering CO2 emissions. All gasoline engines, and the new 1.7 CDTI diesel, comply with Euro 5 emissions standards.
The most popular gasoline powertrains – 1.0, 1.2 and 1.4-liter with manual and automated Easytronic transmissions – offer combined cycle fuel consumption between just 5.0 and 5.5 l/100 km, and CO2 ratings from 117 to 129 g/km with manual transmission. With an average fuel consumption of just 5.0 l/100 km and 117 g/km CO2, the Corsa 1.0 is the cleanest of all gasoline-powered entries in its segment. The 1.4 engine comes in two variants, with 64 kW/87 hp and 74 kW/100 hp and is available with full automatic transmission in its most powerful execution. The 1.2 and 1.4-liter Twinport engines are now fitted with double cam phasing to allow variable valve timing on both inlet and exhaust sides for more efficient breathing.
Other measures that improve fuel consumption for all gasoline engines include a low friction oil pump, remapping of the engine thermostat and a "shift up" indicator to help the driver change gear for optimum fuel economy
The 1.3 CDTI engine is also improved, giving the Corsa ecoFLEX model exceptionally low CO2 emissions of just 98 g/km for the 3-door variant, 99 g/km for the 5-door. The Corsa ecoFLEX is Opel's lowest emitting car, yet it is packed with 27 percent more power and 10 percent greater fuel efficiency. A diesel particulate filter and the "shift up" indicator in the cluster are standard.
The top-of-the-line 1.7 CDTI diesel engine now offers more power and torque – increased to 96 kW/130 hp and 300 Nm – as well as a nine percent cut in CO2 emissions and fuel consumption, to 118 g/km and 4.5 l/100km.
Uprated chassis and steering
Opel chassis engineers have upgraded all major suspension components and the steering system. The result is improved ride comfort, more precise steering feel and greater directional stability – without compromising Corsa's acclaimed agility.
Dampers, springs, anti-roll bars, the rear axle, the electric steering gear and its calibration software all have been optimized. All the changes apply to Essentia, Enjoy and Cosmo variants, while versions equipped with the Sport chassis, GSi and ecoFLEX models benefit from additional improvements to the rear axle and steering.  The Corsa OPC took over the changes applied to the steering gear.
Sweepstakes Of The Month: Win a Corvette Z06 and 2024 Silverado. Details here.
We are currently looking for experienced automotive journalists and editors to join our team. Make $60k-$80k per year doing what you love. We are also looking for an experienced web developer.
See details here
.