Updated: Officially Official: GM Sells Saab To Spyker
We are currently looking for experienced automotive journalists and editors to join our team.  Make $60k-$80k per year doing what you love.  We are also looking for an experienced forum moderator to join our team. 
See details here
.
0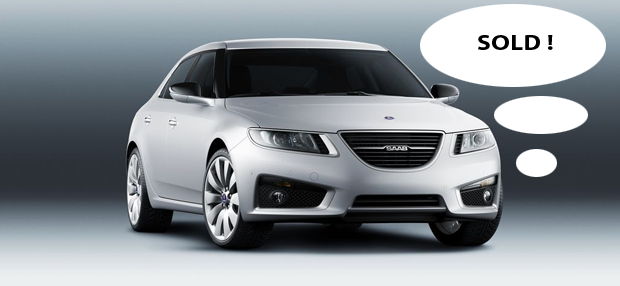 It's over, done, finito! After months of negotiations, protests from Saab owners, and numerous ups and downs, General Motors just confirmed that it has reached a binding agreement to sell Saab Automobile AB to Spyker Cars NV.
Spyker has outlasted all other negotiators in this deal, including Koenigsegg, Genii Capital (backed by Bernie Ecclestone), and Merbanco. What's more, Spyker's persistence in tirelessly trying to work out a deal and submitting revisions upon revisions of bids – sometimes at the last minute – have all paid off. Ironically, Spyker also outlasted GM – which began winding down Saab in late 2009.
As part of the transaction, Spyker will form a new company called Saab-Spyker Automobiles that will be in charge of the Saab brand. The sale will be subject to customary closing conditions and regulatory, governmental, and court approvals.
Complete details of the deal have not yet been fully disclosed (GM says they will be disclosed in due time), but we're hearing that Spyker paid $74 million in cash and provided GM another $326 million in proffered stock of the new Spyker-owned firm. The agreement is contingent upon the approval of a 400-million-euro loan from the European Investment Bank to Saab-Spyker. Vladimir Antonov, chairman of the Spyker board and the biggest backer of the Dutch exotic car maker, has agreed to step down and sell/relinquish his positions (although we're not totally clear on this yet).
At the present, the Swedish government is in the process of reviewing the transaction. If everything goes according to plan, the deal is expected to close in mid-February. GM will immediately suspend Saab wind down activities pending the closing of the transaction.
The GM Authority Take
How quickly things can change! Just yesterday, CEO Ed Whitacre wasn't ready to announce a deal and even stated that wind down operations of the Saab brand are ongoing. This news is great for all parties involved:
GM becomes a leaner company, gains some cash in the process, and walks away with its tail between its legs (but is still able to look Saab fans in the eye)
Saab is saved – along with the all-new 9-5 and 9-4X, its 1000+ dealers, and 4000+ employees, while
Spyker acquires a legendary brand with strong brand recognition and Saab's excellent engineers.
Personally, I can't wait to see what awesome new products a Saab under Spyker comes out with, but I'd bet that they'll be better than those a GM-owned Saab ever dreamed of. Stay tuned to this week's GM Authority Weekly Podcast for the team's thoughts and analysis.
Check out GM's full presser after the break!
PRESS RELEASE
GM Reaches Agreement to Sell Saab to Spyker
DETROIT – General Motors and Spyker Cars NV today confirmed that they have reached a binding agreement on the purchase of Saab Automobile AB.
"Today's announcement is great news for Saab employees, dealers and suppliers, great news for millions of Saab customers and fans worldwide, and great news for GM," said John Smith, GM vice president for corporate planning and alliances.
"General Motors, Spyker Cars, and the Swedish government worked very hard and creatively for a deal that would secure a sustainable future for this unique and iconic brand, and we're all happy for the positive outcome," Smith said.
As part of the agreement, Spyker intends to form a new company, Saab Spyker Automobiles, which will carry the Saab brand forward. The sale will be subject to customary closing conditions, including receipt of applicable regulatory, governmental and court approvals. Other terms and conditions specific to the sale will be disclosed in due time.
The Swedish government is at present reviewing the transaction and the related request for guarantees of a Saab Automobile loan that has been requested from the European Investment Bank. Assuming quick action, the transaction is expected to close in mid-February, and previously announced wind down activities at Saab will be immediately suspended, pending the close of the transaction.
"Throughout the negotiations, GM has always had the hope to find a solution for Saab that would avoid a wind down of the brand," added Nick Reilly, president, GM Europe. "We've worked with many parties over the past year, including governments and investors, and I'm very pleased that we could come to such a good conclusion, one that preserves jobs in Sweden and elsewhere. GM will continue to support Saab and Spyker on their way forward."
###
About General Motors: General Motors, one of the world's largest automakers, traces its roots back to 1908. With its global headquarters in Detroit, GM employs 204,000 people in every major region of the world and does business in some 140 countries. GM and its strategic partners produce cars and trucks in 34 countries, and sell and service these vehicles through the following brands: Buick, Cadillac, Chevrolet, GMC, GM Daewoo, Holden, Opel, Vauxhall and Wuling. GM's largest national market is the United States, followed by China, Brazil, Germany, the United Kingdom, Canada, and Italy. GM's OnStar subsidiary is the industry leader in vehicle safety, security and information services. General Motors acquired operations from General Motors Corporation on July 10, 2009, and references to prior periods in this and other press materials refer to operations of the old General Motors Corporation. More information on the new General Motors can be found at www.gm.com.
Saab background: Saab entered the auto business in 1949 with the first model 92. Its aerodynamic shape and advanced technology drew from the company's roots as an aircraft maker, and helped create what was to become a loyal and passionate customer base. GM acquired a 50 percent stake in Saab in 1990, and acquired the balance of Saab in 2000. As part of its strategy to focus on its four strongest brands in the U.S., GM began seeking a buyer for Saab in January 2009, a concerted effort that led to today's announcement.
Want to see your GM ride featured on GM Authority? We welcome your submissions. See
here
for details.