Next-Gen Chevy Aveo To Go On Sale Next Year
0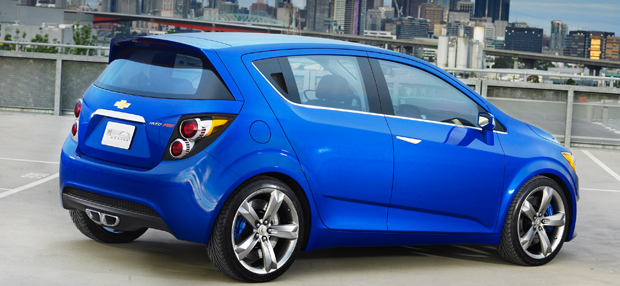 After releasing the stunning Chevrolet Aveo RS Concept just last week at the NAIAS, the bow tie brand has announced that the production version of that vehicle will be available for purchase sometime "next year." It will be GM's first small car built on the global B-segment architecture – the Gamma 2.
GM originally planned to build the future Aveo in low-cost labor countries such as Mexico, but after last year's negotiations with the UAW, decided to build it at the Orion Township assembly plant in Michigan. Under the new agreement, the UAW will use lower-cost labor and decreased labor rules to make the assembly of compact vehicles in the United States competitive.
An interesting question is whether the  Aveo sedan will be launched at the same time as the hatch. Given the popularity of the sedan version, we think that may be a good idea. In any event, it looks like it's time for Toyota's lackluster Yaris to finally get out of the way!
We have GM's full press release after the break!
PRESS RELEASE
Chevrolet: Big Steps For Its Small-Car Lineup
2010-01-11
Aveo RS show car features European-inspired hot hatch design
Cruze delivers spaciousness and amenities of a midsize car with the fuel economy of a compact
Spark mini-car offers style, roominess and fuel efficiency
Chevrolet announces another launch market and utility partnership for Volt
DETROIT – Chevrolet's growing small-car lineup came together today at the North American International Auto Show with the introduction of the Aveo RS show car – a European-inspired hot hatch aimed at young enthusiasts.
The all-new Chevrolet Cruze and the Aveo RS show car – hinting at the next-generation Aveo production car – along with the all-new Spark five door mini car, showcase the foundation of Chevrolet's growing small-car portfolio. Cruze will be available in the U.S. later this year, the all-new Aveo production car comes to the U.S. next year, and U.S. sales of the Spark begin in early 2012.
Chevrolet also announced that Michigan joins California as a key initial Volt launch market. Chevrolet is partnering with Detroit-based utility DTE Energy and other key Michigan stakeholders as part of a larger, real-world development and demonstration program to introduce customers to electric vehicles and establish vehicle charging programs. Last week, Chevrolet and OnStar demonstrated technology beyond the battery with the industry's first working smartphone application that will give Volt owners 24/7 connection and control of vehicle function and OnStar features remotely.
"Our new small cars and the Volt electric vehicle with extended-range capabilities represent cornerstones in Chevrolet's gas-friendly to gas-free approach," said Jim Campbell, Chevrolet general manager. "We expect the trio of Spark, Aveo and Cruze to be fuel economy leaders, while the Volt can operate gas-free before switching to extended-range capability when the battery runs low."
Here's a look at Chevrolet's small and compact car presence at NAIAS:
Chevrolet Aveo RS show car: The Aveo RS show car provides a glimpse of what designers have in mind for the future production car. One look at the show car's electric Boracay Blue finish, motorcycle-inspired exposed headlamps and taillamps, low roofline, fender flares, large wheels and tires, and dual-cockpit interior hints at the next-generation Aveo.
"The current Aveo is a major player in Chevrolet's global small-car portfolio," said Campbell. "Our intent with the Aveo RS show car is to demonstrate Chevrolet's vision and design potential for a small car we think customers will love."
Focusing on Aveo's target audience of young buyers, Chevrolet gave the show car a sporty appearance inside and out. An aggressive front fascia; clean, uninterrupted body side lines; an integrated rear roof spoiler; wide stance; and large, 19-inch, five-spoke wheels with a gun metal metallic Chevrolet logo and Boracay Blue brake calipers suggest upscale style and dynamic handling.
The Boracay Blue continues inside, with accent stitching in the instrument panel dual cockpit, front and rear door panels, gear shift boot, parking brake and seat bolster.
The Aveo RS show car features the same small-displacement 1.4L Ecotec turbocharged engine that will be available in the 2011 Chevrolet Cruze. Delivering 138 horsepower (103 kW), it performs like two powerplants in one, with the fuel economy of a small engine and the performance of a larger one. In the Aveo RS show car, the 1.4L turbo is mated to a six-speed manual transmission.
Chevrolet has previously announced the new Aveo will be built at Orion Assembly in Orion Township, Mich., in 2011, a move that will restore 1,200 jobs to Southeast Michigan.
Retooling Orion Assembly for Aveo production is anticipated to begin in late 2010.
Chevrolet Cruze: The 2011 Chevrolet Cruze compact sedan is already on sale in Asia and Europe with strong market acceptance. Refined for America, the 2011 Cruze changes the rules by bringing a midsize car presence to the compact sedan segment. It will deliver many segment-leading features, more interior room and cargo capacity than the competition and upscale amenities such as Bluetooth, USB and navigation. It offers midsize roominess, safety and amenities with the fuel economy and expected price of a compact car. The U.S. production version of the Cruze was unveiled last month.
The Cruze affirms Chevrolet's commitment to lead in small-displacement, turbocharged four-cylinder engines that are highly fuel efficient. Cruze is expected to deliver segment-leading fuel economy with a new Ecotec 1.4L I-4 turbo with variable valve timing – including up to 40 mpg on the highway with a high-efficiency model. The all-new Cruze will be built in Lordstown, Ohio beginning in the third quarter.
Chevrolet Spark: The five-door Chevrolet Spark, the smallest member of Chevrolet's family of cars, brings style, roominess and versatility to a segment of extremely fuel-efficient small cars. Spark will provide great fuel economy, and its trim size makes it very agile in all kinds of driving conditions while still feeling substantial on the open road. The U.S. production version of the Spark will go on sale in early 2012.
"This small vehicle makes a big statement," said Margaret Brooks, Chevrolet marketing director for small cars. "With its fresh, youthful approach, we believe Spark will appeal to customers who want excellent fuel economy, functionality and style at an affordable price."
More details on the U.S. version of the Spark will be announced at a later date.
Chevrolet Volt: Michigan joins California – announced last month at the Los Angeles Auto Show – as another initial retail market. Other markets will be announced later.
"Launching in California and Michigan gives us important West Coast and Midwest platforms that will allow us to introduce the Volt more effectively into broader regions across the U.S.," said Maria Rohrer, Chevrolet marketing director for Volt.
Chevrolet will deliver more than 100 Volts to several utilities beginning in 2010 – including DTE Energy – as part of an extended research and demonstration fleet program. As part of the program, 500 charging stations will be installed for residential, business and public use. They will be used to learn more about the installation process, vehicle charging, and to gain customer feedback.
"A key factor in the widespread success of electric vehicles will be the ability of utilities to supply 'fuel' on demand and at a reasonable cost," said Steven E. Kurmas, president and chief operating officer of DTE Energy's electric utility, Detroit Edison. "Working with the auto industry, the Department of Energy and other stakeholders, DTE Energy and electric utilities nationwide are fully committed to developing a robust charging infrastructure that will support electric vehicles and make the transition to electric transportation a success."
The program is made possible with a grant of more than $30 million in American Recovery and Reinvestment Act funds from the Transportation Electrification Initiative administered by the U.S. Department of Energy.
Chevrolet is also working with other Michigan entities outside of the Detroit area to begin making Michigan ready for plug-in vehicles. Utilities we are working with include the Lansing Board of Water & Light and Consumers Energy.
Chevy announced a similar partnership last month with the Electric Power Research Institute (EPRI) and California utilities Pacific Gas and Electric, Southern California Edison and Sacramento Municipal Utility District.
In an effort to expand the Volt ownership experience, Chevrolet and OnStar unveiled the auto industry's first working mobile smartphone application last week. It will give Chevrolet Volt owners 24/7 connection and control of vehicle functions and OnStar features remotely.
OnStar's Mobile Application takes technology beyond the battery and allows Volt drivers to communicate with their vehicle from Droid by Motorola, Apple iPhone and BlackBerry Storm smartphones. It uses a real-time data connection to perform tasks such as displaying the charge status and setting grid-friendly charge modes. The application:
Displays charge status – plugged in or not, and voltage (120V or 240V)
Provides flexibility to "Charge Now" or schedule charge timing
Displays percentage of battery charge level, electric and total mileage ranges
Allows owner to manually set grid-friendly charge mode for off-peak times when electricity rates are lowest
Sends text or e-mail notifications for charge reminders, interruptions and full charge
Sends text or e-mail notifications for charge reminders, interruptions and full charge
Sends text or e-mail notifications for charge reminders, interruptions and full charge
Displays miles per gallon, electric-only miles and odometer readings
Shows miles per gallon, EV miles and miles driven for last trip and lifetime
Remotely starts the vehicle to pre-condition the interior temperature
The smartphone application for Volt will be available at launch. Demonstration applications are now available at OnStarMobileDemo.com.
About Volt
The Chevrolet Volt is an electric vehicle with extended-range capability. It is designed to drive up to 40 miles on electricity without using gasoline or producing tailpipe emissions. When the Volt's lithium-ion battery is depleted, an engine/generator seamlessly operates to extend the total driving range to about 300 miles. Production begins late this year; pricing has not yet been announced.
About Chevrolet
Chevrolet is one of America's best-known and best-selling automotive brands, and one of the fastest growing brands in the world. With fuel solutions that range from "gas-friendly to gas-free," Chevrolet has nine models that offer an EPA-estimated 30 miles per gallon or more on the highway, and offers two hybrid models. More than 2.5 million Chevrolets that run on E85 biofuel have been sold. Chevrolet delivers expressive design, spirited performance and strives to provide the best value in every segment in which it competes. More information can be found at www.chevrolet.com. For more information on the Volt, visit http://media.gm.com/volt.
Sweepstakes Of The Month: Win a Corvette Z06 and 2024 Silverado. Details here.
We are currently looking for experienced automotive journalists and editors to join our team. Make $60k-$80k per year doing what you love. We are also looking for an experienced web developer.
See details here
.