Lingenfelter Corvette ZR1 Posts 9-Second Quarter Mile
We are looking for an experienced forum moderator to join our team. 
See details here
.
0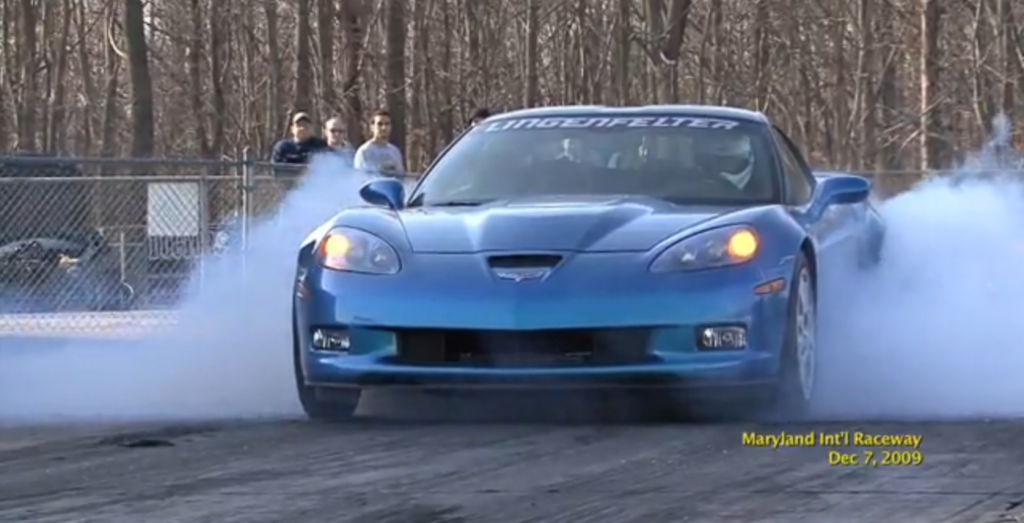 It's not secret that the Bowling Green, Kentucky-built ZR1 is the fastest production Corvette to date. But that doesn't mean that a few enhancements and adjustments can't be made to make the 'Vette go even faster. And that's exactly what Lingenfelter Performance Engineering, of Decatur, Indiana, had in mind.
They took a Jetstream Blue Metallic ZR1 and went to work on getting more air into the 6.2-liter V8, upgrading the ZR1's supercharger with a cast-aluminum air intake snout and an 11-rib, 2.60-inch pulley, an upgraded air filter, a four-inch diameter intake tube with mass air sensor, a ported throttle body, and a cast aluminum air inlet. Other mods include a larger intercooler reservoir system, larger heat exchanger, a set of sticky R345/35R18 Mickey Thompson ET Street Radials in the rear, M&H Racemaster P185/50R18 in the front, wrapped around CCW aluminum wheels.
When all was set and done, the modded 'Vette put out an astronomical 739 horsepower and 740 pound-feet or torque at the rear wheels. This allowed it to continuously run the quarter mile in the 9s, with a best pass of 9.813 seconds at 145.74 mph.
You can even buy the aforementioned components individually from Lingenfelter directly. Check out the ZR1 in action after the break.
PRESS RELEASE
DECATUR, Ind. -Lingenfelter Performance Engineering (LPE) is pleased to announce the Lingenfelter 2009 C6 Corvette ZR1 recently made three 9 second runs, hitting a best of 9.813 quarter-mile at 145.74 mph at the Maryland International Raceway, Budds Creek, Md.
Building on a rich history of finely engineered vehicle packages, Lingenfelter has refined the high-performance Corvette ZR1 to deliver maximum horsepower and torque utilizing the stock engine. The Lingenfelter ZR1 has been upgraded with the company's LS9 components designed to provide 739 rear-wheel horsepower and 740 rear-wheel torque.
Lingenfelter's 9 second quarter-mile was run with stock exhaust manifolds and a factory catback exhaust with a "Mild-to-Wild" switch. To see the ZR1 in action, visit www.lingenfelter.com/video.
"The track is the ultimate proving grounds to showcase Lingenfelter's years of engineering expertise and to test the performance capabilities of our ZR1," said Ken Lingenfelter, owner, Lingenfelter Performance Engineering. "We are excited to continue developing product that pushes this sports car to the limit."
Additional upgrades to the Lingenfelter ZR1 include:
– Lingenfelter cast aluminum supercharger air intake snout
– Lingenfelter 8.5″ diameter harmonic balancer – 11 rib
– Lingenfelter 2.60″ diameter supercharger pulley – 11 rib
– Lingenfelter S&B air filter
– 4′ diameter air intake tube with mass air sensor
– Ported stock throttle body
– Lingenfelter C6 ZR1 Supercharger Cast Aluminum air inlet
– Double capacity intercooler heat exchanger
– Larger capacity intercooler reservoir system
– Mickey Thompson ET Street Radials R345/35R18 rear tires
– M&H Racemaster P185/50R18 front tires
– CCW aluminum wheels
Enthusiasts can purchase individual components such as the upper pulley kit and the lower balancer kit to modify their own ZR1.
For more than 30 years, Lingenfelter Performance Engineering has created a matchless heritage of bringing astounding new capabilities to the world's most sought-after sports cars. This legendary record of precision engineering continues today, as the highly skilled Lingenfelter production team continues to target design excellence in engine packages, superchargers and high-performance aftermarket components that refine power, speed and control. For more information, visit www.lingenfelter.com, contact Lingenfelter Performance Engineering at 1557 Winchester Road, Decatur, IN 46733, or call 260.724.2552.
Want to see your GM ride featured on GM Authority? We welcome your submissions. See
here
for details.