GM Vehicle Set Strategy (VSS) Platforms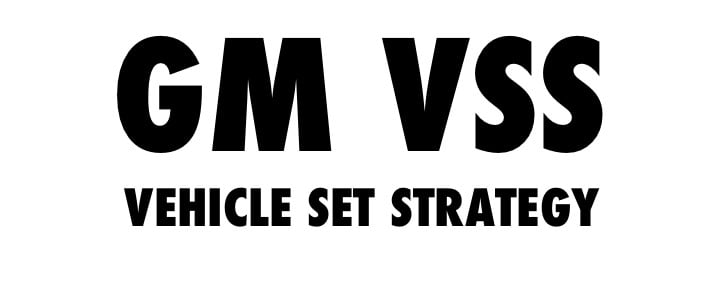 GM Vehicle Set Strategy (VSS) Platforms
Vehicle Set Strategy, abbreviated VSS, is the general name of a series of upcoming automotive vehicle architectures set to underpin all next-generation vehicles from General Motors.
Objectives
The objectives behind VSS include platform consolidation, complexity reduction, along with simplification in engineering and manufacturing in order to realize significant cost savings and enable the company to deliver better-differentiated designs more quickly to customers around the world.
With the vehicle set strategy, GM is looking to reduce its 26 global vehicle production platforms used in 2016 to just four. The move will also enable the company to deliver better-differentiated designs more quickly to customers around the world.
GM's vehicle sets are set to employ some common components and structures, which will save engineering, purchasing and tooling costs. In theory, the undertaking will also enable GM to better tailor individual models to regional markets and specific sectors. For instance, a small crossover for China might share some basic parts but not sheet metal with a mid-size sedan for sale in Europe.
Development
Development of the VSS process was started by GM CEO Mary Barra when she headed GM's global product development department before succeeding Dan Akerson as CEO in January 2016.
Vehicle Sets
The concept behind Vehicle Sets is best compared to Lego-like component sets that redefine what the automotive industry has typically referred to as platforms.
The VSS strategy sees GM developing four highly flexible and scalable "vehicle sets" to cover front-wheel drive vehicles, rear-wheel-drive vehicles, crossovers, and sport utility vehicles and trucks of all different sizes. The four sets are:
VSS-F for front-wheel-drive or FWD-based all-wheel-drive cars and crossovers with a transverse powertrain orientation
VSS-R for rear-wheel-drive or RWD-based all-wheel-drive cars with a longitudinal powertrain orientation; it is currently unclear whether this set will also be capable of underpinning rear-drive crossovers

Vehicles on this vehicle set will have a transverse powertrain orientation and also be capable of supporting all-wheel-drive

VSS-T for rear-wheel-drive or 4WD pickup trucks and SUVs with a longitudinal powertrain orientation
The fourth has not been referred to publicly, but we believe that it is a specialized platform for sports cars such as the next Corvette
Introduction
GM chief of global vehicle product development, Mark Reuss, has stated that the first GM Vehicle Set is set to go into production in 2020. It is currently unknown which of the four vehicle sets this will be.
Challenges
GM faces a series of challenges in bringing the VSS concept to life, namely tremendous complexity and enormous costs.
Vehicle Applications
Here's how we expect GM will use the four vehicle sets in future GM vehicles:
VSS-F
All future front-wheel-drive-based cars and crossovers
VSS-R
All future rear-drive cars and possible crossovers, including most Cadillacs and the Chevrolet Camaro
VSS-T
All body-on-frame pickup trucks and SUVs
Unknown
The name and purpose of the fourth vehicle set is unknown, though it could be used to underpin sports cars, such as the rumored mid-engined Corvette
GM Vehicle Set Strategy (VSS) Platforms Pages