Fairfax Assembly Plant – Fairfax, Kansas, USA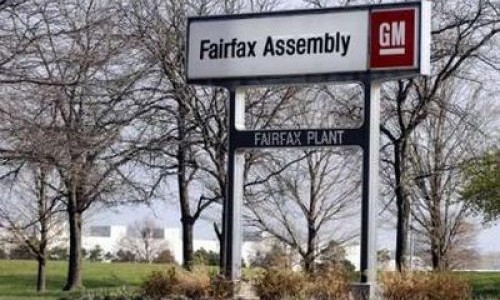 Fairfax Assembly Plant – Fairfax, Kansas, USA
The Fairfax Assembly Plant In Kansas City, Kansas is a General Motors vehicle manufacturing facility opened in 1987.
Quick Facts
Address: 3201 Fairfax Trafficway, Kansas City, Kansas 66115 United States
Year opened: 1987 (current facility)
Employees: 3,900
Union: UAW Local 31
Facility size: 572 acres
Manufacturing area size: 85 acres under roof
Manufacturing floor space: 3,044,561 square feet (pre-construction)
Amount of vehicles produced in 2012: 283,213
The plant produces a new car every 58 seconds according to a 2013 GM press release
Current Production
The Fairfax plant currently produces the following vehicles:
Buick LaCrosse
Chevrolet Malibu
Previous Production
Pontiac Grand Prix (1988)
Awards & Accolades
Milestones
Notable Events
Coming soon
Investments
$600 million in 2013 for a new paint shop and stamping press to reduce water consumption and chemical waste
$20 million in 2011 for upgrades related to the LaCrosse eAssist
$136 million in 2010 for the New Generation Malibu
$158 million in 2009 for the launch of the all-new Buick LaCrosse
$208 million in 2007 for the launch of the all-new Chevrolet Malibu
$651 million in 2006 for the launch of the all-new Saturn Aura
$722 million in 2003 for the launch of the 2004 Chevrolet Malibu
The Original Fairfax Assembly Plant
The current Fairfax plant is known as Fairfax #2 by old timers. That's because the original plant was located next to Fairfax Airport and served as the manufacturing location of the North American Bomber Production Plant that built the B-25 Mitchell during World War II.
After the war, General Motors purchased the building and converted it into an automotive manufacturing facility. The plant produced the F-84F jet-powered fighters alongside vehicles for consumers in 1952.
Production was moved to Fairfax #2 in 1986, marking the end of production at Fairfax #1. Fairfax #2 is located at the former Fairfax airport and cost roughly $1 billion to build. Fairfax #2 commenced production for vehicles of the 1988 model year, and the Pontiac Grand Prix was its first vehicle.