GM 2.8-Liter I4 Turbodiesel Duramax LWN Engine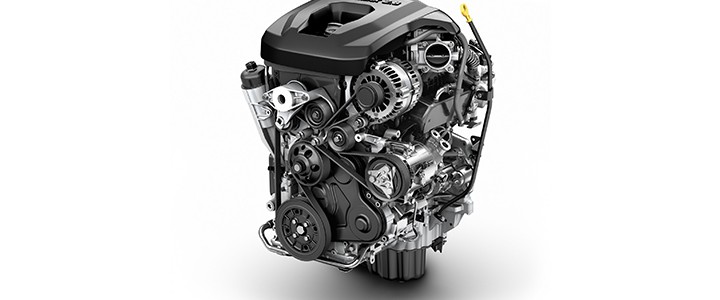 GM 2.8-Liter I4 Turbodiesel Duramax LWN Engine
The LWN Duramax is a 2.8-liter four-cylinder turbo-diesel engine produced by General Motors for use in small and midsize vehicles, especially pickup trucks and SUVs. Unofficially known as "baby duramax", the engine is part of GM's global family of turbo-diesel four-cylinder engines. It is a variant of the 2.8-liter turbo-diesel XLD, although tuned for North American market, specifically the United States and Canada.
The 2.8L Duramax Turbodiesel LWN features a variable-geometry turbocharger for optimal power and efficiency across the rpm band and a balance shaft for smoothness. Power is SAE-certified at 181 horsepower (135 kW) at 3,400 rpm and 369 pound-feet of torque (500 Nm) at 2,000 rpm. It's also the cleanest diesel truck engine ever produced by General Motors, and meets some of the toughest U.S. emissions standards, thanks in part to a cooled exhaust gas recirculation (EGR) system.
A broad torque band makes the 2.8L Duramax very powerful at low rpm, while the turbocharged performance provides a confident feeling of immediate and smooth horsepower on demand.
Additional engine features include:
Iron cylinder block and aluminum DOHC cylinder head
Forged steel crankshaft and connecting rods
Oiling circuit that includes a dedicated feed for the turbocharger to provide increased pressure at the turbo and faster oil delivery
Piston-cooling oil jets
16.5:1 compression ratio
Common rail direct injection fuel system
Ceramic glow plugs for shorter heat-up times and higher glow temperatures
Balance shaft that contributes to smoothness and drives the oil pump
Laminated steel oil pan with upper aluminum section that contributes to engine rigidity and quietness
B20 bio-diesel capability.
Full specifications for the 2.8L Duramax Turbodiesel LWN are currently not available. However, we do have the following preliminary specs of the engine in the 2016 Colorado:
| Engine: | 2.8L DOHC I4 DI Turbodiesel |
| --- | --- |
| GM production code: | LWN |
| Displacement (cu in / cc): | 169 / 2776 |
| Bore & stroke (in / mm): | 3.7 x 3.94 / 94 x 100 |
| Block material: | grey cast iron |
| Cylinder head material: | cast aluminum |
| Valvetrain: | DOHC with four valves per cylinder |
| Ignition system: | compression with glow plug start aid |
| Compression ratio: | 16.5:1 |
| Fuel delivery: | direct injection diesel with high-pressure common rail |
| Horsepower (hp / kW @ rpm): | 181 / 135 @ 3400 |
| Torque (lb.-ft. / Nm @ rpm): | 369 / 500 @ 2000 |
| Emissions controls: | cooled exhaust gas recirculation (EGR), EGR cooling-bypass system, diesel oxidation catalyst (DOC), selective catalyst reduction (SCR), diesel particulate filter system (DPF) |
| Recommended fuel: | diesel or B20 |
| EPA-estimated fuel economy (2WD) (city / hwy): | TBD |
| EPA-estimated fuel economy (4WD) (city / hwy): | TBD |