GM 5.7 Liter V8 Small Block LS1 Engine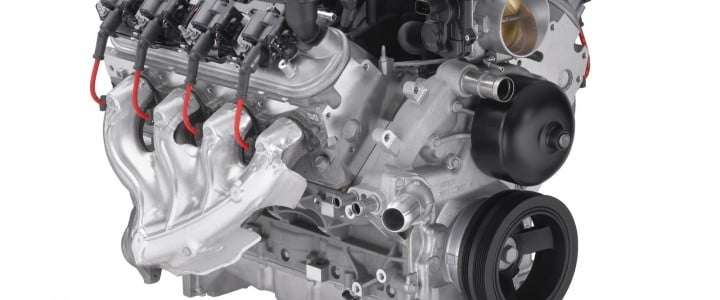 GM 5.7 Liter V8 Small Block LS1 Engine
The 5.7L LS1 V8 engine was produced by General Motors for use in high-performance vehicles such as the Chevrolet Camaro and Corvette, among others. It is part of GM's Gen III Small Block engine family.
Overview
The 5.7L LS1 introduced the third generation of General Motors' Small Block V8 engines. Other than a similar displacement, external dimensions and rod bearings, the LS1 shared little with the Gen II LT1 engine it replaced.
The LS1 was initially introduced in the 1997 Chevrolet Corvette C5, in which it was rated at 345 horsepower (257 kW) at 5,600 rpm and 350 pound-feet of torque (470 Nm) at 4,400 rpm. In 2001, GM improved the intake and exhaust manifolds, increasing the rating to 350 horsepower (260 kW) and 365 pound-feet of torque (495 Nm). The engine was used in the Corvette from 1997 through 2004.
In 1998, GM introduced the LS1 in its F-Body vehicles — the Chevrolet Camaro and Pontiac Firebird Trans Am. The engine was rated at 305-310 horsepower, a rating believed by some to have been conservative. The engine was used in the F-Body vehicles until 2002.
The engine was also available in the Pontiac GTO and in the Holden Commodore, Ute, and Caprice. Holden, GM's Australian subsidiary, continued to make improvements to the LS1 throughout its lifetime. The HSV YII series was rated at 382 horsepower (285 kW), while version modified by Callaway named "C4B" produced 402 horsepower (300 kW) in the HSV GTS models.
General Specifications
Type:
5.7L V8 Gen III Small Block
Engine Orientation;
Longitudinal
Displacement:
5,665cc (5.7L; 346ci)
Compression ratio:
10.1.:1
Valve configuration:
Overhead valves
Valves per cylinder:
2
Fuel system:
Sequential fuel injection
Recommended fuel:
Regular Unleaded
Firing order:
1 – 8 – 7 – 2 – 6 – 5 – 4 – 3
Bore x stroke:
99.06 x 91.948mm
Bore Center (mm):
111.76
Engine Mass (kg/lbs):
177 / 390
Horsepower hp (kW)
1997 – 2000 Chevrolet Corvette:
345 hp (257 kW) @ 5600 rpm
2001-2004 Chevrolet Corvette:
350 hp (260 kW) @ 5600 rpm
1998-2000 Chevrolet Camaro Z28:
305 hp (227 kW) @ 5200 rpm
1998-2000 Chevrolet Camaro SS:
320 hp (242 kW) @ 5200 rpm
2001-2002 Chevrolet Camaro Z28:
310 hp (231 kW) @ 5200 rpm
2001-2002 Chevrolet Camaro SS:
325 hp (238 kW) @ 5200 rpm
1998-2000 Pontiac Firebird Formula:
305 hp (227 kW) @ 5200 rpm
1998-2000 Pontiac Firebird Trans Am:
320 hp (242 kW) @ 5200 rpm
2001-2002 Pontiac Firebird Formula:
310 hp (227 kW) @ 5200 rpm
2001-2002 Pontiac Firebird Trans Am:
325 hp (238 kW) @ 5200 rpm
Torque lb.-ft. (Nm)
1997 – 2000 Chevrolet Corvette:
350 lb.-ft. (470 Nm) @ 4400 rpm
2001-2004 Chevrolet Corvette:
365 lb.-ft. (495 Nm) @ 5600 rpm
1998-2000 Chevrolet Camaro Z28:
335 lb.-ft. (454 Nm) @ 4400 rpm
1998-2000 Chevrolet Camaro SS:
345 lb.-ft. (467 Nm) @ 4400 rpm
2001-2002 Chevrolet Camaro Z28:
340 lb.-ft. (461 Nm) @ 4400 rpm
2001-2002 Chevrolet Camaro SS:
350 lb.-ft. (475 Nm) @ 4400 rpm
1998-2000 Pontiac Firebird Formula:
335 lb.-ft. (454 Nm) @ 4400 rpm
1998-2000 Pontiac Firebird Trans Am:
345 lb.-ft. (467 Nm) @ 4400 rpm
2001-2002 Pontiac Firebird Formula:
340 lb.-ft. (461 Nm) @ 4400 rpm
2001-2002 Pontiac Firebird Trans Am:
350 lb.-ft. (475 Nm) @ 4400 rpm
Vehicle Applications
Chevy LS1 Vehicle Applications
1997–2004 Chevrolet Corvette
1998–2002 Chevrolet Camaro
Pontiac LS1 Vehicle Applications
1998–2002 Pontiac Firebird Formula
1998-2002 Pontiac Firebird Trans Am
2004 Pontiac GTO
Holden LS1 Vehicle Applications
1999–2004 Holden Special Vehicles Clubsport (VT, VX, Y Series)
1999–2004 Holden Special Vehicles Clubsport R8 (VT, VX, Y Series)
1999–2004 Holden Special Vehicles Grange (VT, VX, Y Series)
1999–2004 Holden Special Vehicles GTS (VT, VX, Y Series)
1999–2004 Holden Special Vehicles Maloo (VT, VX, Y Series)
1999–2004 Holden Special Vehicles Senator Signature (VT, VX, Y Series)
1999–2005 Holden Commodore Ute
1999–2005 Holden Commodore (VT, VX, VY, VZ)
1999–2005 Holden Statesman (WH, WK, WL)
1999–2005 Holden Caprice (WH, WK, WL)
2000–2002 Holden Special Vehicles Senator 300 (VX)
2000–2002 Holden Special Vehicles Coupé GTO (VX)
2000–2002 Holden Special Vehicles Coupé GTS (VX)
2000–2002 Holden Special Vehicles SV300 (VX)
2000–2004 Holden Special Vehicles Maloo R8 (VX, Y Series)
2001–2005 Holden Monaro CV8
2003–2004 Holden Special Vehicles Clubsport SE (Y Series)
2003–2004 Holden Special Vehicles Coupé LE (Y Series)
2003–2004 Holden Special Vehicles Coupé4 AWD (Y Series)
2003–2004 Holden Special Vehicles Avalanche XUV (Y Series)
2003–2004 Holden Special Vehicles Avalanche XUV AWD (Y Series)
Other LS1 Vehicle Applications
2001 Opel Omega (prototype)
2001–2005 CSV Mondo
2001–present Mosler MT900
2006–present Elfin MS8 Streamliner
2006–present Elfin MS8 Clubman