GM 6.6 Liter Duramax Turbo Diesel V-8 L5P Engine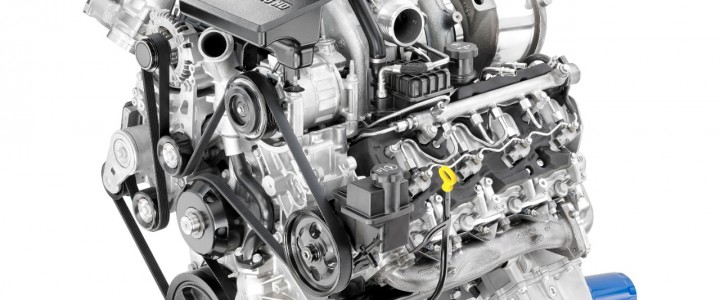 GM 6.6 Liter Duramax Turbo Diesel V-8 L5P Engine
The 6.6L Duramax V-8 L5P is an engine produced by General Motors for full-size heavy-duty (HD) pickup trucks. Displacing 6.6 liters in a V-8 configuration, the L5P is part of a new family of Duramax family of heavy-duty engines. It replaces the 6.6L Duramax V-8 LML engine.
Overview
The L5P made its debut in the 2017 Chevrolet Silverado HD and 2017 GMC Sierra HD producing an SAE-certified 910 pound-feet of torque (1,234 Nm) and 445 horsepower (332 kW).
Next-Generation Design
The new Duramax 6.6L represents a next-generation redesign that features an all-new, stronger cylinder block and rotating assembly, as well as a new, GM-developed control system. The engine's production of low-rpm torque — a Duramax Diesel signature — hasn't changed: the L5P offers 90 percent of peak torque at a low 1,550 rpm and sustains it through 2,850 rpm, an attribute that contributes to the strong, confident pulling power at low speeds of the vehicles in which it powers.
New Components
The new L5P features a new camshaft profile and improved cylinder head design; a new electronically controlled, variable-vane turbocharger allows the engine to produce more power with lower exhaust emissions. The engine's advanced variable-vane mechanism allows greater exhaust temperature capability, enabling the engine to achieve higher power at lower cylinder pressure.
Air Intake System
Additionally, a new, patent-pending vehicle air intake system with functional hood scoop drives cool, dry air into the engine for sustained performance and cooler engine temperatures during difficult conditions, such as trailering (towing) on steep grades.
Cooler air helps the engine run better under load, especially in conditions where engine and transmission temperatures can rise quickly. This enbales the Duramax to maintain more power and vehicle speed when trailering in the toughest conditions.
Improved Performance
The upgrades provide increases in real-world towing experience for the heart of the Heavy Duty pickup truck market — with 89 percent of all HD customers purchasing trucks rated less than 25,000 pounds of towing capacity. For these customers, the new Duramax diesel in the 2017 Chevrolet Silverado HD and 2017 GMC Sierra HD offers:
Unladen, 0-60 mph acceleration in as quick as 7.1 seconds in the GM 2500HD Crew Cab 4WD models, seven-tenths of a second quicker than the last-generation model
Towing 10,000 pounds, acceleration from 50 to 70 mph in 10.6 seconds in the 2500HD regular cab 4WD models, 1.5 seconds quicker than the last-generation model
When towing 23,000 pounds in 110-degree Fahrenheit ambient temperature, the Silverado and Sierra 3500HD Crew Cab 2WD with DRW climbs the Davis Dam grade 40 seconds quicker than the last-generation model
"The new Duramax delivers impressive output, but what customers will appreciate the most is an improved driving experience," said Eric Stanczak, Silverado chief engineer. "It delivers quicker acceleration in virtually all measures, more confidence when trailering up a steep grade, better engine braking on descent and more refined noise levels cruising on the highway."
GM 6.6 Liter Duramax Turbo Diesel V-8 L5P Engine Pages