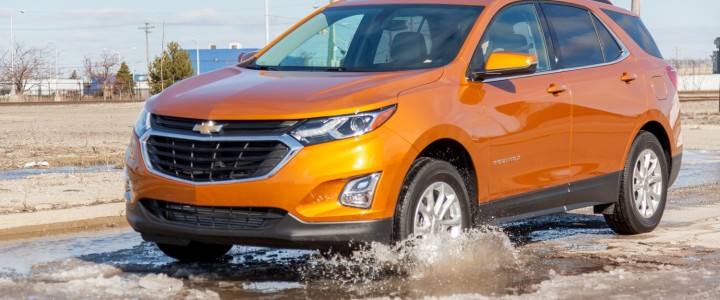 2020 Chevrolet Equinox
The Chevrolet Equinox is expected to receive a few minor changes and updates for the 2020 model year.
Expectations
Given that the Equinox was completely overhauled for the 2018 model year and then received some notable changes for 2019 (see info on 2019 Equinox), we expect the 2020 Equinox to only get a few minor changes.
Following are our expectations of the 2019 Chevrolet Equinox:
Minor changes to features/equipment group structure
One or two new exterior colors
One or two new interior color combinations
No expected powertrain updates or changes
Competitors
The 2020 Equinox continues competing in the compact mainstream crossover utility vehicle (CUV) space with the following vehicles:
Ford Escape
Jeep Cherokee
Toyota RAV4
Nissan Rogue
Honda CR-V
Hyundai Tucson
Kia Sportage
Subaru Crosstrek
Subaru Forester
Mazda CX-5
Volkswagen Tiguan
Mitsubishi Outlander
Body Styles
The 2020 Chevy Equinox continues to be offered in a single body style – a compact four-door crossover utility vehicle (SUV).
Platform
Like all third-generation units of the Chevrolet Equinox, the 2020 Equinox continues to ride on the GM D2 platform shared with the following vehicles:
Powertrain
We expect the 2020 Chevy Equinox to continue being offered with the same three engine choices as the 2019 model.
We have included the 2019 Chevy Equinox powertrain lineup for reference below.
Production
For North American and Eurasian markets, the 2019 Equinox is assembled at the following factories:
For the Chinese market, the Equinox is produced at the Wuhan II plant in Hubei, China operated by Shanghai-GM.
Prices
We expect the 2020 Equinox to have similar pricing to the 2019 model. We will update this section once Chevrolet prices the 2020 Equinox.
Availability
We expect the 2020 Equinox to follow the regular GM model year rollover sequence, and launch in the third quarter of the 2019 calendar year.
Beyond 2020
We expect that the third-generation Equinox will live on thru at least the 2022 model year, and that an all-new, future Chevy Equinox will launch thereafter.
Discussions
Discuss the 2020 Chevy Equinox in our Chevrolet forum.
News
Follow our coverage of Chevrolet Equinox news.
2019 Chevrolet Equinox