Chevrolet Colorado ZR2 Bison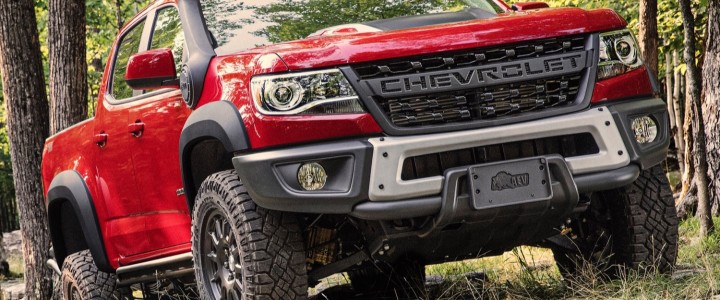 Chevrolet Colorado ZR2 Bison
The Chevrolet Colorado ZR2 Bison is a variant of the Chevrolet Colorado ZR2 off-road-oriented pickup truck that makes various improvements for overlanding and exploration purposes.
In many ways, the Colorado ZR2 Bison is the production version of the Colorado ZR2 AEV.
Evidence
Chevrolet hinted at a Colorado ZR2 with more rugged capability in November 2017, when it showed off the Colorado ZR2 AEV concept.
The first concrete evidence of Chevy planning to bring a Colorado variant called "ZR2 Bison" to market came in early April 2018, when Chevy's parent company, General Motors, filed to trademark the term "ZR2 Bison" with the United States Patent and Trademark Office (USPTO).
Then, in May 2018, new spy photos showed a Chevrolet Colorado ZR2 with revised front and rear bumpers plus a snorkel undergoing testing.
It was also rumored that Chevrolet showed dealers a production version of the ZR2 Bison during its national dealer meeting in April 2018. According to meeting attendees, the production-intent version followed the ZR2 AEV Concept very closely, while lacking some of the concept's over-the-top elements, such as a bed rack system as well as the integrated air-compressor set-up. It should, however, be noted that such items could be ordered from AEV to make a vehicle close to the original Colorado ZR2 AEV concept shown at the 2017 SEMA show.
The link between the Bison name lies in the American Expedition Vehicles (AEV) logo – which includes an image of a bison. AEV was involved in conceptualizing and building the Colorado ZR2 AEV.
Expectations
We expect the Colorado ZR2 Bison to contain the following equipment:
More capable off-road suspension system for extreme off-roading capability, potentially including the following upgrades from the Colorado ZR2 AEV concept:

Front and rear jounce shocks
Plunging front half-shafts
High-angle upper ball joint
Increased stiffness high-angle tie rods
Long-travel rear leaf spring suspension
Anti-wrap link
Rear differential cover
Specially tuned Multimatic DSSV Shocks
The functional purpose of these suspension upgrades is greater strength and durability, along with greater suspension travel and wheel articulation

New front fascia, with a reworked grille and a thick crossbar with CHEVROLET spelled out across the grille, similar to the ZR2 AEV concept
Redesigned front bumper, with a visible addition beneath the front grille that could potentially include an integrated winch
More aggressive high-clearance wheel arches
Snorkel intake system mounted on the A pillar
Redesign rear bumper
Available in both Extended Cab and Crew Cab configurations
Available with the following engines and transmissions:

3.6L V-6 LGZ gasoline engine mated to a 8-speed automatic transmission
Duramax 2.8 I-4 LWN turbo-diesel engine mated to a 6-speed automatic transmission
Body Styles
The Chevy Colorado ZR2 Bison is expected to be available as a midsize pickup truck with the following cab and bed configurations:
Extended Cab, Long Box
Crew Cab, Short Box
Crew Cab, Long Box
Powertrain
We expect the Colorado ZR2 Bison to be offered with the following powertrain:
| Engine | Transmission | Horsepower @ RPM | Torque @ RPM | Rear Axle |
| --- | --- | --- | --- | --- |
| 3.6L V-6 LGZ gasoline | 8-speed automatic M5T | 308 @ 6800 | 275 @ 4000 | 3.42 |
| 2.8L I-4 LWN diesel | 6-speed automatic MYB | 181 @ 3400 | 369 @ 2000 | 3.42 |
Models
It's currently unclear what model codes the Colorado ZR2 Bison will be assigned. For reference, the 2019 Colorado is offered in the following models:
2WD / 4WD Base/WT Extended Cab (12M53)
2WD / 4WD WT Crew Cab Short Box (12M43)
2WD / 4WD WT Crew Cab Long Box (12T43)
2WD / 4WD LT Extended Cab (12N53)
2WD / 4WD LT Crew Cab Short Box (12N43)
2WD / 4WD LT Crew Cab Long Box (12U43)
2WD / 4WD Z71 Extended Cab (12P53)
2WD / 4WD Z71 Crew Cab Short Box (12P43)
2WD / 4WD Z71 Crew Cab Long Box (12V43)
4WD ZR2 Extended Cab (12P53)
4WD ZR2 Crew Cab Short Box (12P43)
Trim Levels
The 2019 Colorado ZR2 is expected to be offered in a single ZR2 (4ZR) trim level that's well-equipped for the purpose.
Platform
Like all second-generation units of the Chevy Colorado, the Colorado ZR2 Bison is expected to ride on the GMT 31XX platform shared with the following vehicles:
2015 and newer GMC Canyon
2013 and newer Chevrolet and Holden Colorado for international markets
2014 and newer Chevrolet Trailblazer, also known as the Holden Colorado 7 and Holden Trailblazer
Production
The Chevy Colorado ZR2 Bison is expected to be assembled at the GM Wentzville factory in Missouri by GM USA.
Availability
The Colorado ZR2 Bison is expected to go on sale in late 2018 as a 2019 model year vehicle.
Beyond 2019
We expect that the current, second-generation Chevrolet Colorado will remain in production for at least the thru the 2022 model year, and that an all-new, future Chevy Colorado will launch for the 2023 model year.
Discussion
Discuss the Chevy Colorado ZR2 Bison in our Chevrolet forum.
News
Follow our coverage of:
Chevrolet Colorado ZR2 Bison
2017 Chevrolet Colorado ZR2 AEV Concept