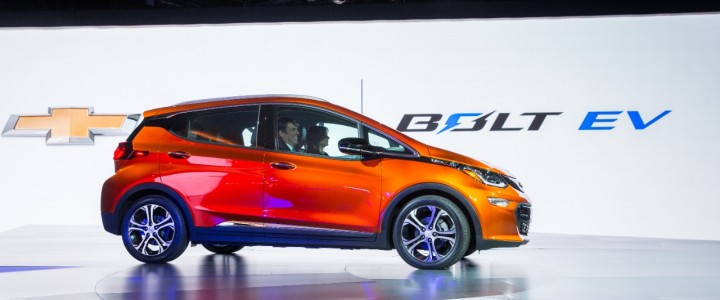 2017 Chevrolet Bolt EV
The 2017 Bolt EV is a battery-electric vehicle (BEV) from General Motors' Chevrolet brand. The five-door subcompact hatchback will offer over 200 miles of range on a full charge while also featuring advanced connectivity technologies designed to enhance and personalize the driving experience.
"It was less than a year ago that we revealed the Bolt EV concept and promised to deliver a long-range electric vehicle attainable by the masses," GM Chairman and CEO Mary Barra said. "The Bolt EV is capable of using the latest mobile app technology to enable car sharing, advanced GPS routing and gamification, all designed to enhance the ownership experience now and into the future."
In introducing the 2017 Bolt EV, Chevrolet has delivered on its promise to bring an electric vehicle "to the masses".
Exterior
This section coming soon.
Interior
This section coming soon.
Colors
This section coming soon.
Connectivity
The Bolt EV benefits directly from the suggestions and ideas of Volt owners and features technologies that make owning a long-range electric vehicle easy.
The Bolt EV's connectivity innovations will provide smart, personalized solutions for managing the driving experience. For example, in the future an accurate driving range projection will be based on the time of day, typography, weather and the owner's driving habits.
Bluetooth low-energy – designed specifically for the Bolt EV to minimize energy draw – seamlessly connects a smart phone to the car while the owner approaches the vehicle.
Many of the Bolt EV's driver-focused technologies are supported by OnStar 4G LTE, which turns the Bolt EV into a Wi-Fi hotspot, giving owners easier access to apps and services via a high-speed wireless connection.
Other connectivity and infotainment features include:
10.2'' MyLink color touch-screen display

Customizable, widget-based "flip-board style" operation

Rear Camera Mirror

Rear-facing camera provides a wide-angle view of the environment behind the vehicle.

Surround Vision

Provides a bird's-eye view of what's around the Bolt EV for improved safety during low-speed driving and when parking.

All-New MyChevrolet Mobile App combines important owner and vehicle information and functions, such as:

Vehicle charge status
OnStar Map service
Remote start
Cabin pre-conditioning
Owner's manual information
Dealer service scheduling

EV Navigation Mapping

EV-specific navigation capability that designs routes to maximize range and provide locations of nearby charging station locations if needed.

Gamification

In the future, Bolt EV owners will be able to "compete" by comparing driving styles to determine who is driving most efficiently.
[/tab]
2017 Chevrolet Bolt EV
Naming
When the Chevrolet Bolt Concept was initially announced, industry observers pointed out to the obvious similarity between the Chevrolet Bolt and Chevrolet Volt names (the Volt is an extended-range electric vehicle from Chevrolet that has been in production since 2010). Onlookers pointed out the possible confusion between the two names.
However, General Motors has stood its ground on the Bolt nameplate, officially confirming that the production vehicle will carry the Bolt moniker. GM's trademark filings with the USPTO for the Bolt EV and Chevrolet Bolt EV names confirm this to be the case.
Powertrain
The 2017 Chevrolet Bolt EV does more than set a new benchmark for affordable, long-range EV driving. It also raises the bar when it comes to driving performance.
Engineers developed the Bolt EV's propulsion system to offer more than an estimated 200 miles (based on GM estimates) and a delightful driving experience that's more akin to a compact sports sedan than a small utilitarian crossover.
"Being the leader in range and affordability means nothing if the car isn't going to excite you each time you get behind the wheel," said Josh Tavel, Chevrolet Bolt EV chief engineer. "That's why the team was tasked with delivering a propulsion system that would also make the Bolt EV an electric vehicle that owners would love to drive."
Single Motor Drive Unit
Like most EVs on the road, the Bolt EV's drive system uses a single high capacity electric motor to propel the car. But it's the smooth, powerful and quiet motor design, gear configuration and shift-by-wire system that separates it from the pack.
The engineering team designed the Bolt EV's electric motor with an offset gear and shaft configuration tailored to meet efficiency and performance targets – most notably more than an estimated 200 miles of range. The motor is capable of producing up to 266 lb.-ft. (360 Nm) of torque and 200 hp (150 kW) of motoring power. Combined with a 7.05:1 final drive ratio, it helps propel the Bolt EV from 0-60 mph in less than seven seconds.
Power delivery is controlled by Chevrolet's first Electronic Precision Shift system. This shift and park-by-wire system sends electronic signals to the Bolt EV's drive unit to manage precise feel and delivery of power and torque, based on drive mode selection and accelerator inputs. A by-wire shifter requires less packaging space than a traditional mechanical shifter, resulting in more interior space and improved interior layout.
60 kWh Battery System
Having more than 1.3 billion miles of EV experience from the Chevrolet Volt helped Bolt EV battery engineers and strategic partner LG Electronics to develop an all-new cell and battery pack to offer more than an estimated 200 miles of range.
Battery system preliminary specifications include:
60 kWh lithium-ion battery pack.
288 lithium ion cells

Five sections
10 modules
96 cell groups – three cells per group

960 pounds (435 kg) total weight
"You usually have a battery cell that delivers either the desired levels of energy or power, but not traditionally both. With this cell design and chemistry we were able to deliver a battery system with 160 kilowatts of peak power and 60 kilowatts hours of energy," said Gregory Smith, Bolt EV battery pack engineering group manager.
The battery uses active thermal conditioning, similar to the Chevrolet Volt, to keep the battery operating at its optimum temperature, which results in solid battery life performance. The Bolt EV battery will be covered by an 8-year/ 100,000 mile (whichever comes first) limited warranty.
Inside the battery pack – which spans the entire floor, from the front foot well to back of the rear seat – is a new cell design and chemistry. The nickel-rich lithium-ion chemistry provides improved thermal operating performance over other chemistries, which requires a smaller active cooling system for more efficient packaging. The chemistry allows the Bolt EV to maintain peak performance in varying climates and driver demands.
The cells are arranged in a "landscape" format and each measures in at only 3.9 ins. (100 mms) high and 13.1 ins. (338 mms) wide providing improved packaging underfloor. The lower profile cell design enabled the vehicle structure team to maximize interior space.
The battery system is mated to a standard equipment 7.2 kW onboard charger for regular overnight charging from a 240-V wall box. A typical commute of 50 miles can be recharged in less than two hours. Bolt EV also features an optional DC Fast Charging system using the industry standard SAE Combo connector. Using DC Fast Charging, the Bolt EV battery can be charged up to 90 miles of range in 30 minutes. Outside temperatures may affect charging times.
Regen System Provides One-Pedal Driving
Regenerative braking has become more than just a tool to boost range, it's also transformed into a feature that can provide an improved EV driving experience. The Bolt EV features a new regenerative braking system that has the ability to provide one pedal driving.
"Interviews with EV enthusiasts indicated their desire for one pedal driving capability on the Bolt EV. One pedal operation boosts the thrill and uniqueness of EV driving," Tavel said.
Through a combination of increased regenerative deceleration and software controls, one pedal driving enables the vehicle to slow down and come to a complete stop without using the brake pedal in certain driving conditions.
When operating the Bolt EV in "Low" mode, or by holding the Regen on Demand paddle located on the back of the steering wheel, the driver can bring the vehicle to a complete stop under most circumstances by simply lifting their foot off the accelerator, although the system does not relieve the need to use the brake pedal altogether.
Operating the Bolt EV in "Drive" mode and not pulling the paddle while decelerating delivers a driving experience where usage of the brake pedal is required to stop.
Platform
The 2017 Chevrolet Bolt EV is believed to be based on GM's upcoming G2XX platform shared with the next-gen Sonic/Aveo.
The architecture brings about lightweight construction with advanced materials, delivering a lower curb weight that traditional materials.
Availability
When
The 2017 Chevy Bolt EV will go into production by the end of 2016, according to Chevrolet. As such, we expect it to become available in the late calendar year 2016 as a 2017 model year vehicle.
Where
We expect that the Chevy Bolt to initially be rolled out across select markets in the United States before becoming available across the country. As such, we expect the rollout to be similar in nature to that of the Chevrolet Volt.
From there, the vehicle will likely become available in select global markets where Chevrolet does business.
Pricing
General Motors has not officially priced the 2017 Chevrolet Bolt EV, but it has announced that it will carry a price of roughly $30,000, after federal rebates and incentives.
Unveiling
The 2017 Chevy Bolt EV was unveiled on January 6th, 2016 at the 2016 Consumer Electronics Show (CES) in Las Vegas, Nevada.
Specs
2017 Chevrolet Bolt EV Overview
| Model: | Chevrolet Bolt EV |
| --- | --- |
| Body style / driveline: | front-wheel-drive, five-passenger, five-door all-electric CUV |
| Construction: | Steel and Aluminum |
| EPA vehicle class: | Small Wagon (EPA does not have a cross-over category) |
| Key competitors: | Nissan Leaf, BMW i3, Ford Focus Electric, Kia Soul EV, VW eGolf, Mercedes-Benz B-Class Electric |
| Manufacturing location: | Orion Township, Michigan, USA |
| Battery manufacturing location: | Incheon, South Korea |
| Motor and drive unit manufacturing location: | Incheon, South Korea |
2017 Chevrolet Bolt EV Battery System
| | |
| --- | --- |
| Type: | rechargeable energy storage system comprising multiple linked modules |
| Volume/case: | 285L |
| Mass (lb / kg): | 960 / 435 |
| Battery chemistry: | lithium-ion |
| Thermal system: | liquid active thermal control |
| Cells: | 288 |
| Electric driving range: | More than 200 miles (GM estimate pending final tests) |
| Energy: | 60 kWh |
| Warranty: | 8 years / 100,000 miles |
2017 Chevrolet Bolt EV Electric Drive
| | |
| --- | --- |
| Type: | Single motor and gearset |
| Motor: | permanent magnetic drive motor |
| Power: | 200 hp/150 kW |
| Torque: (lb-ft / Nm): | 266 lb.ft./360 Nm |
| Final drive ratio (:1): | 7.05:1 |
2017 Chevrolet Bolt EV Charging Times
| | |
| --- | --- |
| 120 V: | Available with standard cord |
| 240 V: | 50 miles of range in less than 2 hours |
| SAE Combo DC Fast Charge: | 90 miles in 30 minutes |
2017 Chevrolet Bolt EV Performance
| | |
| --- | --- |
| Top speed (mph / kph): | 91 / 145 |
| 0-30 mph: | 2.9s (75% SoC) * |
| 0-60 mph: | Under 7 seconds |
2017 Chevrolet Bolt EV Chassis & Suspension
Front:
Independent MacPherson strut-type front suspension with side load compensating and finely tuned springs, direct-acting solid stabilizer bar system and ride & handling oriented LCA bushings.
Rear:
Compound crank (torsion beam) type rear suspension with the closed section V-shaped profile axle; specifically tuned coil springs, performance balanced shock absorber,  angled A-bushing supporting understeer tendency on cornering maneuver and kinematically optimized torsion beam providing stable and best ride & handling performance.
Chassis control:
Four-channel ABS; Traction control system; StabiliTrak; Drag control
Steering type:
column-mounted electric power steering
Steering ratio:
16.8 :1
2017 Chevrolet Bolt EV Brakes
| | |
| --- | --- |
| Type: | power four-wheel disc with ABS; electro-hydraulic; partially regenerative; dynamic rear brake proportioning |
| Brake rotor diameter front  (mm / in): | 276 / 10.8 |
| Brake rotor diameter rear (mm / in): | 264 / 10.4 |
| Total swept area (front) (cu cm): | 1398.9 |
| Total swept area (rear) (cu cm): | 1131.4 |
2017 Chevrolet Bolt EV Wheels & Tires
| | |
| --- | --- |
| Wheel size and type: | 17in x 6.5J offset 44, cast aluminum |
| Tires: | Michelin Energy Saver A/S 215/50R17 all-season |
2017 Chevrolet Bolt EV Exterior Dimensions
| | |
| --- | --- |
| Wheelbase (in / mm): | 102.4 / 2600 |
| Overall length (in / mm): | 164.0 / 4166 |
| Overall width (in / mm): | 69.5 / 1765 |
| Track width front (in / mm): | 1500.92 mm |
| Track width rear (in / mm): | 1501.05 mm |
| Height (in / mm): | 62.8 / 1594 |
| Front overhang (in / mm): | 32.9 / 836 |
| Rear overhang (in / mm): | 28.7 / 730 |
2017 Chevrolet Bolt EV Interior Dimensions
| | |
| --- | --- |
| Seating capacity (front / rear): | 2 / 3 |
| Headroom (first row) (in. / mm): | 39.7 / 1009 |
| Headroom (second row) (in. / mm): | 37.9 / 962 |
| Shoulder room (first row) (in / mm): | 54.6 / 1387 |
| Shoulder room (second row) (in / mm): | 52.8 / 1340 |
| Hip room (first row) (in / mm): | 51.6 / 1310 |
| Hip room (second row) (in / mm): | 50.8 / 290 |
| Legroom (first row) (in / mm): | 41.6 / 1056 |
| Legroom (second row) (in / mm): | 36.5 / 927 |
| Cargo volume (cu ft / L): | 16.9 / 478 |
| Passenger volume (first row) (cu ft / L): | 52.2 / 1478 |
| Passenger volume (second row) (cu ft / L): | 42.2 / 1195 |
2017 Chevrolet Bolt EV Capacities
| | |
| --- | --- |
| Curb weight (lb / kg); | 3580 / 1625 |
| Heating cooling (qt / L): | Heating loop 1.8L |
| Battery pack cooling (qt / L): | 6.9L (RESS cooling loop total coolant volume) |
| Power electronics cooling (qt / L): | 3.9L (PE & DU cooling loop total coolant volume) |
| Drive unit fluid (qt / L): | 2.9L |
Chevrolet Bolt Concept
The 2017 Bolt was first shown as the Chevrolet Bolt EV Concept — at the 2015 North American International Auto Show in Detroit.
2017 Chevrolet Bolt EV Pages