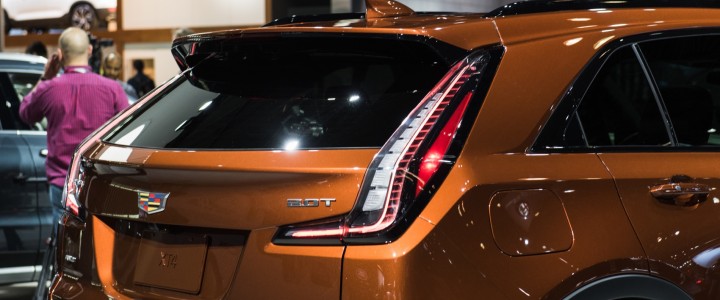 2020 Cadillac XT4
We expect the Cadillac XT4 to receive a few minor changes and updates for the 2020 model year, representing the second model year of the first-generation XT4.
Expected Changes, Updates, New Features
Addition of new exterior colors
Slight rearrangement of trim levels and equipment/features
Coming soon: See detailed 2020 Cadillac XT4 changes, updates and new features here: 2020 Cadillac XT4 change log.
The updates and changes described here are specific to the U.S. market and may be different for other markets.
Body Styles
The 2020 Cadillac XT4 continues to be offered as a compact five-door crossover utility vehicle (CUV).
Platform
Like all first-generation units of the Cadillac XT4, the 2020 XT4 rides on the GM E2 platform shared with the following vehicles:
Production
The 2020 Cadillac XT4 is assembled at the GM Fairfax factory in Kansas City, Kansas by GM USA.
Availability
The 2020 Cadillac XT4 will likely follow the regular GM model year rollover sequence and launch in or before the third quarter of the 2019 calendar year.
Beyond 2020
We expect that the current, first-generation Cadillac will remain in production thru at least the 2024 model year, and that an all-new, future Cadillac XT4 will launch on or after the 2024 model year. A mid-cycle enhancement update, also known as a refresh or facelift, is expected for the 2022 model year.
Discussion
Discuss the 2020 Cadillac XT4 in our Cadillac forum.
News
Follow our coverage of Cadillac XT4 news.
[toggle title="Cadillac XT4 Pictures"]
[/toggle]