Corvette Racing: 'Work To Do' To Make Rolex 24 Win Possible
11
Corvette Racing's Jan Magnussen believes the team still has some more fine tuning to do before the team can challenge for an overall win in the upcoming Rolex 24 at Daytona.
Magnussen qualified the No. 3 Corvette C7.R first in Sunday's qualifying session during the Roar Before the 24 test, which determines pit stall selection for the race. The veteran Danish driver was only able to nab pole after getting a tow from teammate Oliver Gavin in the No. 4 Corvette through the oval section at Turn 7 and down the back straight – just as the team did last year when they nabbed pole in the GTLM class for the race.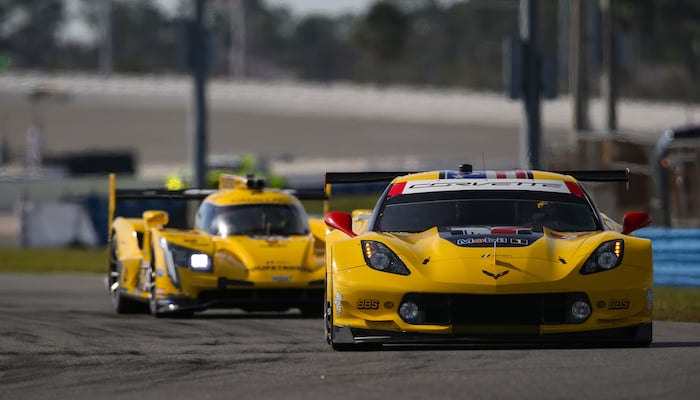 Without the drafting strategy, the team probably wouldn't have had the speed to put the C7.R at the top of the time sheets – leaving the Pratt & Miller squad with some work to do before the green flag flies later this month.
"We did exactly the same as we did last year where we agreed who was going to tow who," Magnussen said. "It was me again like in race qualifying last year. That gave us a good top-speed advantage in that session. Olly (Gavin) did a fantastic job placing himself at the right distance out of Turn Six so I could take full advantage of the tow down to the Bus Stop and then go by him at start/finish to get the fastest lap."
"The time today was a little artificial because of the towing we did, but we did want to try and win the session," he added. "We had one car at the front and one at the back. The difference between our cars is the difference the tow makes. We have some work to do in order to be competitive over the full race. I'm confident the guys at Corvette Racing and Michelin will give us the best chance to win the race."
Corvette Racing may be able to capitalize on the draft during race qualifying later this month, Magnussen explained, as they are the only team using such a strategy.
"We did the exact same thing at the Roar and the race last year, so I don't really know why everyone else is doing the exact same thing," Magnussen said. "But it seems we're the only one doing it at the moment, and it's working out really well for us."
"We'll have a little bit of testing at the race so we can try some different things. But we need to arrive back here with a car that's ready for qualifying and for the race," he added.
Corvette Racing completed more than 1,200 miles of testing during the Roar as it prepared itself for the 57th Rolex 24 at Daytona, which is scheduled for January 26th and 27th. The season opening race will mark Corvette Racing's 21st full season of competition.