New Renderings Imagine A New Chevy Avalanche
21
Since GM discontinued the Chevrolet Avalanche, there have been pleas and petitions to bring the unique personal pickup truck back to market. And though we're not aware of any plans by GM reintroduce the Avalanche dye to lackluster sales of prior generations, we like to dream… which is exactly why we drew up these renderings of a theoretic future Chevy Avalanche.
In more ways than one, our new Chevy Avalanche is inspired by the all-new 2019 Silverado 1500, though we're very much aware that the prior Avalanche models were actually based on the Suburban. Onward.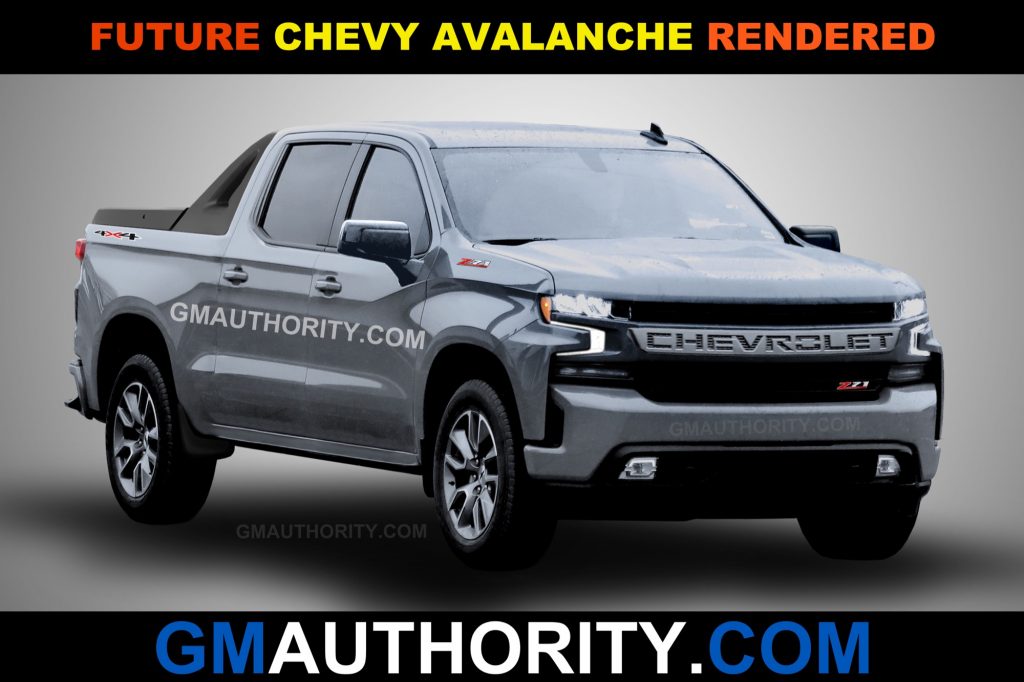 We coated our imaginary new Chevy Avalanche in a sexy, dark gray finish, gave it a revised version of the 2019 Silverado's front fascia, and made tweaks to the LED headlights.
We also gave it a unique grille with a prominent CHEVROLET script (similar to the 2019 Silverado Custom and Colorado ZR2 Bison), along with the distinguished Z71 badges on the grille and upper front fenders.
Just like on Avalanches of yore, our theoretical new Chevy Avalanche features a large, Crew Cab-style cab with seating for either five or six passengers, depending on the configuration of the front seat. The cab and bed are made of a single, uninterrupted panel. A set of large, 20-inch gray wheels complement the body.
A fastback-style sport bar, which defined the Avalanche's sleek exterior appearance, is present and accounted for, integrating nicely with the rear of the cab. In fact, a part of the sport bar continues running along atop the bed rails and into the tailgate to form the outer edges of the truck's built-in tonneau cover.
Anyone who has had the pleasure of owning or driving the Avalanche will know that the truck's defining characteristics are the built-in tonneau cover and foldable mid-gate, the latter being capable of collapsing to extend the length of the bed into the cab. Let's just imagine that our rendering has both.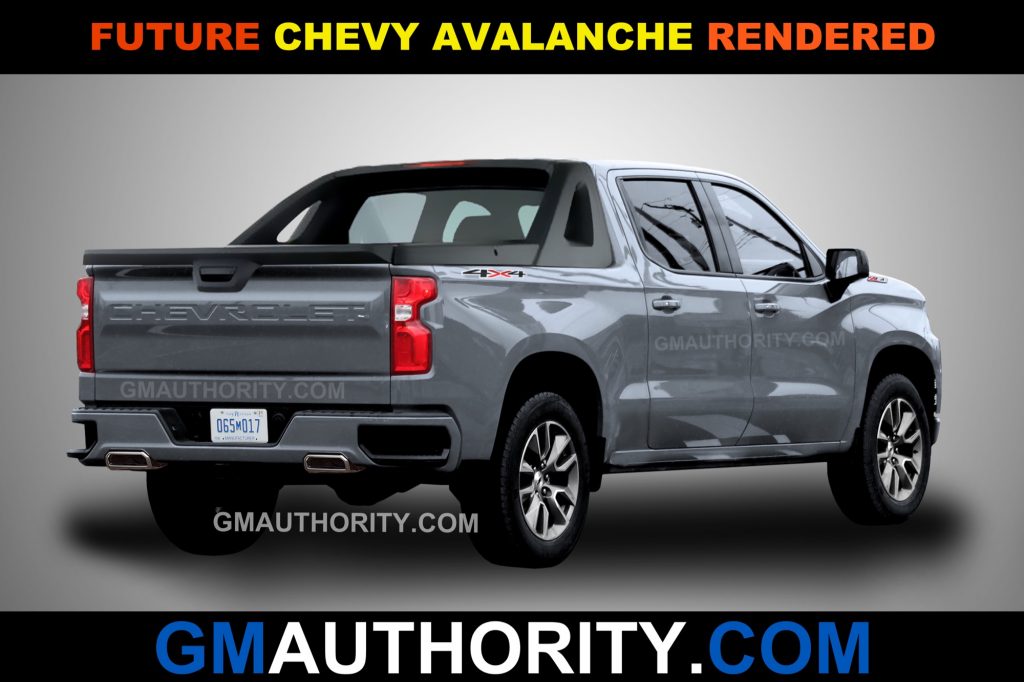 Other notable elements of include the CHMSL placed within the sport bar, rather than on the cab. The top-most portion of the tailgate is covered by the tough plastic molding that originates from the sport bar and forms the rear-most part of the tonneau cover.
Like the 2019 Silverado, our new Chevy Avalanche features a debossed tailgate with proudly CHEVROLET spelled across. Rounding out the rear are the CornerStep rear bumper and a set of dual exhaust outlets; both features were unavailable on the bygone Avalanches. A set of 4×4 emblems in black and red round out the package.
As much as we'd like to see a new Chevy Avalanche come to market, it doesn't seem that GM has any plans for such a model. And that's a shame, because an Avvy with the Independent Rear Suspension of the 2020 Suburban/2020 Tahoe would simply be the bee's knees.
2013 Chevrolet Avalanche