Dale Earnhardt Jr. Hid His 20+ Concussions From The Public And His Team
5
Acclaimed former NASCAR driver Dale Earnhardt Jr. has been speaking up about his history with concussions, admitting on In-Depth with Graham Bensinger recently that he likely suffered between 20 and 25 concussions during the course of his NASCAR racing career, hiding the majority of them from everybody, including his wife. Concussions are a form of mild traumatic brain injury that occur when the cerebrospinal fluid that surrounds and cushions the brain proves insufficient to protect against the effects of sudden acceleration or impacts.
The sorts of high-g forces that commonly cause concussions are a hazard in racing and many other sports, although in the U.S., the issue of their prevalence tends to attract the most attention within the context of American football.
The effects of a single concussion are typically relatively short-lived, although the complications can be serious depending upon the severity of the brain injury. But repeated concussions over the course of a lifetime, such as those frequently suffered by professional American football players, can lead to a condition known as chronic traumatic encephalopathy (CTE). The condition usually only hits years after the brain injuries occurred, and leads to problems with mood, behavior, and cognition, possibly even resulting in dementia.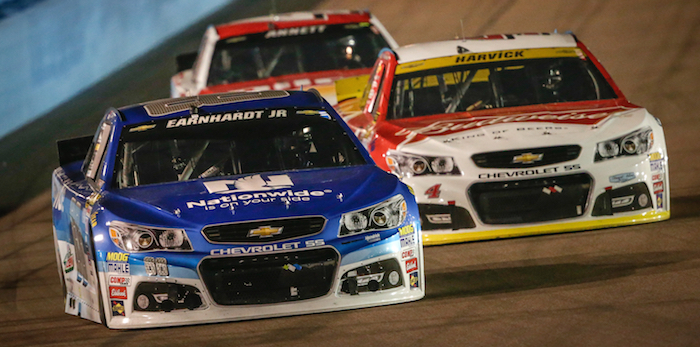 "Any time you have a head injury, your brain is your computer… People don't have the faith in it healing like a broken bone," Dale Earnhardt Jr. told Graham Bensinger. "You know [your team] is always going to have [your brain injury] in the back of their mind, and when you don't run a good race, are they going to go: 'Hmm, I wonder if he's just not the same anymore,' you know? I've heard that talk about other drivers – even guys that don't have any history of concussions."
Earnhardt, who retired after last year's season driving the No. 88 Hendrick Motorsports Chevrolet SS, credited NASCAR for doing what they have to reduce the risks of traumatic brain injury, saying he's thankful that the organization has made impact testing mandatory and started sending a neurosurgeon along for every race. That said, the retired racing driver suggested there's room to improve when it comes to "protecting the drivers from themselves."
"The drivers are never going to raise their hand," Dale Earnhardt Jr. said. "They're going to do everything they can to keep racing, keep their job, not let anyone in on this information… I would try to do everything I could to protect the drivers from themselves. That would be my main goal."
(Hat-tip: Autoblog)
GM Authority is looking for professional automotive journalists with at least three years of experience to join our rapidly-growing team. We pay between $60,000 and $80,000 per year. More details
here
.