2019 Silverado With 2.7L Turbo Four Sprints To 60 In Under 7 Seconds
25
What would you have said if, six years ago, we told you that the future, 2019 Silverado 1500 would offer a four-cylinder engine? Coincidentally, it was just about six years ago, on December 13th, 2013, that GM revealed the K2 generation Chevy Silverado and GMC Sierra. Fast forward to today, and the all-new Silverado can be had with a purpose-built, turbo-charged four-banger – one that can really scoot.
According to Chevrolet, the 2019 Silverado with the 2.7L turbo I4 L3B engine can do the 0-60 mph sprint "in less than seven seconds". Pretty good and somewhat unexpected for a four-cylinder in a full-size truck that has grown for this generation, wouldn't you say?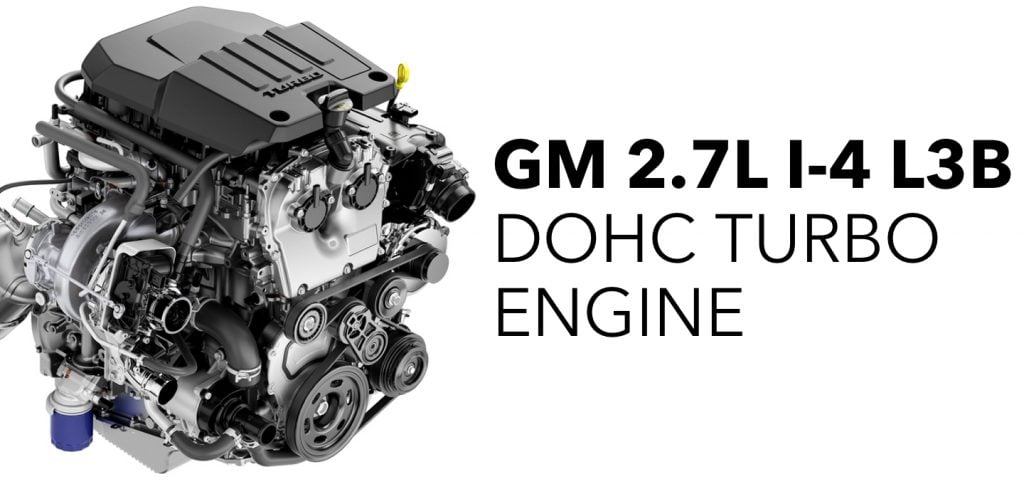 Two attributes assist the L3B in propelling the 2019 Silverado to 60 in six-point-something seconds:
An improved 8-speed automatic transmission; the engine can not be mated to the new GM 10-speed transmission, at least for the 2019 MY
A significantly lighter weight for the truck; Chevy tell us that the 2019 Silverado with the 2.7L Turbo L3B weighs 380 pounds less than the outgoing Silverado with the 4.3L V6 LV3 EcoTec3 motor. Notably, the L3B also makes 25 horsepower and 43 pound-feet more than the LV3, which is still offered on the 2019 Silverado as the base engine.
Chevy has yet to release 0-60 mph times for the rest of the 2019 Silverado line, and we're rather curious to see what they will be for other models and powertrain combinations in the range. In the meantime, we can at least bask in the glory knowing that the L3B is by no means a sissy, and that it means business.
2019 Chevrolet Silverado 1500 Powertrain Summary
| RPO Code | LV3 | L82 | L3B | L84 | L87 | LM2 |
| --- | --- | --- | --- | --- | --- | --- |
| Fuel Type | Gasoline | Gasoline | Gasoline | Gasoline | Gasoline | Diesel |
| Displacement | 4.3L | 5.3L | 2.7L | 5.3L | 6.2L | 3.0L |
| Layout / Cylinder Count | V6 | V8 | I4 | V8 | V8 | I6 |
| Configuration | OHV | OHV | DOHC | OHV | OHV | DOHC |
| Aspiration | Atmospheric | Atmospheric | Turbo | Atmospheric | Atmospheric | Turbo |
| Fuel Saving Tech | AFM | AFM | AFM | DFM | DFM | None |
| Engine Family | EcoTec3 Gen 1 | EcoTec3 Gen 1 | New I-4 gasoline fam | EcoTec3 Gen 2 | EcoTec3 Gen 2 | New I-6 diesel |
| Transmission | 6-speed auto MYC | 6-speed auto MYC | 8-speed auto MQE | 8-speed auto MQE | 10-speed auto MQB | 10-speed auto MQB |
| Power (hp / kW @ RPM) | 285 / 212 @ 5300 | 355 / 265 @ 5600 | 310 / 231 @ 5600 | 355 / 265 @ 5600 | 420 / 313 @ 5600 | TBA |
| Torque (lb-ft / Nm @ RPM) | 305 / 413 @ 3900 | 383 / 518 Nm @ 4100 | 348 / 473 @ 1500-4000 | 383 / 518 @ 4100 | 460 / 624 @ 4100 | TBA |
| Max Towing (lbs) | 8,000 | 11,000 | 7,200 | 11,600 | 12,200 | TBA |
| Max Payload (lbs) | 2,500 | 2,430 | 2,280 | 2,190 | 2,100 | TBA |
| EPA MPG estimates (city / hwy / comb) | TBA | TBA | 20 / 23 / TBD | 17 / 23 / 19 | 16 / 20 / 17 | TBA |
Legend:



DOHC: Dual Overhead Cam


OHV: OverHead Valve (push-rod)




EcoTec3 engine family


2019 Chevrolet Silverado Photo Gallery
2019 Chevrolet Silverado 1500
2019 Chevrolet Silverado 1500 LT TrailBoss