Does The Future Jeep Wrangler Pickup (Jeep Scrambler) Pose A Threat To Colorado & Canyon?
21
It's no secret that GM's current, second-generation Chevrolet Colorado and GMC Canyon midsize pickup trucks have made inroads into the midsize pickup truck segment – one that, prior to their return in 2015, was dominated by the Toyota Tacoma and Nissan Frontier. The two GM trucks have faced relatively little competition in the space, delivering a combined 146,174 units in 2016 and 145,102 in 2017 (see Colorado and Canyon sales). But the segment will soon heat up with the introduction of two new entries from GM's cross-town rivals – the new Ford Ranger and the Jeep Wrangler pickup, likely to be called the Jeep Scrambler. Here's a competitive report on the latter.
Launch Cadence & Pricing
Expected to go on sale in April 2018, the Scrambler will essentially be a pickup truck variant of the highly-acclaimed Jeep Wrangler. Pricing has yet to be announced, but many expect it to start around the $30,000 mark for the base model, and garner as much as $45,000 for the range-topping Trail-Rated models that will compete with the Colorado ZR2.
Powertrain
Engine choices are expected to be three-fold:
2.0L Turbo I4 gasoline engine with Mild Hybrid system making 268 horsepower
3.6L Naturally-Aspirated V6 Pentastar gasoline engine making 275 horsepower
3.0L Turbo V6 EcoDiesel engine making 260 horsepower and 442 pound-feet of torque
Transmission choices will likely include an 8-speed automatic or a 6-speed manual.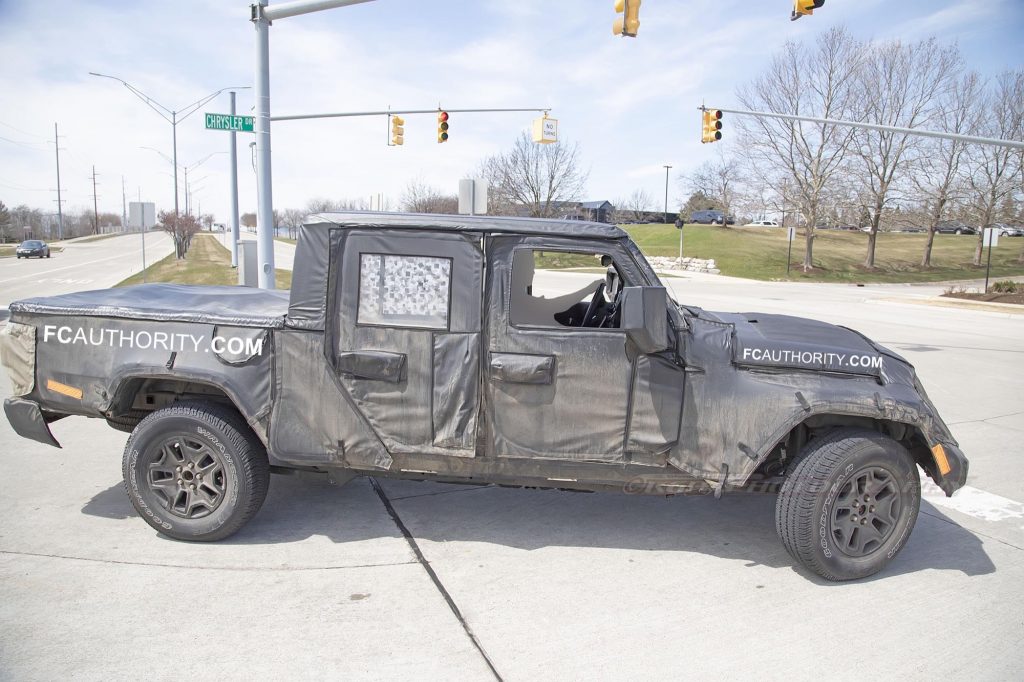 Exterior & Interior
The exterior will bear much resemblance to the Wrangler, with insiders describing it as a "Wrangler with a pickup box". The same goes for the interior, with recent Scrambler spy shots revealing a cabin pulled straight off the Wrangler. A removable roof will enable something that neither the Colorado nor Canyon can provide: an open-air pickup experience.
Architecture
The Scrambler is expected to be underpinned by the same platform used by the new-for-2018 Wrangler (Wrangler JL), with a future Dodge Dakota midsize pickup truck also using the same frame.
The GM Authority Take
The upcoming Jeep Scrambler is shaping up to be a significant threat to the success of the Colorado and Canyon, especially given the popularity of the Jeep Wrangler from which it will be derived.
The Scrambler will specifically benefit from the following advantages that can not be offered nor replicated by GM's midsize twins:
Popular and desired Jeep name and relationship to the brand-defining Wrangler
Unique boxy styling that's instantly recognizable as a Jeep
Unique features such as a removable roof, foldable windshield and removable doors
Off-road prowess, even in base trims
Despite the various benefits, we see the Scrambler facing several hurdles in gaining widespread market acceptance, including:
Styling that might not be very appealing to many mainstream truck buyers
Assuming an expected base price of around $30,000, a rather steep price compared to all other midsize pickup offerings
More Info & Reporting